01/08/2017
Posted by:

Millon Unika

Category:

All, Business, Digital Marketing, Internet, SEO / Social Media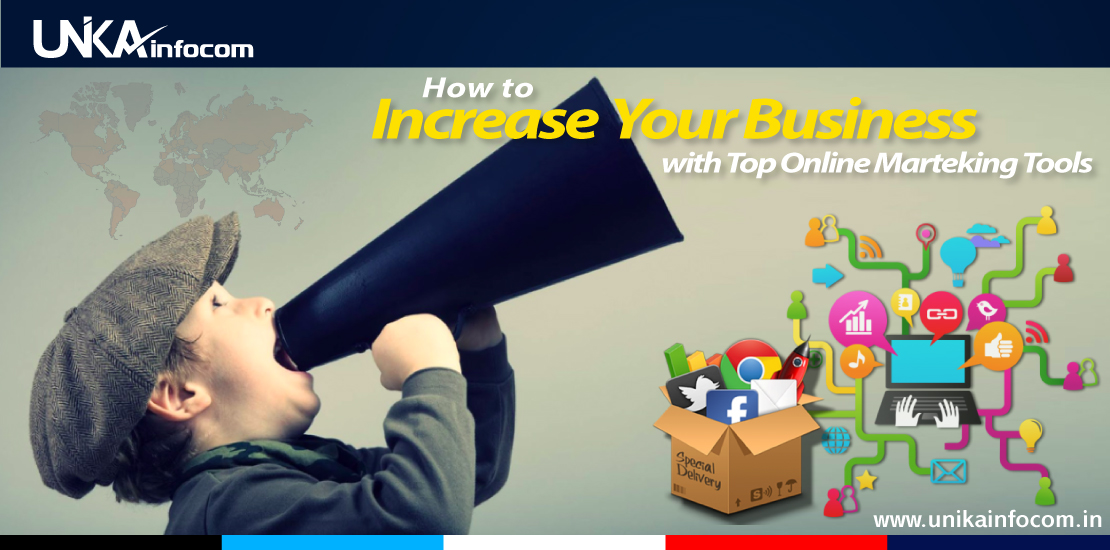 How to Increase Your Business with Top Online Marketing Tools
For a business it's essential to main a good flow of customers. A good marketing strategy is the only way to achieve this. For any business house the main goal is always to increase their business volume. Therefore to achieve this you need to implement marketing strategies with the trending time. Now a days online marketing is the most crucial factor to increase client base & business volume. Online marketers are responsible for a business growth by doing various duties; such as digital promotion, content marketing, social media promotion, SEO etc. But there is huge completion in online marketing and maybe this hard work isn't enough for your business. Therefore it's time to adopt some smart tactics along with other online marketing aspects.
Related: Top Free WordPress Widget Plugins
By utilizing certain online business tools, you can cut down lengthy work and focus on your business promotion in an easier way and increase your business volume. Here we will discuss about some handy online business tools through which you can have results in a smarter way by spending lesser time.
Kajabi
Kajabi is a one stop tool for selling your content & niche online. The USP of it is it has a large community so you can turn that into your audience also. Running & promoting an online business is always hectic, here Kajabi simplifies business launch and provides landing pages for your business to reach your target audiences. It offers landing pages for your services. Moreover you can use your own domain to launch your business in Kajabi. This platform is ideal for ecommerce businesses, selling products, online courses and downloadable contents. You can get your audience from kajabi community & paid directly.
2. ClearVoice
As a business owner its not possible everytime to create quality content for your brand or site. Here ClearVoice comes into play. Rather searching for freelancers for your content writing from different sites with being sceptic of the quality, you can easily use ClearVoice. ClearVoice is the best option for smart & quality content under your supervision with lesser time engagement. ClearVoice allows you to dig through trending & smart content, then set editorial calendar and set your price then appoint freelancer to create your content matching with the trend.
The writers will build the content, then the editors clean it up and you only need to approve it for publishing.
3. ClickFunnels
ClickFunnels provides a one stop platform for everything you need to market & sell through online. There is verity of sales funnels for your business promotion.
It provides a system that will maximize your business reach. It engages new customers and helps them to find several other products & services. You will have a huge audience sector by promoting your business here. This will boost your business directly.
The USP of it that you don't need to depend solely on your website for your business. Rather it provides you a platform where you can build attractive & interactive landing page for your business, email auto-response system etc. ClickFunnels will invite your landing page visitors to join your email list to offer your list of products & services. In other words it will generate potential leads for your business.
4. SpyFu
One of the most crucial points for a good marketing strategy is to analyze your competitors & consumer trends. You need to figure out your competitor's online marketing strategy, keyword, ad campaign etc. and turn it to your advantage. SpyFu is a very useful tool for this. Using its platform you can find your competitors most profitable keywords, ad campaigns and track their graph trends with lesser efforts.
You just simply need to type your competitor's URL and let SpyFu organizes the data for you starting from profitable keywords, organic searches to paid campaigns etc. Moreover it will show you all the graphs, charts & stats of your competitor. According to that you can strategies your online marketing campaign.
5. Infusionsoft
This is an award winning software which helps to boost your online business. If IT Automation is your business segment then Infusionsoft is the best tool for you. Its automated CRM will capture more leads, improve your conversion rates, master ecommerce and also manage sales force & sales process in a systematic way and with lesser efforts. So in one word it will modernize your marketing. This automated software collects data about leads, user behavioral pattern to streamline your business leads.
6. AdEspresso
It's a simple yet powerful tool for managing Facebook Ads powered by Hootsuit. Facebook Ads may look simple, but you can lose your money if you don't set a proper campaign. AdEspresso platform helps you to set your facebook ad campaign strategy easy with their analytical reports. It mainly focuses on getting maximum clicks with lower budget. AdEspresso helps to improve your conversion rate better by providing their analytical data, depending which you can launch your campaign.
It creates thousands of variants of your ad, provide multiple target audiences, save your preferences for audience demographics & stores all of your campaign media. Moreover it has a customizable dashboard you keep track of everything, analyses under performing ads so you don't waste money on them, provide algorithm by which you can get better conversion rate.
Now you have some  handy online marketing tools for your business under your sleeve. Proper use of them can take your marketing into a new level & increase your business volume.
Related: How to Optimize wordpress website for Better SEO Results