31/07/2017
Posted by:

Millon Unika

Category:

All, Business, Digital Marketing, Internet, SEO / Social Media, Web Design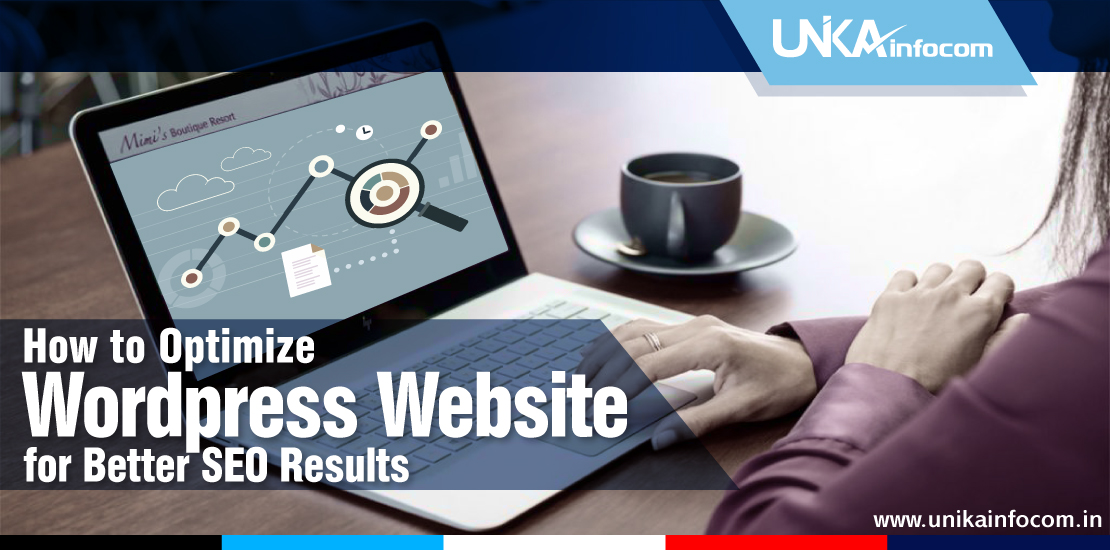 How to Optimize WordPress Website for Better SEO Results
WordPress is one of the most popular platforms for Website & Blog development whether you are a startups, small business owner or has a big industry. WordPress is certainly the best option for your business website. Mainly its content management service (CMS) is very popular around the world. Its CMS & Admin panel is easy to use & also cheaper than its competitors. More than 400 million websites worldwide are powered by WordPress.
WordPress Advantage:
The most attractive & useful feature of it, is the blog section development. Blog & content marketing are the most crucial points in today's SEO. In WordPress you will have various plugins for your blog content management in a professional manner. In every 17 seconds WordPress Sites publish posts around the world. Most of the business related websites prefer wordpress sites for their SEO work. Its very clear that WordPress is meant for a content management service for businesses of all sizes.
It has ample number of attractive responsive themes, latest plugins for – Social Media, Payment Gateway integration, user friendly panel and so on.
Starting with Optimization:
If you want to improve your website rank & traffic, then the 1st & most important thing needs to be your website speed. If your website is slow in terms of loading pages, your visitors will run away. Therefore your website bounce rate will increase and a slow website can never have a good traffic. This low performance will also affect your search engine rank in a negative way. So you need to optimize your website first and how to do it with your wordpress site that we will discuss here.
You can check your current site loading time with various tools present in market. Such as Google PageSpeed Insights. It's a very good platform and it will also guide you what are the points you need to improve in your site.
Related: Top SEO Tips for Higher Website Ranking
Theme Quality:
There are thousands of free & paid themes for wordpress sites. So you need to choose carefully specific theme for your particular website. Before choosing it you need to check its total review in terms of features & performance. Also check its support team. It should be flexible & user friendly, it should have good site navigation & for modification it needs to be hassle free. Moreover always use a fast wordpress theme.
2. Proper Hosting:
Choosing a proper hosting plan for your site is the most crucial thing, because a bad hosting plan can destroy your site speed & performance drastically resulting loss of potential web traffic & rank. You need to pick a hosting plan according to your site's size & type.  Your hosting should have great CPU & RAM configuration, it should provide you regular backups, it should be live all time & running with no server downtime, it also should have a great bandwidth. Choose a reputed hosting company still even its bit costlier.
3. Monitor Your Plugins:
Chose your plugins wisely & only use the plugins you need for your site. Using so many unnecessary plugins will hamper your site performance.  Only add the plugins that you will actively use. To maintain your site performance you need to regularly monitor the plugins you have installed. You need to check regularly how much load time your plugins take & how much CPU resource it's using. Accordingly you need to optimize your plugins to optimize your website.
4. Always Keep Your Trash Clean:
WordPress 2.9 introduced the WordPress trash system. Whenever you delete any content from your site, it directly goes to trash. You can restore the content from trash later or can delete it permanently. Therefore undeleted Trash can occupy a lot of unnecessary space in your website's database resulting bad resource utilization & lower performance. WordPress automatically deletes trash after thirty days interval. Therefore this big content of data will definitely hamper your website speed. You need to clear this trash to keep your site optimized. You can reduce the default 30 days time by modifying the wp-config.php file, or even you can disable the trash system to keep your resources free & optimize your website.
5. Image Optimization:
Image Optimization is also very crucial point for your site optimization. Images can occupy lot of storage. Therefore, pages containing multiple images can take a long time to load. So you need to give special care to compress & optimize your images before you upload those to your web page..
The best option is to save your image as "Save for Web" option using photo editor or compress tools. This format is mainly preferred for websites and takes storage as minimum as needed. It also don't hamper the page speed.
6. Mobile Responsive Interface:
Your wordpress site should be mobile responsive for better rank. As per Google SEO guidelines a website should be mobile responsive. Now most of the online traffic surf net through their mobile devices. Therefore, your WordPress-based website needs a responsive mobile interface with better performance, high speed, great navigation & user friendly intuitive interface.
7. Security Factor:
As per Google guidelines security of your website is one of the most important points to get a good position in search results. WordPress comes with decent security features but considered to its competitors its bit behind. Therefore you need to implement more advanced security measures using different plugins and also incorporate SSL Certificate to your website to protect your site & your viewers from potential threats.
Related: Top Keyword Research Tools