18/07/2017
Posted by:

Millon Unika

Category:

All, Business, Digital Marketing, Internet, SEO / Social Media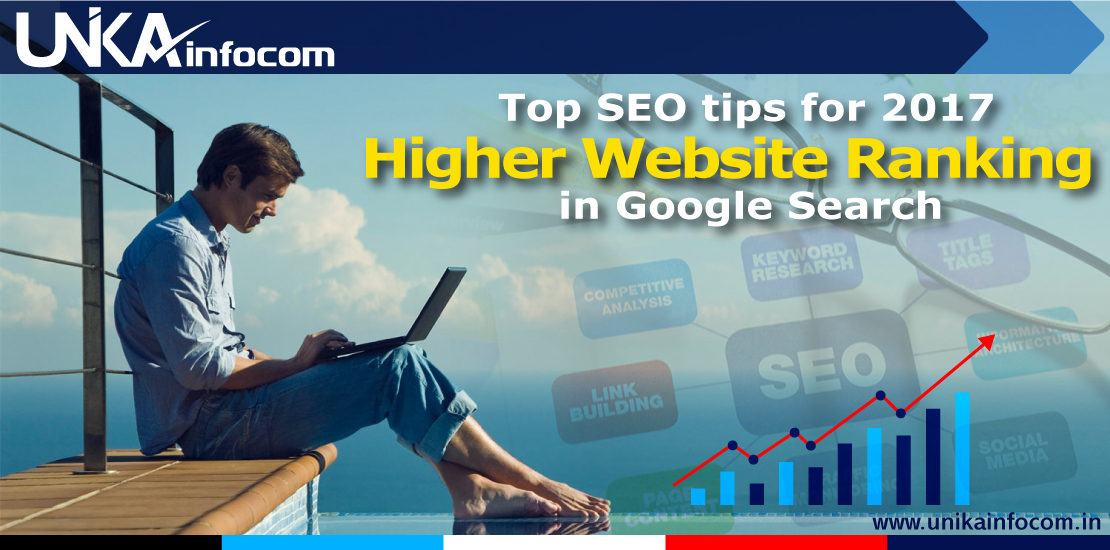 Top SEO tips for Higher Website Ranking in Google Search 2017
In 21st century SEO & digital market is the key point to build a successful business and generating a good client base. People are going online now a days for each of their need. Therefore its important to capitalize this huge online traffic and route them into your business website. SEO is the most proven way to achieve this. SEO (Search Engine Optimization) is the most useful & important part of any digital marketing strategy. This modern day marketing strategy is responsible to organically drive customers to your business website through online searches & platforms.
Importance of Google Search Engine
With the term 'Search Engine' we mostly relate with Google. Google is undoubtedly the most popular & number one search engine globally. Google is one of the pioneers in online search index. Therefore, this search engine has the most number of online traffic globally, who searches their desired info. & services here. So, it's indeed a crucial gateway to give your business site visibility on the web, in searched queries by the users. Therefore, it's very important for a business owner to keep in mind that the site must be visible with a higher ranking in Google search, to attract most of the traffic. For this you need some good strategies to build the SEO for your site for a higher ranking in Google. However, Google is not the only search engine, but certainly the most important one.
 Local SEO is the First Step
There's nothing like in terms of business potential as your own community. To grow your business in a short span you need to have a good local presence. Therefore, for digital marketing strategies for your business, local SEO is the first milestone to be achieved. There are many different search engines on a local level where you can get the perfect exposure & build your initial client base.
1) Optimize for 'RankBrain' One of the Most Important Factor
RankBrain is Google's machine-learning AI system which processes user search queries. As per Google it's the 3rd most important factor for SEO.
RankBrain has a 80% success rate on guessing search queries. This AI system returns different search results for a query depending on the Location. So it's an AI system reacting differently with search queries for different preferences. It also programmed to process unique queries that has never been asked in Google Search.
For content optimization, create content that answers unique queries relevant to your target audience.
This is a R&D work which takes bit time, but fruitful enough to help increase your visibility in search queries. Therefore to get success with the RankBrain factor you need to research on your relevant & unique keywords.
2) Optimize for 'Near Me' or 'Near By' Search Queries
Google says that – "There are critical touch points within today's consumer journey, and when added together, they ultimately determine how that journey ends."
'Micro-Moments' are on the rise, so you need strategies your SEO with 'Near Me' search queries.
On the go, mobile is the key driver for near me searches & options & users often go with business providing right information at the right time near them. This is irrespective of brand loyalty, therefore its very beneficial for small startups & business.
As per Google 'Near Me' or 'Near By' searches have doubled within last 3 years. Therefore it's the high time for you to capitalize with 'Near Me' searches by optimizing this search query option for your SEO.
3) Optimize Local Presence
As discussed in the previous point, it's not advisable optimizing 'near me' search queries for your business if you don't have a presence there. Here you need to strategies your SEO.
You can do this by optimizing your Google My Business page. Make sure to mention this below features:
A long and unique description of your business.

Choose the right categories.

Operation timings

Put relevant images.

Always make regular updates

Proper contact details.
4)  Post Articles, Build Backlinks & Answer a Question 
Create content that answers unique queries relevant to your target audience.
You need to post articles in a regular interval relevant to your website & with a link of your website in somewhere appropriate in the article. This strategy will give you higher ranking in Google Search Index.
Backlinks:
One of the most key trick to get higher ranking with your articles is the backlink submission. This is the most proven way for a successful SEO strategy. Backlinks are the links which start with other sites & link to your website pages.You need to focus on building quality backlinks rather than quantity. You need to target sites for backlinks which has already good page ranking & popular among users. More you have backlinks, more your site will have chances for higher ranking in Google. 
Recently Google recognises that rather than Wikipedia more quality & expert content answer is being provided against particular search queries from different publishers, most prominent among them is Quora. Google is recognizing these sites who regularly provides expert answers to the users searching for specific answers in Google search. Thus Google award them with higher visibility & ranking.
Therefore, add this option to your SEO strategy and submit content for a specific question relevant to your site or your target users search with keyword queries. You need to add that keyword or phrase to phrase the question in your content headline and answer the question in the first paragraph of your article.
5) Responsive & Mobile Optimized Website
The mobile internet traffic is getting larger day by day. Therefore Google is always concerned & implementing guidelines to provide mobile users a great search & browsing experience. As per the Google's new SEO guidelines, you should have a mobile optimized & responsive Website to accelerate your chances to get a higher rank in Google search. The fast your site will open in mobile the higher chance you have to retain your viewers & have a good page rank.
6) Have a Lighting Fast Website
Google highly penalizes sites not having good speed in PC browser as well as in Smart phones. You need to optimize your website, its images & need to go for a good hosting provider, so that your site a great opening & navigation speed while browsed by users. As per surveys users having trouble with websites those are slow to open & navigate, they abandon it & go for another similar site, resulting higher bounce rate. This is certainly not good for your website ranking & visibility. It would deteriorate with the time & will be hard to pullback. Therefore having a website with good speed is your first objective.
7) Optimize Your Social Media Presence Mainly Twitter
In present situation Social Media is one of the most important tool to reach you customers. Its one of the crucial points which you need to add in your SEO strategy. To get higher visibility you need to be active on Social Media platforms. Update & promote relevant topics & contents, services or products with your website to your Social Media pages and attract the users to get most shares in Social Media.
Recently a deal materialized between Google and Twitter, that is Tweets are now indexed in SERPs (Search Engine Results Page). So having a strong presence in Twitter and Tweets about your service or brand can help your services, brand or product to be shown as search results.
8) Improve User Engagement & Request Customers to Put Good Reviews about Your Site
SEO experts have always considered user engagement with a website as one of the key factors for higher ranking. The more users will interact & engage in your website the more are the chances to have higher average time on site, lower bounce rate, pogo sticking, and others factors. These collectively will increase your site rank in the search index. The effectiveness & overall presence of your website with trust factors can give you higher conversion rates.
User or customer reviews are also one of the main factors for a higher rank or visibility in google search. Sites with good customer reviews get higher chances of visibility compared to their competitors. Request your customers to post a good feedback or review about your site.
There are a lot of other SEO factors which can help your site to get a good rank in Google search. But the above discussed points are certainly the most determining factors for a good SEO strategy.