24/07/2017
Posted by:

Millon Unika

Category:

All, Business, Digital Marketing, Internet, SEO / Social Media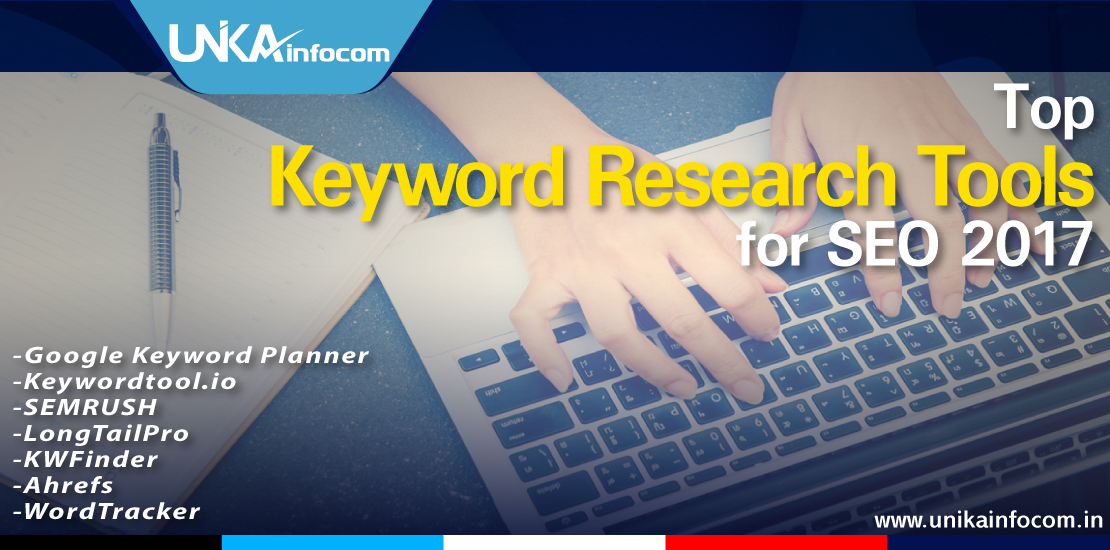 Top Keyword Research Tools for SEO 2017
In our previous article we have discussed about how to do keyword research for your website SEO. Here I will give you some details about some of the Top Keyword Research Tools for SEO 2017 available online.
Google Keyword Planner (Free):
Google keyword Planner is the most popular and free keyword research tool available online. It's very effective for the startups as it gives good keyword analysis interface with no charges. You can enter your keyword here & customize filter option for results. For keywords it gives filter option like location, language, negative keyword etc. Its directly connected with Google AdWords account, therefore you can find many related keywords along with their search stats. You can even enter in its landing page tab the URLs of your competitors to view which keyword they have used for their ranking.
The biggest advantage of this tool is its related to Google which is the biggest & most popular search engine for your potential customers and moreover its free.
Keywordtool.io (Free):
This tool is also free for your website keyword research. This is very useful when you are looking for Long-tail keywords for your seed keywords.  The best thing is it's not limited to Google only rather it gives you keywords based on Google, Bing, YouTube, Amazon, Yahoo and apple store. It also provides you some unique keywords based on your seed phrase.
SEMRUSH (Premium+14days trial):
SEMRUSH is not a simple keyword research tool rather it cover more other advance aspects of a SEO strategy. It has got a smart interface where you just need to provide the URL which has got higher ranking and it will show you the keywords for the ranking of that particular URL. It's a great tool to find out the list of head term & long tail keywords which you can incorporate in your SEO strategy to get a better ranking.
It's a premium tool therefore it's more advance and professional compared to others. Also it will give you specific target keywords which your higher ranked opponents use for getting traffic, thus giving you the weapon to target their rank. It will give you all reports of your competitors by putting their URL, therefore it's a great way for competitor analysis also. It will give competitors traffic stat, search report, backlinks and ranking which you can use to plan your SEO campaign. So this tool is definitely worth every single penny.
LongTailPro (Paid):
This another advance & professional premium keyword research tool which suggest you some unique long tail keywords based on your seed keyword. LongTailPro is a cloud based tool and one of the most popular in this list.
This will help you find amazing keywords; like up to 800 keyword for a seed keyword for your niche sites. You can also reverse your suggested resulting keywords as your seed. They also have smart competitor analysis option. They have various keyword research filters in their interface.
KWFinder (Premium + Free):
KWFinder is currently becoming more popular in SEO field and it's a tool which is dedicated to provide the keyword research in an advance way. So if you are looking for a tool which is specifically meant for in depth keyword research, then it's the best option for you. It comes with both premium & free version. Its free version is also very good & handy.
This smart tool provides search volume data & trend, CPC (Cost Per Click), difficulty level of ranking for a keyword, and other info. related to keyword research.
This tool is best to get the Keywords for targeting high traffic. It's also good for giving long-tail keywords. It gives a detailed statistics of the popularity over your long tail keyword & the sites used it before.
Ahrefs (Paid):
This is a paid tool for keyword research with a 14 days trial option. Its also getting popular in recent time. The key point of this tool is that it gives more detailing about the keyword research including the keyword difficulty. This tool uses clickstream data which shows how many clicks you might get from search engine. This is a unique feature which will help you to judge, not only how many traffic you might get but also the number of clicks you can generate. It has a great User Interface and the amount of data it provides is larger than its competitors.
WordTracker (Paid):
Its a paid keyword research tool with a 30 days free trial. WordTracker is generally used by startup & small businesses for building new link & keyword research.
It has three main tools which are: 1) Keyword Tool- its for keyword research. 2) Link Builder- (for inbound links) & 3) Strategizer- for entire SEO strategy for ranking.
The Link Builder & Strategizer tools are the most unique features of it compared to its competitors. The main disadvantage of WordTracker is that it returns very small amount of data.
Above are the major tools for your keyword research & strategies your  SEO plan. You need to pick your tools according to your specific goals. Try these to explore & getting more ideas about your SEO strategy.