22/07/2017
Posted by:

Millon Unika

Category:

All, Business, Digital Marketing, Internet, SEO / Social Media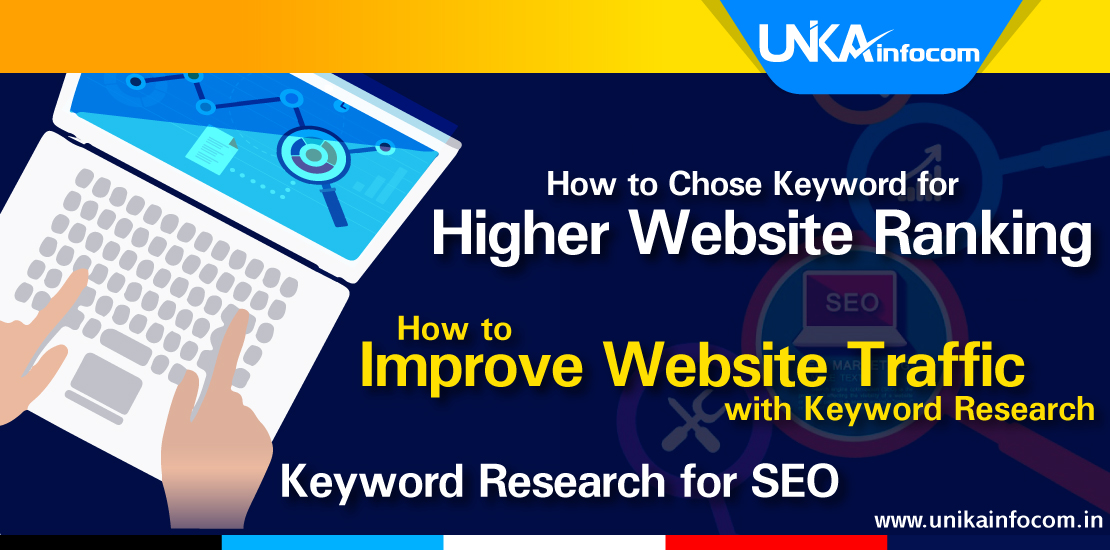 How to Improve Website Traffic with Keyword Research
The topic is about How to Improve Website Traffic with Keyword Research. We will figure out some simple tactics to do a proper keyword research. The first step for any effective & successful SEO strategy is the Keyword Research. Picking relevant & proper keywords for your website Search Engine Optimization is the most crucial factor for higher returns. Google keeps on updating their search algorithm every now and then, so you need to strategies your SEO according to that. But in spite of that one thing is constant for a successful SEO and that is an in depth keyword research.
What Keyword Research stands for?
Keywords are actually the terms people search for in search engines & Research is the statistics & way to find phrases people will type in search engines. Therefore altogether keyword research is the way from which you can find the terms or phrases which relate your website & people will search in a search engine.
Points to remember before you start your keyword research:
Your website category, brand, product or service related to your website, website authority, number of pages, quality of content, website banner & images etc.

Your goals and objectives in terms of branding, exposure, traffic, leads, sales.

Knowing your target audience.

Your budget, resources and deadlines.

Your industry and competitors.
Let's discuss how to research for keywords for you SEO
Know your business:
The first & most important thing to start keyword research for your website SEO is to know details about your business. This includes knowing your business segments, like products or services you deal with & mentioned in your site; your competitor analysis; your target audience in terms of gender, age, profession, social presence etc and last but not the least terms related to your site that is more appropriate for searching your business segment & can be mostly used by users for searching online. List those terms and phrases then start doing analysis with those terms with some good keyword research tools available online. One of those is Google Keyword Planner.
Brainstorm most appropriate search terms:
Brainstorming seed keywords is the foundation of your seo strategy. To promote business online, first try to brainstorm & figure out how other might search for it. Now list down relevant keyword ideas and have a good research of what people searching in Google relevant to your website.
Research related search terms:
This is one of the handiest ways to do your keyword research. It's the effective way to fill up your relevant keyword list with other search terms. If you can't think of various search keywords for your business then go to Google.com and type a keyword searching sites similar to yours. Now in the bottom of result page section you can find many related search terms. These are actually suggesting for searches related to your original input. These keywords can give you an idea of search terms you want to incorporate for your website SEO.
Head terms and long-tail keywords:
For a good keyword research you should have the idea of head terms and long-tail keywords. Head terms are keywords or phrases which are generic and shorter in length, typically having three words length. On the other hand Long-tail keywords are longer in length and also contain more than three words.
It's very crucial to include both head terms and long-tail keywords into your keyword research list. This is the best way to strategies your SEO with more balanced keywords. As you will have shorter as well as longer keywords for searching. This is certainly the keyword strategy that's with long-term and short-term goals. Head terms are more general and searched most & have more competitors in the list, unlike Long-tail keywords are more specific phase as a search term which can point out your exact website niche and also has lesser competitors.
For example:
Head term: SEO Strategy (As general term)
Long-tail: How to implement good SEO Strategy for website (Specific phrase)
 Cut down the keyword list:
Now you have made a good list which includes various keyword terms & phrases related to your website. Now it's time to narrow down your keywords list. You can use various Keyword Research Tools available for this task. While doing this task keep in mind some points such as, data on visits, rank, difficulty, historical performance, and your competitors' performance factors. These all points you will have in Keyword Research Tools.
Keep in mind to re-evaluate & update these keywords in every couple of months or in quarters to stay ahead in the competition.
Click to know about top Ad Network Platforms for your Website & App