19/07/2017
Posted by:

Millon Unika

Category:

All, Business, Digital Marketing, Internet, Mobile App, SEO / Social Media, Technology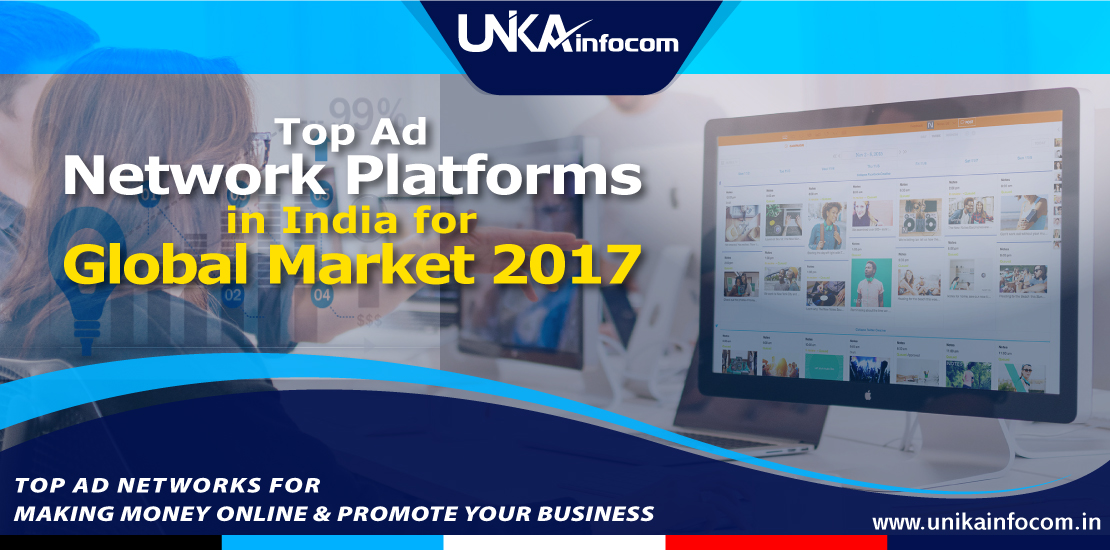 Top Ad Network Platforms in India for Global Market 2017
Business owners tried at least once to get benefits from AdSense for their business. But it's not fruitful every time and most of the cases it doesn't give satisfactory business you are looking for against the amount you invest in AdSense. There are lot of other options which can be more effective for your business branding with a higher business conversion rate. So it's the time to consider your other Ad Network Platforms to get better business figures.
Ad Network Concept:
An Ad Network is a marketing organization which provide platform for Websites and Apps to advertising their service or product for sell within their network. You can consider it in a way that ad networks are the marketers of your product or service hosted by your website within their network or audiences.
The inventory of online advertising space comes in various forms like, PC and mobile websites, blogs, mobile apps, emails, news items and online media. An advertiser can buy ad network package, category package, or customized package according to his / her target audience within the network.
Here we will discuss some Top Ad Network Platforms For Indian 2017 which you can use to promote your website and make more potential customers & business through them.
1. Tyroo
Tyroo based in New Delhi is the largest ad network in India. Its USP is its top class self service platform for their customers. It is also the leading mobile user acquisition and monetization platform. From their self service platform you can login as business owner, get access of their reports & analytics and hence strategies your ad promotion plan.
Tryoo allows its customers native experience and understand behavior of audiences in emerging online markets; specializing in monetization on E commerce & M commerce segments.
They deliver more than 20 billion ads every month to consumers across 15 focus markets around the world.
2. Adadyn
Adadyn is the second most popular global advertising technology platform which has a unique & targeted approach to online advertising. Adadyn's platform provides the tools to reach audiences and meet marketing objectives. It provides users a complete & customized platform, which gives users total campaign control with real-time optimization. It has got the ability to create and serve dynamic digital ads with customized messages across screens. Therefore as per controlling your campaign with your own hand its certainly the best option.
It has low budget compared to other. Therefore for small businesses & startups its the best option. Moreover it has a very transparent operation.
Its has some good tie ups with a number of ad tech providers in the ecosystem like fraud and malware protection agencies, DSPs and SSPs, trading desks, and more. Adadyn empowers those with smaller ad budgets to produce more relevant, targeted ads. So in one word its the best platform for small budget but with higher business figures.
3. adChakra

adChakra is a cross-channel ad network advertising company that helps brands and businesses to reach their marketing goals.
Its comparatively new and is only 8 years old. But it already marked his step in the market by winning the 'Deloitte Fast Technology India' Award for 2010 & 2011 within the first four years.
adChakra has got some big fish in their client list like, Toshiba, Toyota, Vatika, and Sparx ans many more.
4. Axill
One the most prominent ad network platforms which is emerging is Axill. This platform allows publishers to generate revenue from their websites by offering the best offers on the web and facilitates them to keep track of their performance by providing online reporting.
It has a good customer support system. It works with publishers to improvise & improve their performance. Based on your website nature & content, Axill will suggest you the suitable offers and programs. This network also gives publishers to chose between pay-per-performance or display and enables them to partner with hundreds of advertisers and access millions of ads.
Below are some features why you should join Axill
With Axill customer can choose their desired network for ad and get paid on net 30 via Skrill.
It has a good sales & support team. Their analytic wing is also very proficient. The team consistently generates high quality, high performing campaigns from recognizable brand advertisers, giving you the benefit of a top-notch sales force selling your inventory.
It has a cutting edge & user friendly user interfaces with optimized analytic  and strong reporting system. This altogether gives you all the controls needed for your campaign & ensure good conversion for your business.
The publisher support team provides consultative services that increase your earnings and performance, in addition to all general customer service and account maintenance inquiries.