28/02/2017
Posted by:

Millon Unika

Category:

All, Business, Graphics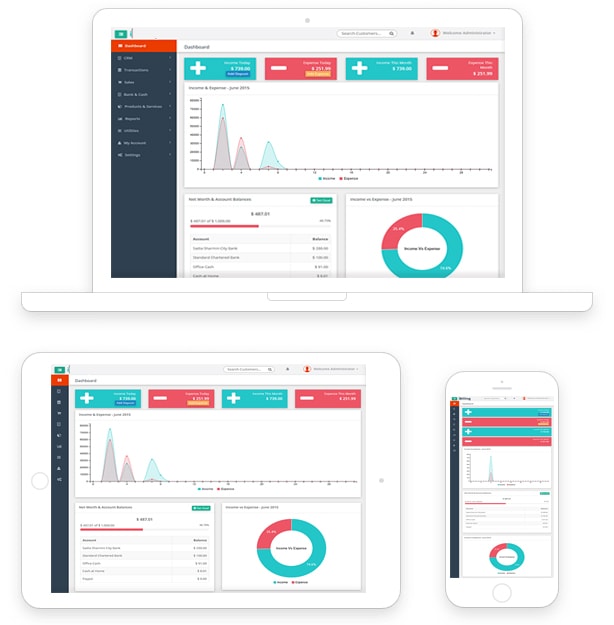 Total Accounting Solution for Any Business or Organization
Unika Infocom provides Total Accounting Solution for Any Business or Organization. This advance Accounting ERP Application keeps records of all the accounts related details into your organization; and also processes all accounting transactions, with various functional modules. Such as accounts payable, accounts receivable, Salary & Wages expense, Miscellaneous expenses, bank book, cash book and trial balance etc. In fact it's a total ERP system for all your accounting needs. The best part of this application is that; it's fully customizable & also tailor-made application; which means; it will serve and also fulfill your particular & precise needs related to your accounts.
Major Focus of Accounting ERP:
It's very user friendly with intuitive interface. Anyone having some knowledge in operating computer can easily use this application.
Also it has a range of useful functionality from core accounting to advanced financial management with all modern accounting modules such as project accounting, budgeting and consolidations
Moreover it has centralized accounting & transaction management.
Also this is Tailor-made & fully customized product, for specific accounts needs.
Above all It has a built in taxation accounting for all applicable tax for your organization. It generates easy reports, analyze estimations & maintain history. Also third part Tax computing components can be integrated with it easily.
It will provide you decisions making analysis with real-time visibility, accurate accounting & transactions.
Support your compliance's with embedded controls and comprehensive audit report.
Total Trial Balance Report & Balance Sheet for easy Audit.
On the other hand various MIS Reports with Excel, PDF & Printing Option.
Key Features:
All type of payment transaction management is done using this module
Income, Expense Details.
Account Heads Creation for Debit & Credit.
Account Heads for Income & Expense.
Fund Management.
Donation Management.
Tax Compliances Management.
Account Heads Master.
Transaction Details.
Separate Accounts Head Management.
Bank Book, Cash Book management
Costing Section.
Balance Sheet Generation
Several report related to accounts of a student
Various MIS Reports
And also other customized modules as per requirement.