24/03/2017
Posted by:

Millon Unika

Category:

All, Business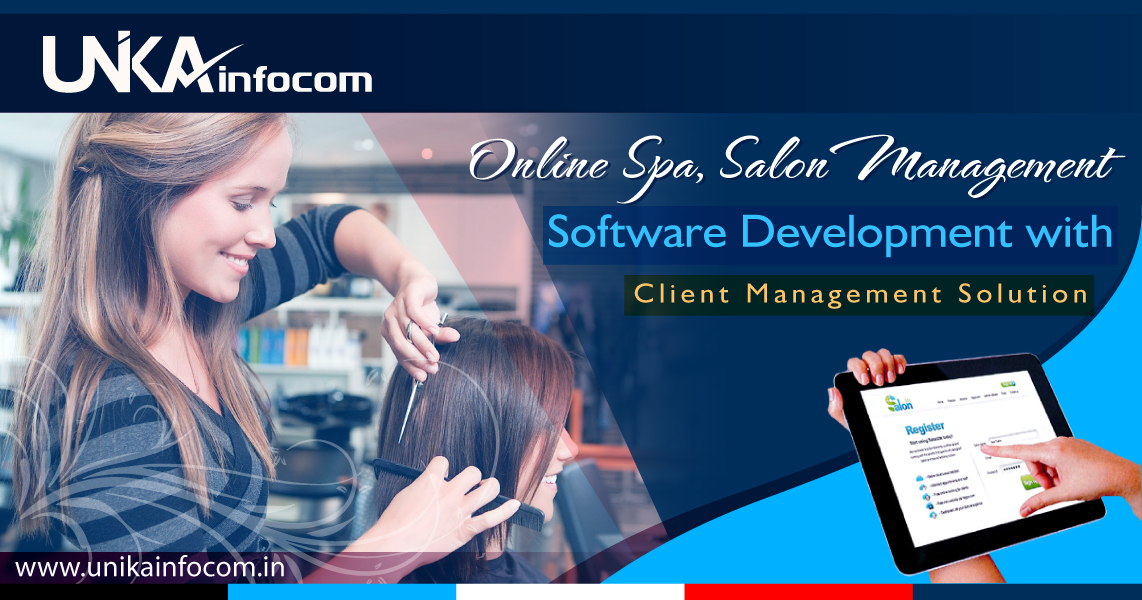 Online Spa, Salon Management Software Development with Client Management Solution
Unika Infocom offers a total solution for Online Spa, Salon Management Software Development with Client Management Solution. In fact this product covers all the basic and major requirements a salon or spa needs to maintain their operation smoothly. It also has an inbuilt CRM system to offer your customers best of your deals & also offers. Moreover it will send your customers greetings on the special days. So in one word its a complete solution for your business.
Features Overview:
It has integrated Customer record management system.
Also Stylist/Assistant record management with auto Salary / Incentive calculation is a prime feature of it.
 Since it offers Salon Service Management, Service Categories and also Tariff Management. Therefore it handles all the very basic operation easily.
On the other hand it has a very user friendly interface.
It also creates Service Slips and Invoice by auto calculation.
Ultimately it has a well planned Customer Appointment Booking Chart that maintains all the schedulings. Therefore it removes any human error chances of appointment scheduling.
Furthermore it has Products Sales and also Purchase Module, with Stock Management System.
Package Booking is a advance feature of this product. Therefore customers can have a wide range of options and also has a swift system for booking their packages.
This product has a integrated Membership Management Module. Therefore, any salon or spa can offer their clients different membership plans and also manage their membership services.
On the other hand it offers a full Customer History module with advance features also.
Since, this product has Receipt Management option, therefore your servcice operation will be smooth & proper.
A vast & customizable MIS Report Section is the USP of this product.
Service Sales Reports
Also Products & Stock Reports
Moreoevr Salon Reports
Furthermore Customer Reports
Software Settings
Our system provides a full access and also permission control Module, therefore it creates Users and Restrict access to reports
Backup & Restore is a added feature of this product.
Modular Features:
 Customers:
Receipt
Invoicing
Billing
Membership Management
Appointment Booking
Reminders
Visit History
Feedback Collection
Promotions & Marketing
SMS & Email (for SMS sending SMS Gateway Needed)
Points Management
Vouchers Management
Employee / Stylist Management
Commissions / Incentives
Targets
Payroll Calculation
Revenue Analysis
Target Analysis
Scheduling
Appointments
Employee Cost Analysis
Inventory
Retail Track
Also In-Store Track
Moreoevr Projected Usage Track
Furthermore Actual Usage Track
On the other hand Stock Alerts
Product Under Stock
Selling Analytics
Usage Analytics
Supplier Payment
 Billing & Accounts
Billers Management
Also Petty Cash Management
Furthermore Supplier Payment Management
Moreoevr Utility Payment Management
Opening Closing Balance
Miscellaneous
Invoicing
Receipt Generation
Different Bill Payment Modes (Cash/Card/Online)
Special Features:
Analytics
Moreover Category & service wise revenue
Furthermore Promotional Activity
Also Data Safety
Online Protection
No Data Loss
Sales & Performance analysis