28/11/2016
Posted by:

Millon Unika

Category:

All, Business, Infographics, SEO / Social Media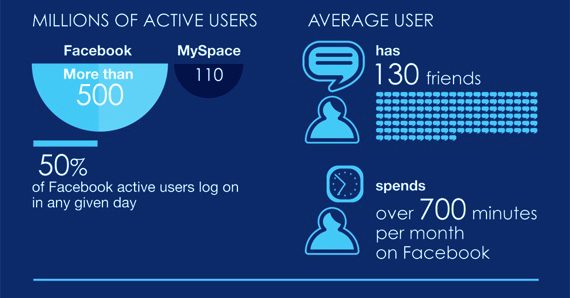 How People Engage in Facebook – Stats for Business
Over the last decade a revolution in World Wide Web began. Access & usage have increased drastically in an exponential manner throughout this period, mostly over the last 5 years. Internet exploded with enormous user traffic and the innovational concept of socializing over internet grabbed the major chunk of this traffic. With the increasing popularity of this social web concept many organizations introduced their social web platform to attract users and known as The Social Media. In this period 'Facebook' emerged with their Social Media Platform and within a shorter period of time it became viral across the whole world. Social Media platform mainly introduced to give users a social presence in web, building communication among users & communities, exchanging views, info, picture & videos, connecting likeminded persons. With the time Facebook became an integral part of our daily lifestyle. Gradually people understood the power of this platform and industries whether it be big or small or an individual business owner realized how it will help to grow their business. It became the most powerful & benefited medium for business or brand promotion and this strategy adopted by Blue Chip Industries too.

Facebook Facts & Figures:
User Stats-
79 billion Monthly active users and having 16% growth rate YOY.
44 billion Monthly active users.
66 billion Mobile active Users.
18 billion Daily active users.
03 billion Daily active mobile users.
From above stats we can see that Facebook's Monthly users is alone more than most of the countries total number of population. So its very obvious how lucrative this platform is for business owners, big corporations & brand promoters. It an open market with endless consumers.
Inside Story:
More than 4.5 billion likes daily generated in Facebook.
Like & Share buttons are viewed approx. 10 million websites daily.
Five new profile every second is created in facebook.
Female percentage of active facebook users are more than male active users.
Highest traffic in facebook observed in mid week 1-3 PM & post 7 PM slot.
There are 83 million fake profiles but still they are potential consumers as they are real being.
300 million photo upload per day.
Average time spent on Facebook per visit approx. 20 minutes.
510 comments, 2,93,000 status updates are made every 60 seconds which signifies how active users are.
50% population of 18-24 years of age group go on facebook when they wake up. It can lead to a good promotion strategy for content uploading.
As per many surveys & online resources more than 42% of marketers acknowledged that Facebook is important for their business.
As per report till May 2013, 16 million local business pages have been created on Facebook.
All the above stats surely lead a business analyst how to get benefited using this platform. By understanding these patterns of nature, behavior, likings & communications strategies & business intelligence can be made and companies deploying analysts & marketer to incorporate this pattern into their marketing strategy to boost growth.