26/02/2018
Posted by:

Millon Unika

Category:

Business, ecommerce, Web Design, Web Development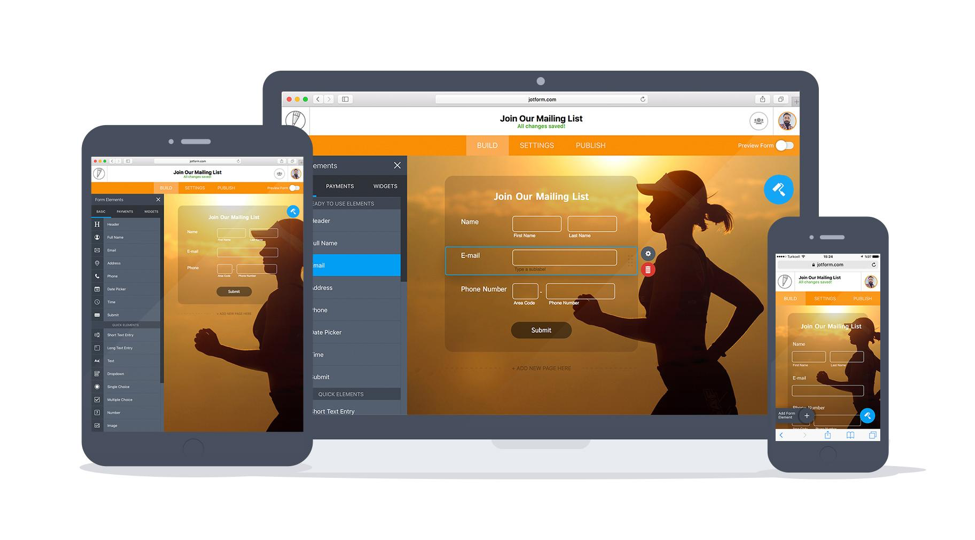 Top Website Form Design & Enhancement Tools 2018
Forms are a very important part of a website. Great form designs provide you great UX. Also attractive forms are very important for website landing pages. It surely helps to increase the conversion rate by providing an appealing view impact to your customers. Rather than using simple monotonous forms for your site you can use interactive & beautiful forms which will intrigue your visitors. Using beautiful & trendy forms in your website could be a great strategy for generating more leads & increasing your business volume. Here we will discuss about Top Website Form Design & Enhancement Tools 2018.
You might also like: How to Enhance WordPress Website Theme with Top Plugins 2018
1) Foxholder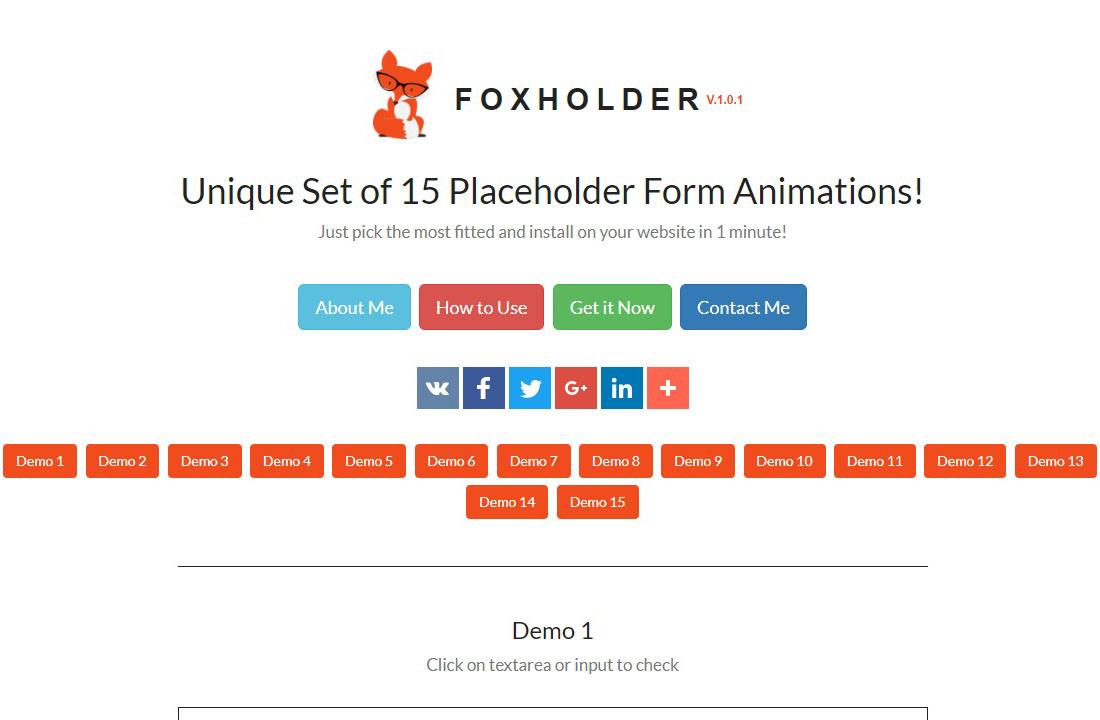 Foxholder is a unique and one of the most popular animation kit to enhance the look & feel of your website form designs. It's mainly consists of 15 various professional CSS3 placeholder animations which makes your website forms more beautiful & smart. It also has button animations which add a different dimension to your form buttons. Moreover it's very easy to install & compatible with almost all the modern browsers. It has different cool & attractive animation effects for form placeholder & form field titles against user inputs.
2) formbase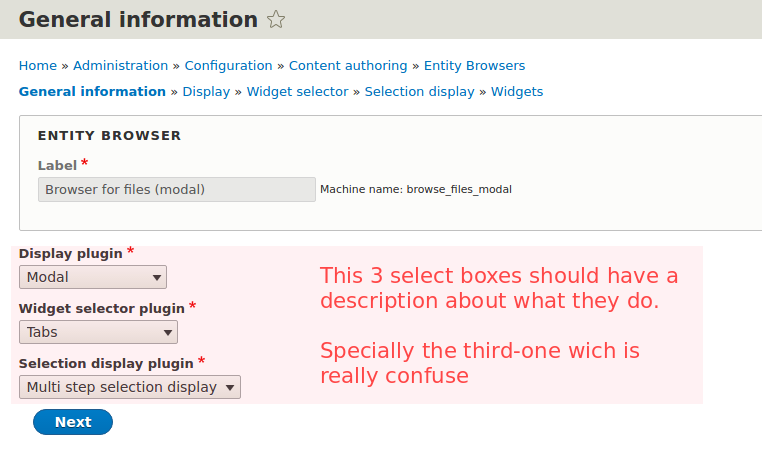 formbase is another popular & useful tool to enhance the forms of your website. This package has some great default styles for common form elements. It also uses CSS and SASS which by default enhances the designs & looks of the elements of a form. It's also easy to use & compatible with modern browsers. Moreover it makes things easy as it has a professional by default styling effect for form elements.
It doesn't need any JavaScript rather than just CSS & removes all cross browser bugs. This tool also has zero dependencies & works with all common form inputs, radio buttons, checkboxes etc.
3) jQuery Validation Plugin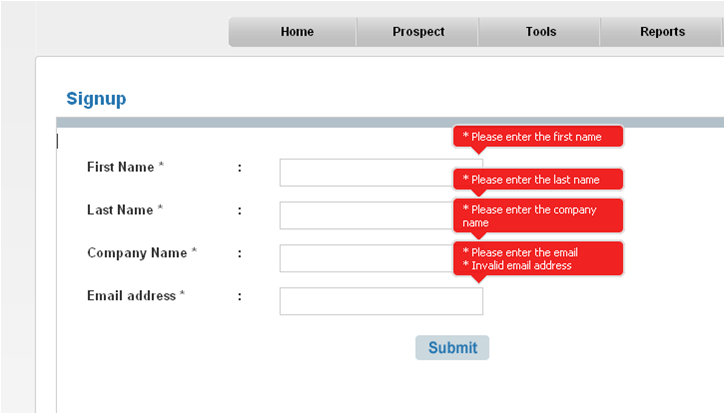 For designers & developers Jquery Validation Plugin is one of the mostly used tools for clientside form data validation. The popularity it bagged because of its highly customizable feature. In addition this package also supports Email Validation & URL validation in any form. As per the developers it's a great choice as beside its customizable feature for validation, it also has API through which developers can add customized validation.
4) Inputmask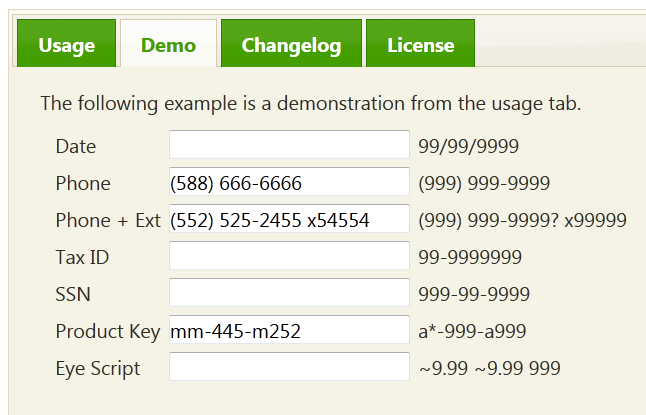 Inputmask plugin is basically a JavaScript/jQuery library. With this plugin you can predefine the input data formats for any web form like date field, phone number, pin codes, currency etc.
It super useful for the web designer as well as it helps the user to put proper inputs against form fields as it's predefined. Therefore whenever a user putting data on the particular field it will show the exact data format that particular field requires. Above all this great plugin not only alerts the user about the data format, but it also validates the user input data for any wrong entry.
5) Dirrty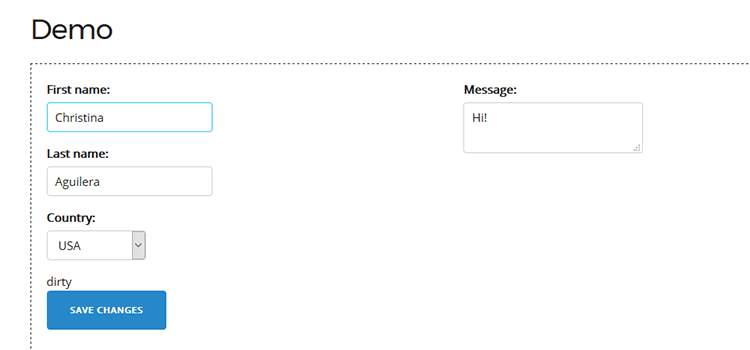 Dirrty is a unique jQuery plugin that detects any modification of a form field. Whenever a form field data is changed or modified, at that very moment this plugin detects the changes and triggers a message as 'save changes' to the users. It also prompts to save the changes if the user tries to close the form or page.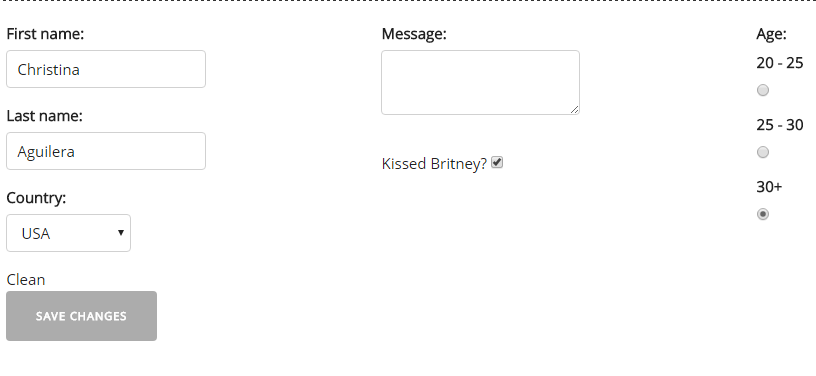 On the other hand this plugin automatically disables the 'save changes' option if the change made in form field is revoked to the previous data.
6) dependsOn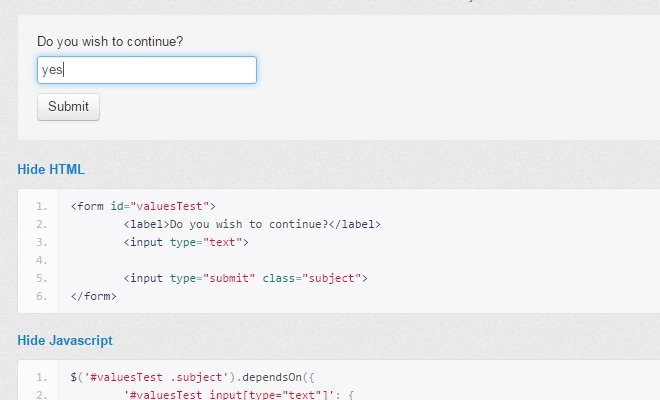 dependsOn is a jQuery plugin to handle form field dependencies. You can add dependency to you form just by including this jQuery plugin to your header. You can handle field dependencies with this & can make only the relevant field visible with this plugin. Moreover it also handles the validation of the fields.
7) Choices.js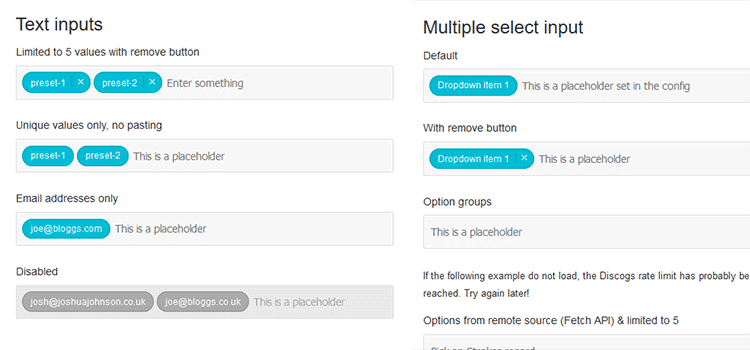 Choices.js is a JavaScript plugin for select box/ text input form field. This plugin is very light weight & customizable, so you can add smart & attractive custom select box and text input styles to your forms. Most importantly it's not jQuery dependent & has flexible & cool styling effect with clean API. It also has dynamic filtering & fast search option & consists of nice custom templates.
8) Cascading Drop-Down Menu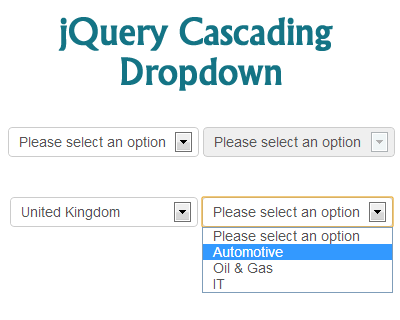 Cascading Drop-Down Menu is a jQuery plugin with which you can populate set of drop down menus for your form. It's a step by step selection so you can create cascading drop down menus with reference to the previous selection. This is one of the best plugin for the web forms which needs step by step multiple drop down selection options based on previous selection choices. For ecommerce portals it's a great option where you could need multiple drop down search filters.
9) Multipicker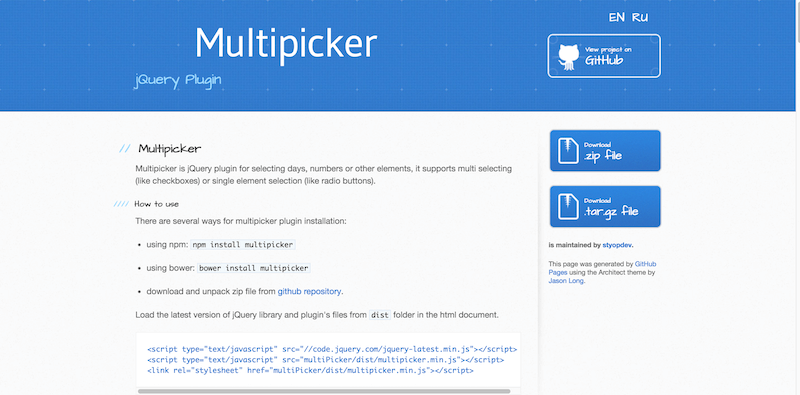 Last but not the least Multipicker is another great plugin to enhance your form's look & feel. It gives a smart & appealing way & design view to users to select single or multiple items in a list or form such. This is similar like radio button and checkbox but with more attractive & appealing design.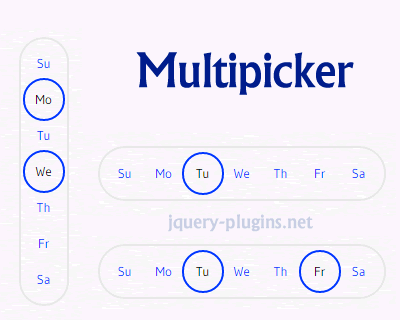 For selecting multiple days or multiple items from a list its a great option, moreover the visual impact is high compared to normal radio button or checkbox.
You might also like: Top WooCommerce Plugins for Ecommerce Online Stores 2018