11/08/2017
Posted by:

Millon Unika

Category:

All, Graphics, Internet, Web Design, Web Development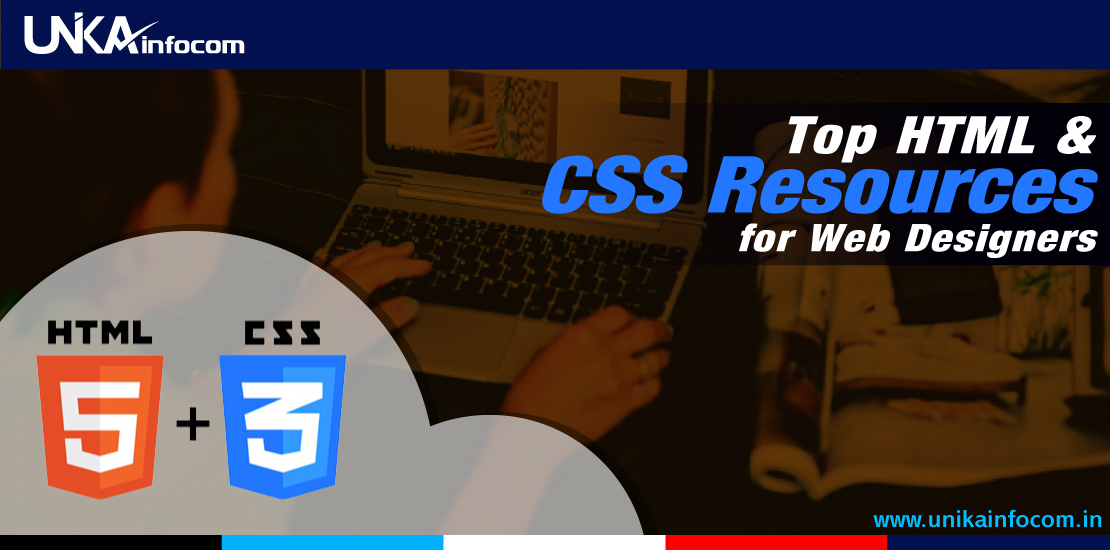 Top HTML & CSS Resources for Web Designers
For every web designers CSS & HTML are the basic foundation in order to become professional. The more proficient & sound knowledge a designer peruse in HTML & CSS the better his or her standard becomes. You can do almost every customization in web designing if you have a strong hold in HTML & CSS. There are many resources available online to learn HTML & CSS & also upgrade your skill on these. We will discuss here some of the top resources for HTML & CSS whether you are a beginner or want to develop your skills more.
There are actually mammoth references on HTML & CSS online which can make you confused. Therefore we have handpicked & listed down some top resources to help you out. These resources will tell you about various handy tips & tricks as well as some situation when you might stuck while designing a web page. It will surely enhance your skill in no time.
Related Topic: Top Google Chrome Extensions for Web Designers
HTML Cheat Sheet:
This is a brilliant & very useful HTML cheat sheet. It consists of a full list of all HTML elements, also with descriptions, code examples and live previews. HTML Cheat Sheet is almost like A-Z of HTML tips. It was invented by Tim Berners –Lee in 1991. You can find all HTML tag & attributes here with sample codes which is very helpful to any web designer.
CSS Cheat Sheet:
Like HTML Cheat Sheet this is another excellent Cheat Sheet for CSS. CSS is the background of any web design or Web Development project and also the tougher half among two. You can customize any design with a strong hold in CSS writing. Grasping CSS & master it is not an easy job. Therefore CSS Cheat Sheet is an easier way to find the solutions easily of your CSS related issues. Even if you are very proficient with CSS still you will need this cheat sheet to find out your precise solution. You will have all the list of tags & attributes of CSS here. Therefore if you forget any CSS components, this list will help you to find it easily. It has a PDF option also to save the list for further references.
CSS-Tricks:
'CSS-Tricks' was launched in 2007 by founder Chris Coyier. It's very popular among beginners as well as professional web designers.  It has a large number of downloadable CSS & HTML code samples, JQuery Plugins with live preview option. It's tips & tricks are very useful for any web designing project. You will get tutorials also here. In one word it's a very helpful site for learners as well as live 0project developer.
CSS Wizardry:
CSS I previously mentioned CSS is not a easy thing to master. That's why you need to take help from the top resources available. CSS Wizardy is one of those. It was founded by Harry Roberts. It has a large number of CSS related articles & tutorials. You will find some of the best articles on CSS here with all the latest updates on CSS. So if you are a beginner or a master, this resource is equally helpful for both of you.
CodePen's Yearly Top Pens:
CodePen is has the collection of yearly top pens. Therefore it's a great way to learn from the best. You will have simple to high end designing demos here. It's also very convenient explore codes here.
Web Design Weekly:
HTML & CSS is constantly developing with the time. New features & implementations are every day being implemented with the cutting edge technology. In Web Design Weekly you will find all the latest updates & trends of HTML & CSS. This Email Newsletter goes once a week and keep you up to date with the trend.
Responsive Design Weekly:
This is also a weekly Email Newsletter which is very popular among web designers. It provides great quality responsive design articles, tips, tools, tutorials, samples, links etc. It will keep you updated with all the latest features, developments & implementations in web designing. It also posts interviews of top industry leaders & web professionals.
CSS Shapes (sarasoueidan.com):
This site is founded by Sara Soueidan who is a renowned front-end developer, speaker, author & tutor. Here you will find how to deal with CSS shapes & create non rectangular shapes with CSS. It contains very important descriptions, instructions & samples for every front end designer.
Jen Simmons Lab:
Here Jen Simmons experiments & demonstrates CSS grids & possibilities of Graphic Designing on Web. He also explores new layout styles here. It's a unique site for creative designers. Here Jen merges creativity with CSS designing. Also implements it in practical ways with all the latest CSS features.
Related Topic: Top Open Source E commerce Platforms