19/06/2017
Posted by:

Unika

Category:

All, Business, ecommerce, Internet, Web Design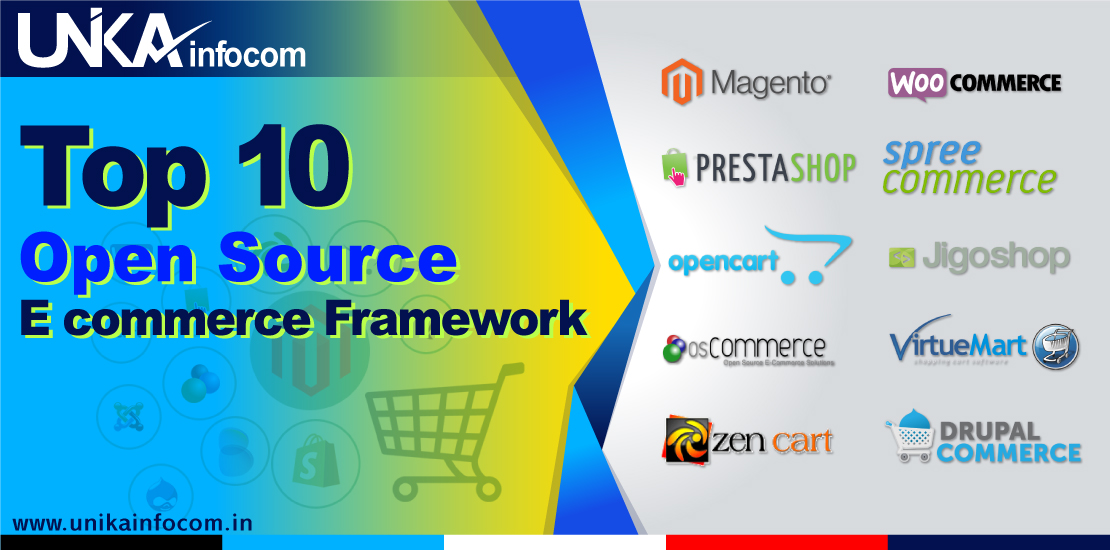 Top 10 Open Source eCommerce Framework 2017
E commerce has opened a new dimension in retail sales. Internet traffic is more attracted towards Online shopping now a days, so ecommerce revenue is growing day by day and as per stats it will cross 1 trillion business worldwide in 2020. Lets discuss here about Top 10 Open Source E commerce Frameworks.
1. Magento Community Edition: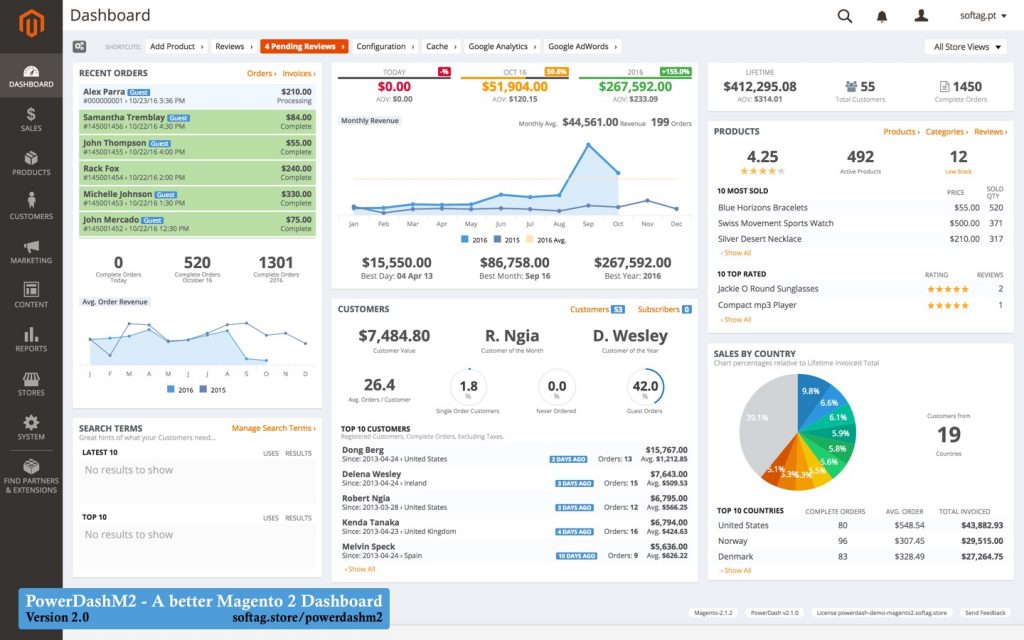 This framework is the most popular for E Commerce portal development. Many big shot companies built their eCommerce site  with Magento Framework. "Magento Enterprise Edition" is costly and companies like Nike, Samsung use this. But for cost effectiveness & lower maintenance Magento introduced "Magento Community Edition" . This has become very popular now a days.
Magento is ahead of other frameworks, because of its advance features & utility. It is also more robust compared to others. So Magento surely holds the 1st position of the top 10 list.
2. PrestaShop: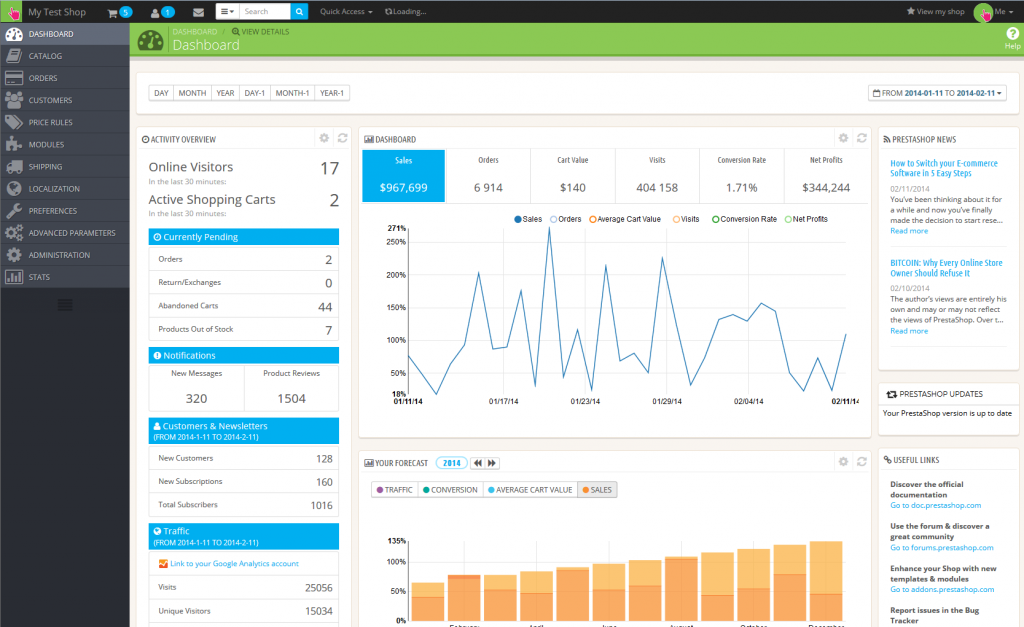 PrestaShop is very popular because of its user friendly admin & backend panel. Its been largely used by companies. Almost over 2,50,000 stores use this open source platform. Therefore for its popularity & ease of use this framework holds the second position.
As per the development point of you, it has a very intuitive interface. Installation & customisation is easier in PrestaShop framework. Therefore as per fast work pace &  updation this is very popular among the developer also. Moreover it has both fully hosted & self hosted version for free. The only downside of it is that it doesn't have lot of customisation option for graphics & themes. But the controls are much user friendly in it compared to the others.
3. OpenCart: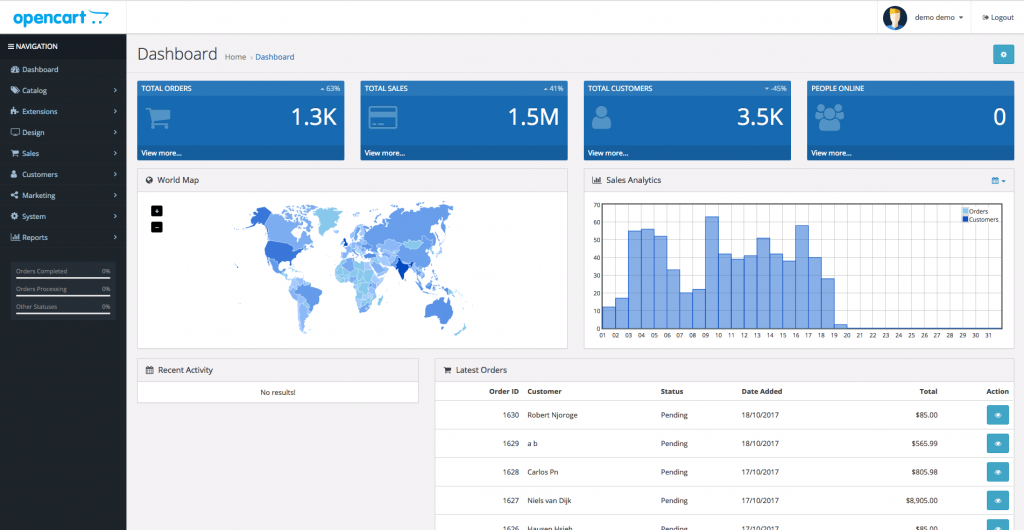 OpenCart is most popular amongst the startups. Its cost effective and anyone having minimum programming experience can work on this framework easily. Its much easier as per the backend control & development. But it has less functionalities & customisation options compared to other shopping cart platforms.
Still its very popular amongst developers & site admin because of its accessibility & lesser complex features. It has many cool & advance plugins & widget options, therefore a programmer with good shopping cart development experience can create good shopping cart with this framework. Integrating plugins & extensions are easy with it and it has a huge marketplace for themes & plugins. Its community support is also good because many developers use this platform for the startups.
4. osCommerce: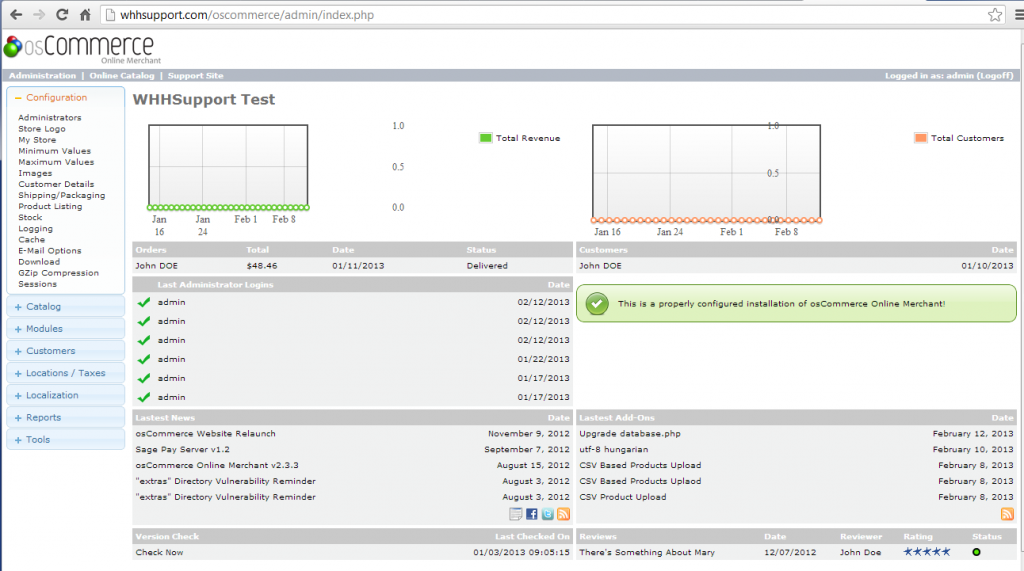 One of the most trusted open source platforms for developer & user both is osCommerce. This platform is there in market successfully for the last 15 years. It hast a large active community which created more than 7000 useful add-ons for this platform. These make designing more interactive in osCommerce.  As per designing it offers wide range of customisation option & plugins to make the storefront more attractive.
Its developer forum is huge, therefore you can have a large support network. If you face some problem developing in osCommerce this support network tips &n postings will be helpful. The downside of this platform is that its bit old compared to other cutting edge frameworks. Also as per scalability & robustness its quite behind from the others.
5. Zen Cart: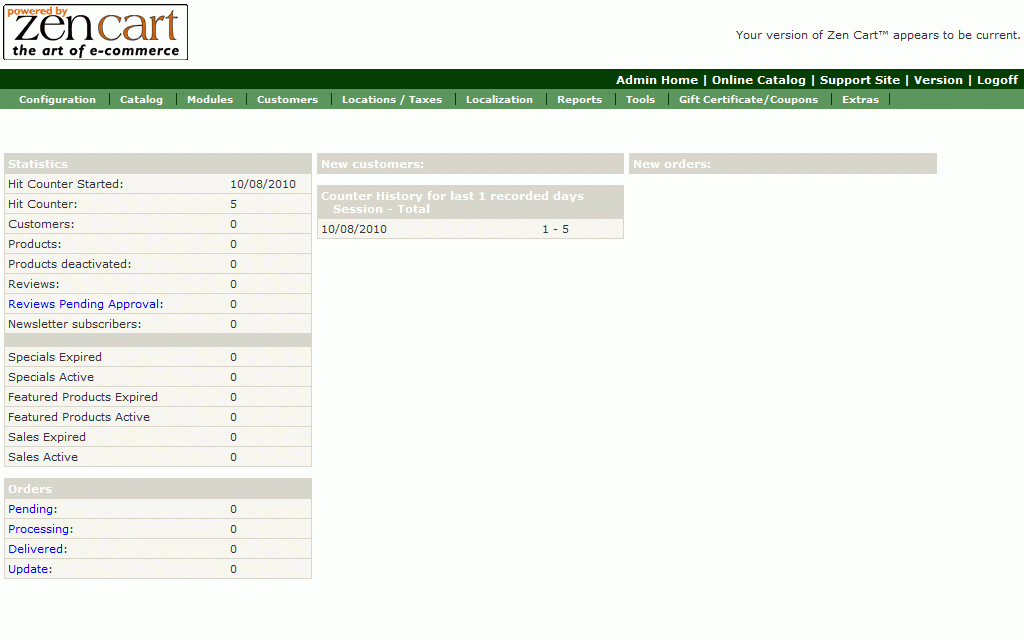 The main reason behind Zen Cart's popularity is its advance product management system. Zen Cart provides a very useful control over products, inventory, sales. Its control is very effective but with ease of use. This framework is great for startups, but not so good with companies having vast product range. It tends to slow down if you have large volume of product entry.
For easy install & publish the storefront its good. But if you are looking for an attractive cool looking storefront then its not for you and you need some strong programming skills to enhance its look & feel.
6. WooCommerce (WordPress):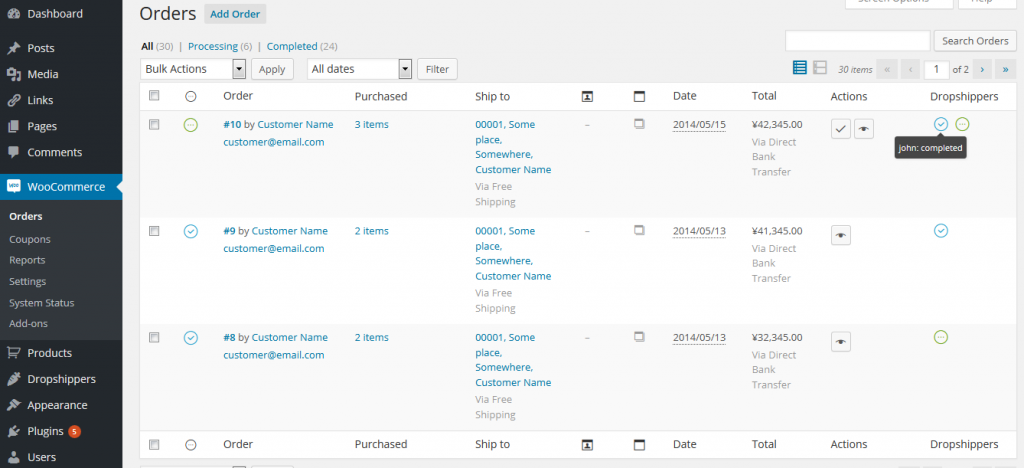 Its the leading ecommerce framework for wordpress. Mainly Tourism sector is using this framework for their business. Its very easy to integrate with wordpress and you can do it if you have some basic wordpress programming skills. You can manage your products easily here.
Its popular for its mobile friendly layout. Its responsiveness attract businesses who want to target users of smartphones, tablets. This platform is cost effective for businesses who wants to make mobile apps for their store front. With some add-ons & API its this framework provides a smooth compatibility with your store front app. Its has limitation i.e it can be implemented only with wordpress, therefore its not so appealing for big stores. But small sectors who have their web presence in wordpress and try to publish their storefront but don't want to expend for new ecommerce , then for them its an useful option to implement WooCommerce with their wordpress website.
7. Spree Commerce: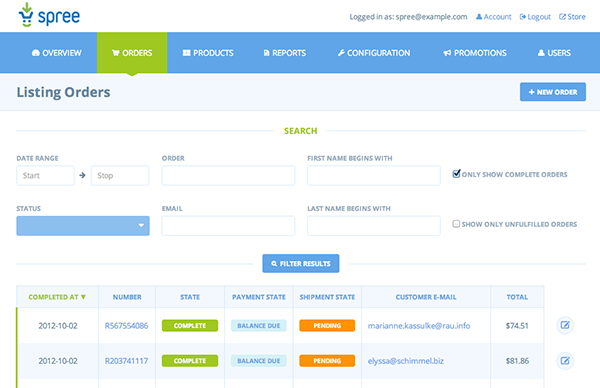 This framework is one of the newest for ecommerce. Its based on Ruby on Rails. Its easy to install, configure & upgrade the functionalities. Many available extensions & plugins are directly supported by Spree Commerce, therefore its easy to implement without having an experienced developer.
This is indeed the fastest growing & accepted ecommerce platform, because if you are having a larger & complex storefront it will make this flexible and you can do many customisation easily in your storefront with this framework. For its flexibility & scalability its being accepted widely.
8. Jigoshop (WordPress):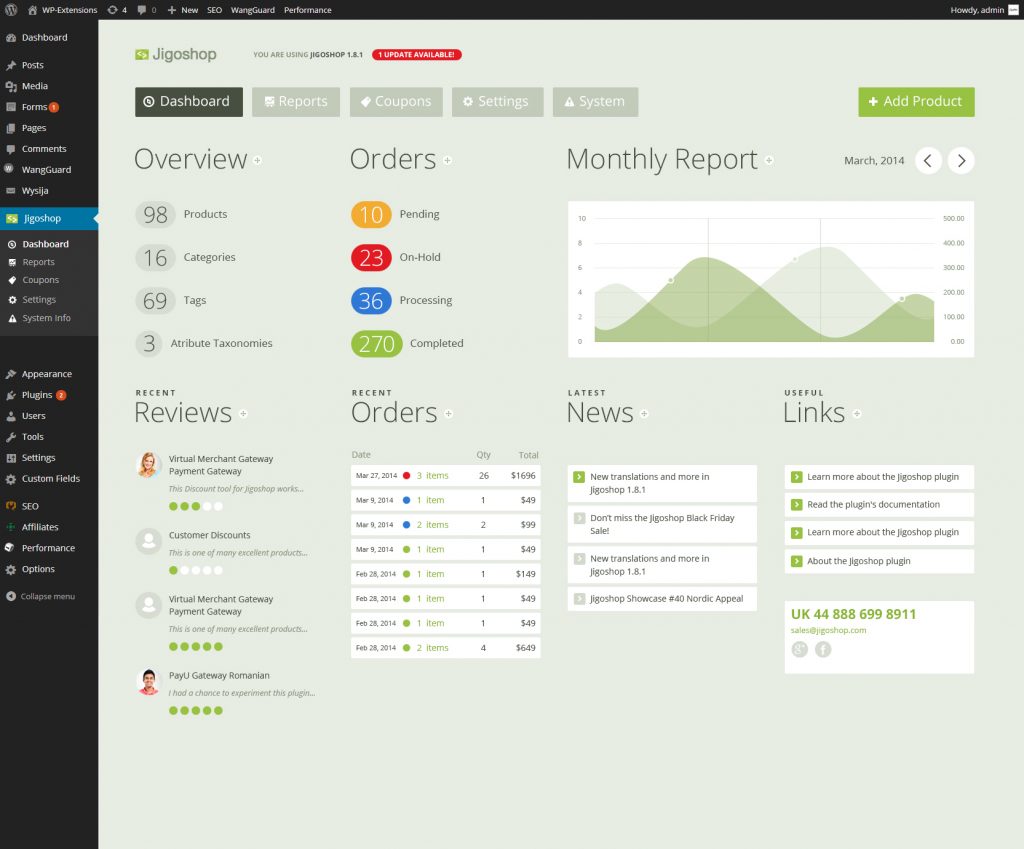 This is another light weighted WordPress based ecommerce platform. Like WooCommerce this framework also easy to implement & use. But it has a big drawback as per managing your product variants. Adding products is very time consuming in this platform. So managing your large storefront, Jigoshop is not a great option.
The main framework is very basic and for making it advance and implement updated features, you need to purchase upgrades. So how much you can afford to buy upgrades, your storefront will depend on this.
9. VirtueMart (Joomla):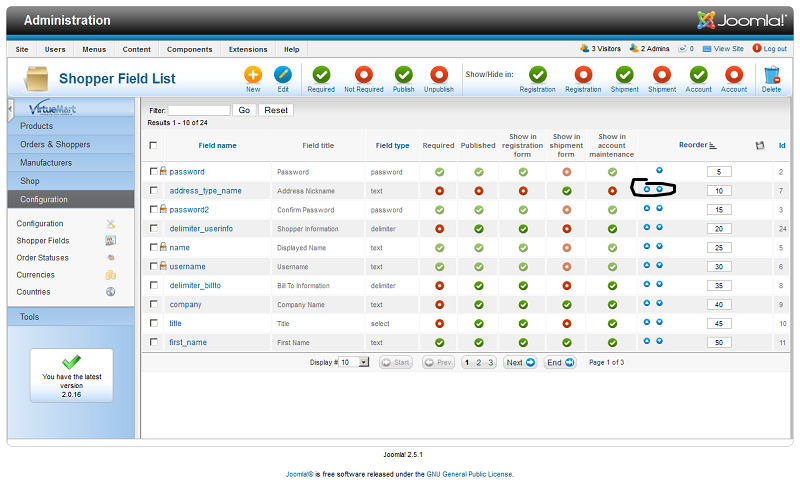 VirtueMart platform is the mostly used ecommerce extension for Joomla. It has a seamless approach to implement your storefront. It supports multi language option. So storefronts want to get exposure in global market, its a good option for them. Buyers can view their desired products in their native languages.
Its a useful SEO compatible framework. So with experience developer you can attract more traffic in your storefront. Its a good & effective choice for Joomla developers but it lags behind in terms of advance features compared to other advance frameworks.
10. Drupal Commerce (Drupal)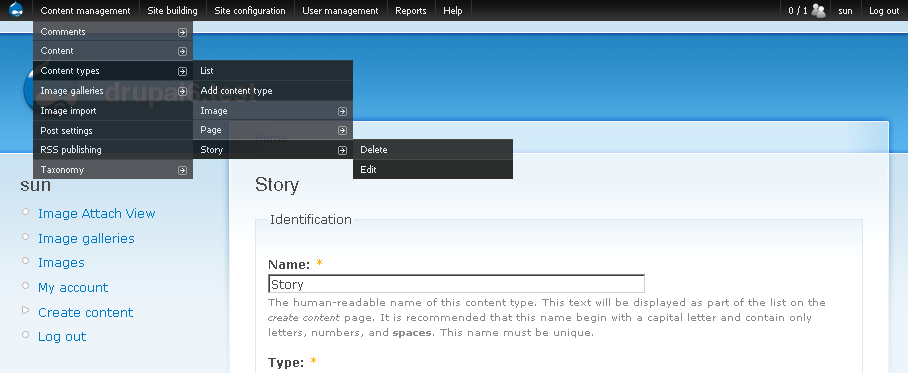 VirtueMart Drupal Commerce is very popular amongst the drupal developers. The most attractive feature of drupal is SEO effectiveness, so it attracts startups who want to make digital promotions for their storefronts. Its admin panel is easy to use & seamless. Implementing subscription based complex payment method is easy in this framework.
Its only compatible with Drupal & has some good add-ons, so its good for a head start.
Web Development | Mobile App Development