04/08/2017
Posted by:

Millon Unika

Category:

All, Business, Digital Marketing, Internet, SEO / Social Media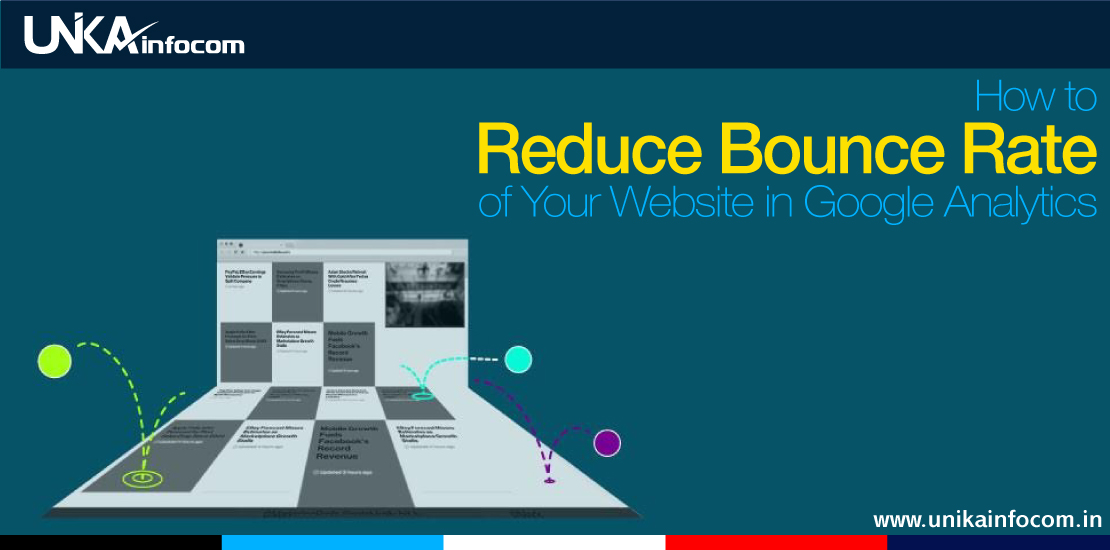 How to Reduce Bounce Rate of Your Website in Google Analytics
There are many misunderstanding & misconceptions on bounce rate of your website. Here we will discuss some methods about "How to Reduce Bounce Rate of Your Website in Google Analytics". Bounce rate is one of the most crucial factors for your website rank degradation & traffic crisis.
Google analytics is responsible for calculating and reports the bounce rate of a web page and website. There is a common misconception of bounce rate is that it's related to the time spent by the visitor in your web page. But it has nothing to do with the total time spent. It's basically the average percentage of a single page visits sessions. Means, it's the number of visits in which a person leaves your website from the landing page only without browsing your website any further.
Related Topic: How to Increase Your Business with Top Online Marketing Tools
How Google Analytics Calculates Bounce Rate:
Bounce rate of a web page= total number of bounces on a page in a given time period / total number of visits on the page in the same time period
Here, Bounces is the number of single page visits resulting from the page and Entrances is the number of times visitors entered you site on the page.
Bounce rate of a website = total number of bounces across all the  landing pages on the website (in a
given time period) / total number of entrances across all the landing pages on the website (in the same time period)
Reasons for High Bounce Rate:
There are various reasons for bounce rate on your site. Those mainly are slow page loading speed, not relevant content, not precise info. in the landing pages, low quality content & images, clutter sections in page etc. These are the main reasons a visitor will abandon your page without visiting further resulting bounce rate.
1.   Do not Target Keywords or Marketing Networks with Low Value Traffic:
If your website is getting traffic category which has nothing to do with your niche or service. Then your bounce rate will definitely increase. Because the traffic will abandon your page without finding nothing relevant. Find out the traffic sources which are sending poor quality traffic. Also do not use those source channels or keywords.
2. How to Adjust Bounce Rate:
The most powerful way to reduce bounce rate is to adjust it by calculating the time spent on a page. You can use Google Tag Manager  to adjust your bounce rate.  Also if you you have a blog site, news & article site or a product marketing page, then give other relevant & interesting links on your page so that visitor will browse through and do not leave your landing page without navigating.
3. Create Satisfactory Landing Pages to Retain Visitors:
If you are getting the right traffic but your landing pages lack the content, points or images to satisfy the visitor's query, then the they will leave your page without wasting time. Therefore always keep your landing pages in a way that will satisfy your visitors & intrigue them to browse more.
4. Relevant Landing Pages:
Create a landing page which is relevant to your search keywords. Visitors come into your site with search keywords. Then if they find that your landing page is not at all relevant to the search then they will abandon your site.
5. Call to Action Landing Pages:
If your landing pages lacks 'Call to Action' (CTA) or not precisely display CTA, then you cannot retain your visitors on your site. Headings, sub-headings, navigation and directional clues  are some effective ways of displaying your CTA. For example, use H1 or H2 heading to highlight your main title.
6. Chose a Fast Hosting Plan & Optimize Your Website Loading Speed:
Speed is the main factor to make a good first impression of your website to your visitors. If your website loading speed is not fast enough then visitors are likely to abandon your page and try another site. Pick a good & reputed hosting plan with a good bandwidth, speed & 100% up time. Also optimize your page images, plugins & videos to make your website faster.
7. Create Attractive & Visually Appealing Webpages:
According to a surveys a visitor decides approx. in 8 seconds or less whether to stay or leave a website. So you need to make a very pleasant & attractive first appearance to hold back your visitors. Make your web pages smart & appealing to your visitors. Always put attractive but relevant videos & images. This will increase the average visit & browse time for your site.
8. A Reason to Stay & Explore Your Site Further:
Every visitor comes to a webpage with certain purpose & when the purpose is solved then they tend to leave the page. Give them a reason to stay further to your website.
Some Important Points You Should Avoid to Optimize Your Website Bounce Rate:
Poor webpage design
Poor Navigation
Not Responsive layout. So landing pages become hard to read on devices with different screen resolutions.
Cluttered Page
Lots pf Ads
Too much text or irrelevant text.
Poor page & content formatting
Little to no spacing between lines and paragraphs.
Lack of headings and sub-headings.
Slow loading of landing pages.
At any cost load Audio/video contents in a fraction of second.
Tip: After everything, still if you fail to optimize your website bounce rate then do page level surveys for all web pages in your site. It will give an option to your visitors to give feedback for your page without login. Its basically a plugin having Thumbs up & Thumbs Down Feedback.
Related Topic: Top Keyword Research Tools for SEO 2017