27/07/2017
Posted by:

Millon Unika

Category:

All, Business, Digital Marketing, Internet, SEO / Social Media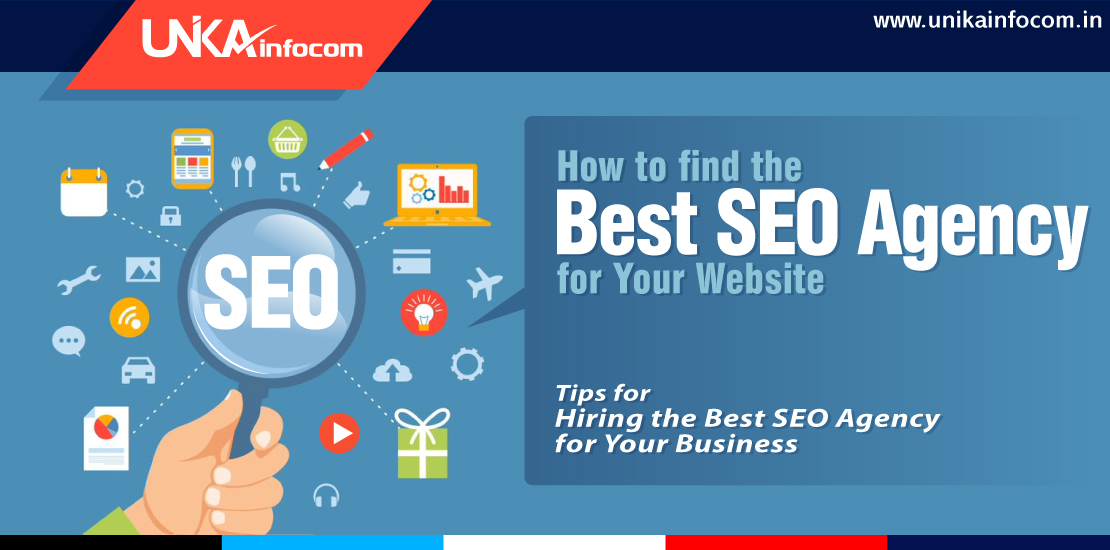 How to find the Best SEO Agency for Your Website
SEO is the backbone of your business marketing strategy. A good SEO strategy will bring potential traffics to your website. This traffic can be turned into your client & provide you business. There are many SEO & Digital Marketing Agencies present, but you need to pick your agency very carefully as it's the foundation for your website marketing. Finding the perfect SEO agency is tricky & you need to consider some points before selecting your SEO team.
Here we will discuss how to point out best SEO agencies in the industry. But in the very first step you need to fix an approx. idea of your SEO budget & the Goals you want to achieve.
Have a look at How to Increase Your Website Traffic
Verify Past Results:
Search Engine Optimization is the most effective marketing strategy for organic traffic & new businesses. It will help to route your potential client into your website from search engine page. It will make your website visibility higher to the people & give you a better position in search pages. So always check for past results of an agency with whom you want to start your SEO campaign. Ask for their previous clients' seo results & reports.
Industry Knowledge:
Every business has its opportunities as well as challenges for their SEO campaign. Every different industry has its different focus point like customer base, focus location & target audience. So the SEO campaign also should be according to these factors. Check that your agency has some basic knowledge about your business domain or not. It's not a mandatory criteria but knowledge will help to strategies better. Also watch that how properly they are doing your competitor & market analysis.
Agency SEO Strategy for Their Site:
This is a very important point to remember. An agency which you want to hire for your website SEO, check their SEO status first. You need to look how they do their Online Marketing. If their online presence is good enough with better ranks from their competitors then they are certainly having some good strategy.
Look for Social Networks & forums for their credibility. Also search their reviews.
Expected Time of Goal Achievement:
This is the most crucial part for any business who is doing SEO campaign. At the end of the day SEO results are the thing which will determine your web traffic.
Ask your agency for a expected time for achieving your SEO goals. Look for realistic & honest answers. Agencies who exaggerate their SEO achievements with some unrealistic shorter timeframe & results; they are certainly not any good for you. Your money will go in vain with them. Because SEO is a long term strategy and timing of results are not specific all the time.
Therefore be aware of 'guaranteed first-page results 60days' or similar promises.
Look for Efficient & Responsive Agency:
SEO is a marketing strategy; therefore it needs ideas, plans, meetings, brainstorms etc. So chose an agency, who has a proper analytical team. Check if their support is good enough & have a special care for their customer. A good SEO Account Manager or an SEO adviser can build a perfect strategy for your business. So they need to give time to understand your aspects to give you better results.
Backlink Strategy:
This is one of the most important topic for a successful SEO. Google has some strict rules for building backlinks. So check if your agency follows all the search engine guidelines or they are planning for a easy way, which is not a tall advisable for backlink building.
For Black Hat SEO technique, means backlinks from spamming or expired sites google has some strict rule. They penalise those sites using 'black hat' link building tactics. The site's rank drop drastically overnight & they lose their traffic.
However, 'white hat' backlink strategy is good & very important for your SEO strategy. The white hat approach involves creating high quality content for your target audience, online business partners and affiliations.
By this method process of building links natural & help in higher rank building.make sure that your SEO agency applies this strategy for you promotion & search optimization.
Also submitting unique, informative & quality content is the main key for a successful SEO campaign. You should be more regular with your content submission. So keep it in mind that your SEO agency crucially focuses on content submitting strategy and able to create quality market relevant contents.