23/08/2018
Posted by:

Millon Unika

Category:

All, Business, Digital Marketing, Internet, SEO / Social Media

How to do a Successful Facebook Promotion for Higher Leads and Audience
In whatever business you are, a facebook page for your business is as important as your business website. In todays scenario a facebook page have become one of the most important factors for online promotion campaigns for any business. It provides marketers immense leverage to reach to their specific target customers globally.  But utilizing this platform to the fullest through your business page is not easy. You have to have proper public campaigning ideas and deep understanding of this platform and its promotional algorithm to reach maximum of your potential customers & generate good leads.
Facebook frequently changes their algorithm and make updates, so if you want to effectively & professionally use this platform for your promotional or marketing use then you should be equipped & updated enough about their promotional strategy.
Above all content is the king, so if you want to increase your facebook business page search visibility higher and reach out to the maximum number of your target audience then make your content quality appealing, interactive & unique. This helps to increase your audience engagement more.
Understanding Facebook Algorithm
Being up-to-date about the algorithm updates is the most crucial factor for a successful business campaign & generating business leads. In 2018 facebook came up with a major algorithm update for social promotion. Based on this algorithm, organic searches declined & decreases massively for business pages in facebook. Rather they started giving weight to quality content & meaningful interaction among users.
Facebook gave more preference and importance to their users and they place the contents in users feed which is most appropriate for the particular user or the contents the user would like to engage with more. So marketer needs to think like a user if they want to increase their content reach. Therefore it's more about meaningful conversation or interaction among users and create a closer community. So before starting any promotional campaign a marketer should think about these points first to increase its reach to the audience.

According to facebook they considered below points as meaningful & interactive engagement between users.
Facebook Reactions and Clicks: Facebook considered giving reactions & clicks on a post as active engagements though they have lesser priority than comments & shares but still it has a decent engagement values.
Comments: Users' comments on post are considered as important active engagement and have got value to increase your posts reach. They also consider the quality & meaningful comments, number of time comment reads and scrolling the Post's comment section.
Shares: This is certainly the most important factor for any content to reach maximum audience. Public shares & Private shares come under this category.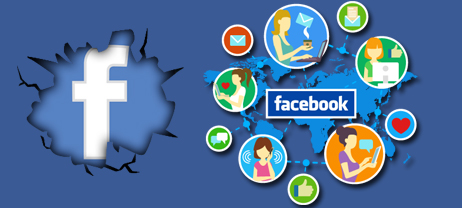 Let's discuss about some of the determining factors to increase your content reach on facebook:
Think like a user and you have nailed it. Users come to facebook to interact with friends or other users, seeking entertainment, to know latest updates & news feeds. So make your content such a way that can fulfill user needs.
1. Engage Your Fans:
Creating  topics that engage your audience & fans more is the key. Interactive & appealing topic will help to increase more audience & fans involvement. Encourage your fans to give reaction, comment & most importantly make shares.  Also you can ask questions or opinions, update them with news & trends of their interest, chat & interact with fans to increase more engagement. But one thing you need to remember that never poke your audience to comment, like, share or tag directly. This will considered as engagement baiting and facebook will decrease your reach.
2. Increase Entertainment Value of Your Post:
A Large number of users come to facebook to have fun, pass their time & get entertained or get some news, trend update & information. So make your post such a way that compel your audience and give them a way to get entertained from your post.
Create attractive polls for your audience, which encourage them to engage, include GIFs, images to your content. Also you can tell your story with a video. These helps your post to get more engagement from your audience in form of comment, like, share & tag.
3. Don't go for Quantity, go for Quality:
Creating rapid post cannot help you to get maximum reach if your basic content is not compelling enough & lack content quality. As per facebook it's important that you should maintain consistency and regularity on your page activity and should post regularly. But at the same time you need to maintain your quality. So quality over quantity always wins and helps you to get more reach & potential leads.
4. Research & Analysis is always a key for successful promotion:
For any successful marketing or promotion research and analysis is always a proven strategy. Same applies for facebook promotion also. To increase your audience reach and getting more leads you should constantly study and dig deep inside the current market scenario, user behavior, facebook algorithm & strategy. Moreover you should do a in-depth competitor analysis to stay ahead in the competition & perform better. Your page data will tell you the whole story. Facebook offers you a quality and almost accurate page-insight filled with analytical data about you users activity, engagement, their online status, post views as with date and time data. This helps you a lot to figure out your content topic & promotional strategy.

5. Facebook Paid Campaigns or Boosted Posts:
Facebook offers you an option to promote your campaign and increase its reach through paid advertising or boosted post. It's a great advertising framework where you can promote your campaign according to your budget & target audience with many advance filters.
From your Post Insights you can analysis which of your posts have better engagement rate with the 'engagement rate' header by toggling 'engagement' column. Any post which has 5% or more engagement rate is considered as a good performing post. So you can select that post to boost it up.