14/09/2017
Posted by:

Millon Unika

Category:

Business, Infographics, Internet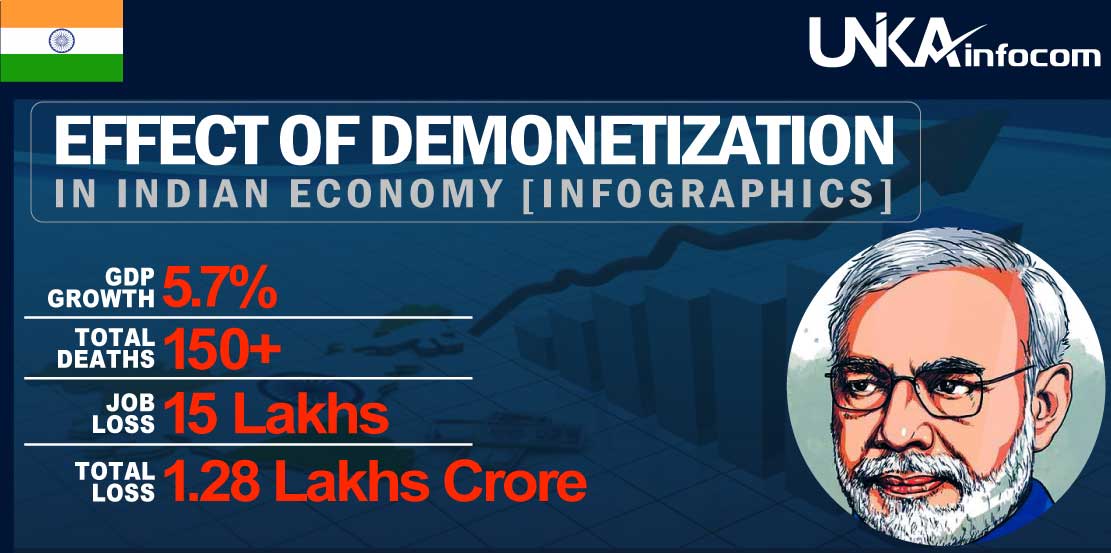 Demonetization Effect on Indian Economy Infographics
8th November 2016, was a historic day in Indian economy. On this very day Indian Prime Minister Mr. Narendra Modi announced the biggest Note Ban in Indian history, termed as "Note Bandi" that is banning of 500 & 1000 Rupee Notes. Previously in 1946 & 1978 there were demonetization in India, but the scale was not as big as this. As the result of this latest demonetization, 99% of the circulated money removed from our economy overnight.

Reasons behind the move:
The effects were at a mass level in every part of the country. In India black money was running as parallel as our government economy. So the motive was to demolish the counterfeit currency, black money sources & trail. And also control the crimes funded from this black money. Also Indian Government wanted to build a cash less economy & wanted to encourage transactions through cards. Counterfeit currency was the most alarming threat for Indian economy & security; this move trashed the counterfeit currency racket big time. But it was not as easy to implement this without a proper cashless infrastructure. Therefore the normal people suffered a lot from this massive scale of demonetization. Market was running short of funds, literally all transactions stopped & retail small market chains collapsed. So the initiative was good but the execution didn't meet the expectation level. Still the majority supported this move hoping to see a real collapse in black market & corruption. Here we will discuss the effects of this demonetization in the major sectors of our economy.
You may also like: Top web development programming languages
Facts:
As per trusted surveys almost 85% welcomed this demonetization decision. Moreover they said that the problem & inconvenience they are facing for this step is worth it for fighting black money & corruption.
10% mentioned that it's a bad move by the Government.
5% didn't respond in favor or against it.
Effect on GDP:
This demonetization had a devastating impact on Indian GDP. The GDP growth falls down to 5.7% in FY 2017. This is a major cut down of 1% growth. Slowdown of household spending & corporate investments for demonetization resulted this fall down. With this report Indian lost its status of World's fastest growing economy for FY 2017.
Lets have a look into Effects on Various Industries
Effects in real Estate Market:
Real Estate is one of the prime sectors affected majorly for this demonetization. The real estate market was running majorly with black money, so many corruptions were going on in this sector in terms of false rates, illegal transaction etc.  Therefore it was a great move for normal people. Real Estate Market slumped down after the announcement. The very next day of the announcement Nifty Realty Index dropped and corrected -25%.  
Consumer Durables:
Consumer Durables sector also had been hit hard by the move as it majorly had cash transactions. It is almost down by 11.8%.
Effects in Transport sector:
Transport sector is one of the most prominent sectors affected badly by this move. This is not a fully organized sector in India & it majorly depends on cash transactions. So this sector largely collapsed with this sudden decision.
Effects in Banking Sector:
Banking Sectors are the biggest beneficiary of this policy. A people stand in massive queues to return 500 & 1000 notes to the bank so the liquidity of the banks increased resulting increase in net earnings of the bank & CASA ratio. As per reports 86% of circulated banned denomination returned to banks which initiated bank rate cuts.
Effects on Infrastructure:
Infrastructure industry is another beneficiary of this policy. Infrastructure industry mainly funded by Government & Bank Loans. As the liquid flow increased in banks, infrastructure sector also benefited from that. It enjoyed a growth of approx. 5.2%.
Effect on IT Industry:
IT industry is most unmoved sectors post demonetization. IT industry mainly depended on foreign sources & MNCs. Also their earning & transaction mode is not typically like other industries in India. Moreover it probably the largest cash less sector, so it's not been affected by this move. Rather IT Industry had seen a growth of almost 7% in November 2016.
Effect on Jobs:
The most unfortunate results of this demonetization is the huge Job loss in many sectors in India. A large country like India most people are dependent upon unorganized sectors to earn their living. Unorganized sectors majorly collapsed with this move, they are running short of liquid funds which was their main transaction mode, hence lose earning & business. This resulted as massive unfortunate Job loss in post demonetization period, which is still not recovered fully. Also startups were cutting jobs to lower down their budget. Many families shattered with this move. Almost 1.5 million jobs lost in the first four months of 2017. Also this demonetization resulted as a 10%-50% drop on employee hiring by startups & others. 
Effects on Retail Industry:
This is another one of the major Industries in India faced terrible losses. This is an Industry where purchases mostly made by cash mode. Majority of Indian population uses cash as their transaction & not very familiar or has the infrastructure of using plastic money. Therefore with this demonetization move people were almost out of cash & restricted their shopping, resulting a huge downfall in retail industry. Both the organized & unorganized different Retail Sectors in India faced almost 30%-60% drop after this demonetization. 
Effects on Ecommerce:
This sector is certainly another beneficiary of this move. Though their COD segment faced a massive drop during this period, but their cash less transaction module jumped. Almost all Ecommerce Sites in India were throwing attractive offers throughout the period to encourage people by online though plastic money. As per reports almost 60% of surveyed people started to shop online with cash less mode after the demonetization. User base of ecommerce sites in India had seen a great growth after demonetization move.
Amazon: 25%
BigBasket: 15%
Flipkart: 7%
Grofers: 7%
Snapdeal: 5%
Others Total: 41%
Effects on Online Payment Wallet Industry:
This segment is certainly among the top list of the beneficiary. After note banning cash flow & transaction almost stopped because of shortage of hard currency. In this scenario payment wallets in India capitalized most of it. People start using payment wallets like Paytm, Freecharge, Mobikwik etc. Their user base & usage jumped rapidly since the demonetization announced. Paytm grabbed the most user share among them.
Stats of user share among Payment Wallets:
Paytm: 50%
Freecharge: 35%
Mobikwik: 9%
Citrus: 2%
Oxigen: 3%
Others: 1%
Have a look into the sum up:
As previously mentioned due this move our GDP fallen drastically resulting losing the Fastest Growing Economy status. Also due to improper governance, in spite of this move 11.23 Crore of Counterfeit Currency again circulated in the market. Cashless transaction was at a pick after the very period of the demonetization, but still  after four months it came back again to the previous point.
Most unfortunately almost 150+ people died during this period to cope up with the situation. Also 15 Lakhs Job losses registered since the demonetization.
How to Recover this financial Losses ?
Therefore from getting over this economic hazards Government needed to accumulate more funds. Thus Oil & Gas price haven't decreased as expected, rather it increased. Also Government needed to govern that no one can escape from giving taxes, so they finally implement GST.
You may also like: Top Big Data Tools