03/01/2017
Posted by:

Millon Unika

Category:

All, Business, Internet, Technology, Uncategorized, Web Design
CRM with IVR Integration
Main Objective:
The main objective of the CRM with IVR Integration Application Portal is to give an easy and user friendly way for Client Lead & Record Management, Client Order Management, Client query Management through IVR, Total Sales Analysis & Statistic Management and Allover Follow-ups Management through this advanced CRM & POS. It's highly robust & scalable. It's fully dynamic & customizable and moreover it has ultimate security & data integrity.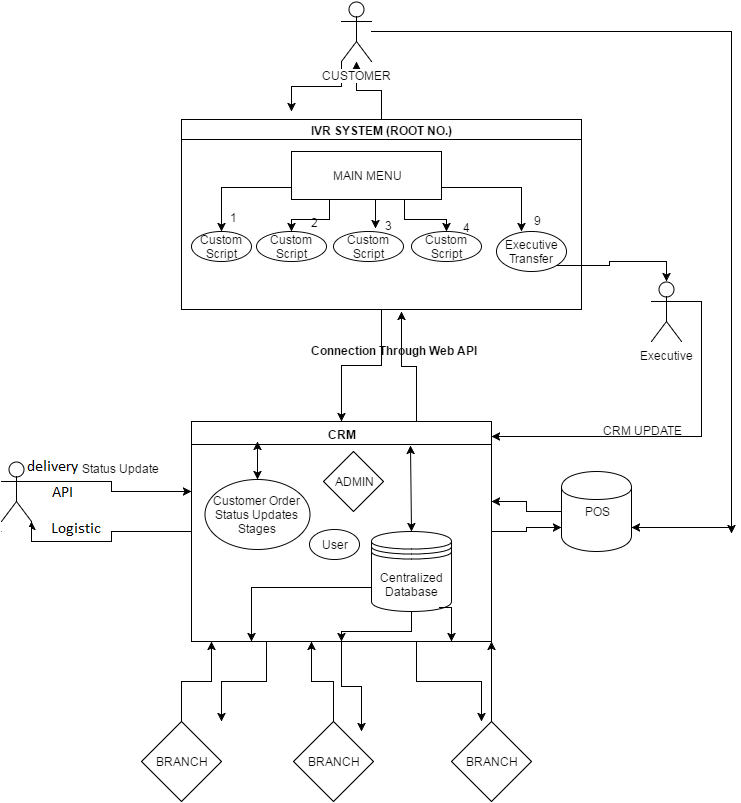 CRM with IVR Integration Application will have two main panels:
Admin (Administrator of the whole application)
HO User (User specific works & permission set by Admin)
Branch User (Branch wise access permission)
Tailor Login (Access Permission Set by Admin)
Primary Features of the Application
Client Record Management
Dynamic client data feeding with tagging
360 degree Contact Management.
Also Client Lead Management
Timeline & Delivery Scheduling Management
Calendar Management
Follow up Management
Call, Upcoming Delivery reminder and set alert
Documents Management
Call Scripts Management (IVR Scripts)
Client type category listing
Also Sales Force & Tailor Management
Report & Print Section
Last but not the least Google Analytics Integration
And Many Other Customized Features..
Key Features of the CRM Integrated IVR Solution:
Ultimate customer satisfaction
Moreover Goal oriented conversion
Improved ROI
Custom IVR Scripts
Also real time Customer Data Access
Automated VoiceXML Support
Moreoever Redesign Current IVR Scripts
 IVR Combined Support
Call Control Processor
Above all Web API Integration
DTMF Input support
Above all Voice-Tone Input Support
Also communication between IVR & Custom CRM via Web API
 Call Recording above all
User friendly GUI
Multilingual Support for Customers
Advance CDRs and Reports Section
And more
Key Benefits of the CRM with IVR Integration:
Deliver personalized services
Increased Up-sell and Cross-sell opportunities
Reduced IVR to agent transfer ratio
Reduced long distance carrier cost
Last but not the least better sales management
And more 
Some Detailing of the CRM with IVR Integration Application:
 Admin Login:
Manage entire Integrated CRM & POS from a single point. Also review customer order status & queries. Monitor users and giving access permission. Moreover all business; and info. report view from anywhere. Review transit status, tailor updates, customer feedbacks. Sales; and CRM analytics report view.
User Login:
User type wise login; and also entry option and dynamic permission set user type wise. Branch wise; & department wise user login. Query assignment; & query handling task for user. Customer feedback management. Task wise user tracking system.
Tailor Login:
Order status update for tailors and stored in centralized database. Tailor order status ticket update in CRM.
Collect customer details:
Keep all your client info in your fingertips. Customized client card fields and web forms help you collect and record all the information you need on every contact, also lead or customer in your CRM software. Our Online CRM software also has photo, entry fields of the lead source; also other insights.
360 Degree Client Contact Management:
Our Contact Manager will help user to maintain contacts in a centralized address book. It also has a comprehensive view of related tasks, notes, interactions; and emails.
Above all it saves time and close more deals with single-page contact management. Also it can view everything you need to know about a contact; on a single page. In fact these include contact info, communication history, social media profiles; and lead scores. The interface has a 360 degree profile prospect. 
Special Rental Customized Module:
On the other hand Special Customized Module for Garments on Rental. From this admin can manage & track garments on rental, rental time line calendar, rental on availability, also delivery & arrival tracking; & management. 
Manage customer relationships:
Access client information on your online CRM at anytime, anywhere. Also review past communication, documents, payments (POS Integrated) and upcoming tasks. Easily add new clients or import your contacts and customer data from Gmail, or an Excel file.
Follow-up with customers:
Get advance and instant pop up notifications for client call queries, follow ups; and feedbacks. You can also set alert & reminder for users or callers for customers order status.
Calendar Management:
The foremost feature is Sync with Google calendar and stay informed about upcoming tasks. A striking feature under customer order status; & also delivery management.
Sales & query Automation enables you to attach relevant documents to deals, contacts, companies; and emails in the CRM Application.
Order Status, Trial & Delivery Management:
It also eliminates the old-school sales scheduling; so you can get back to business. Also it eases out the pain of writing lengthy; and thereafter elaborate emails to schedule delivery; and also order status. Set alert also; & popup for upcoming trial or delivery. It moreover maintains all customer order status and queries.
Tele Call Management:
Detail listing & maintenance of outbound call, inbound call, call note; & remarks management. It will also do call log maintenance.
IVR Script Management:
The foremost attractive & useful feature of this module is; Query Type wise custom IVR script management. This IVR will also be connected to main CRM database, through interactive Web API.
 Upcoming Task Management:
It moreover has feature for set alert and pop up notification; for various upcoming task managements.
 Lead Management:
Moreover It has advance lead management section. Also it has call list setting for prospective clients; and also leads conversion rate statistics.
Stock & Inventory Management:
The application will also have dynamic stock; & also inventory management module.
 POS Management:
Above all it has Centralized POS data in your CRM to manage; and review all sales; and also analytics. In fact this Point of Sale integrated module, will handle all direct all retails sales.
 Also many other features and customization according to requirement.