19/09/2018
Posted by:

Millon Unika

Category:

All, ecommerce, Graphics, Mobile App, Technology, Web Design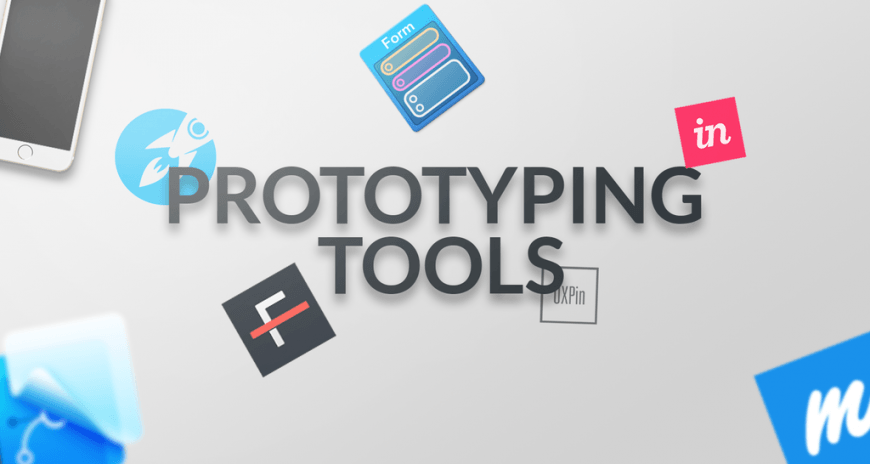 Best Prototyping Tools for Ecommerce App & Web Design
For designing & developing any project whether it is an ecommerce website, ecommerce app or any web based project, a proper design structure, wireframe and collaboration needed within the team. It's the most effective way to successfully carry on and deliver any project within the timeline & budget.
Various Prototyping tools play an effective role to accomplish this task.
It also serves as the most useful communication & collaboration tool amongst the team members, manager & clients.
Prototyping is indeed the cornerstone for developing any successful web or mobile app. A proper prototyping makes the whole process lot easier for everyone. Therefore you need a good prototyping tool to head start any project.
Managers & developers should have a proper and clear design flow before starting any project and also clients should have a clear understanding of how their proposed project will look like and perform. Also the whole team should have a better scope for collaboration regarding any point that is presented in a prototype. This is far better and practical approach than the project documentation. Prototyping tools provide you all these advantages
by offering much clearer & consistent vision and representation of your project. Here we will discuss about some very effective and quality prototyping tools available in the market.
You might also like: How to do a Successful Facebook Promotion for Higher Leads and Audience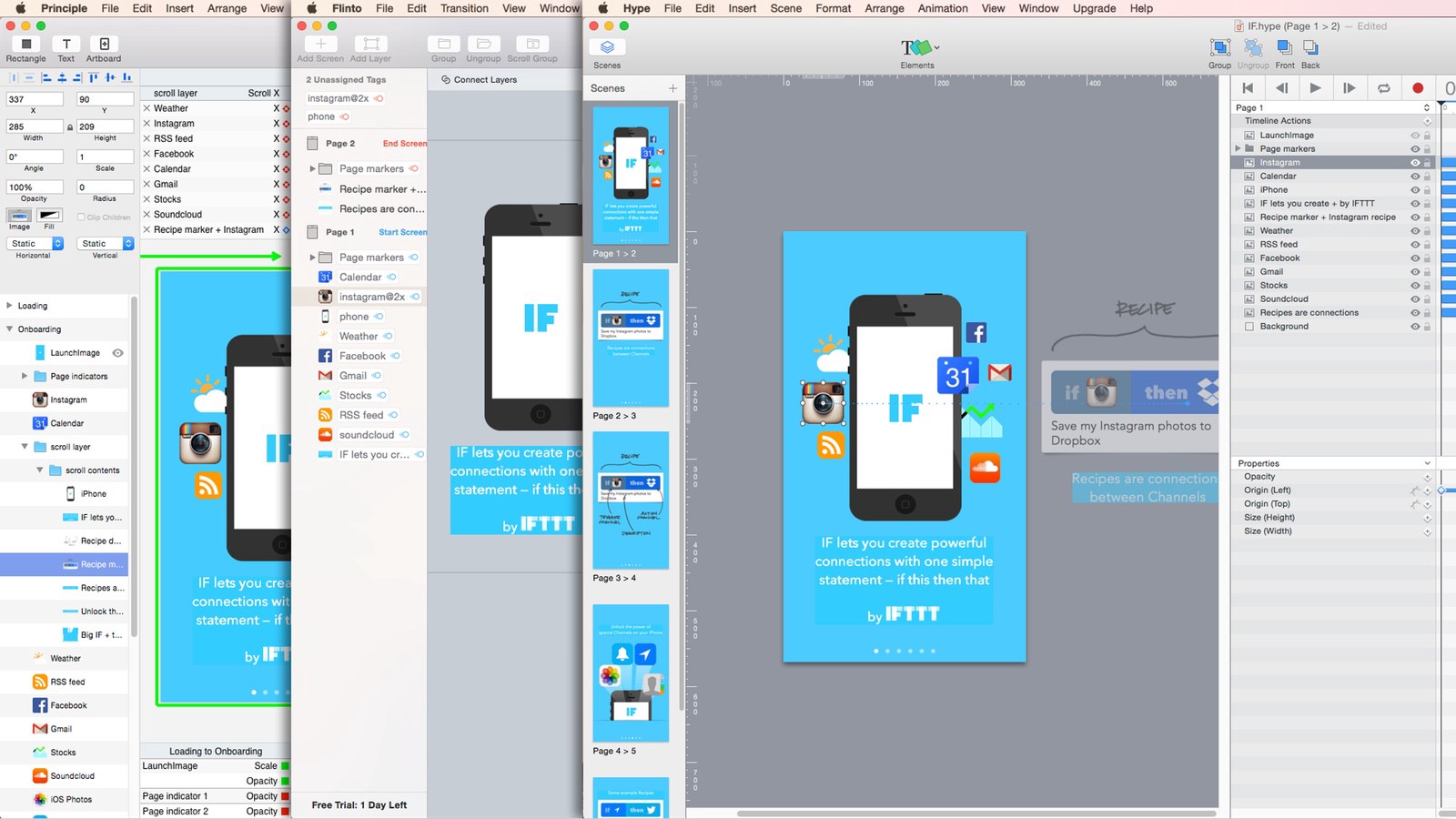 Key Advantages of Prototyping
You must have a good amount of architectural, designing & SDLC knowledge to produce a good prototype of any project. With new technologies new prototyping tools also came into market which makes the task much easier. Therefore, if you possess good prototyping skill with proper collaboration with the client, these tools can produce excellent prototypes for your application.
Following are some great benefits of prototyping
These tools interprets software requirements and functionality better and provides a proper SRS and Scope of Work for the project.
Prototype tools help to streamline the flow, design and navigation of the project, and also removes ambiguities in a project flow & design.
It helps to determine the closest end product & how it will perform.
It provides a clear picture to the development team as well as the client that how the end product will perform tasks and what will be its functionality.
As prototyping is a starting phase to design any project so it helps to reduce the scope of reworks thus saves time, effort and money. Therefore it's an effective way to restrict your project budget.
Prototyping tools provide an effective way for collaboration between all team members, managers & clients. Everyone will have a clear picture of the project process with the help of these tools.
This tool also helps to identify any loopholes in a project in the very earlier stage.
It also helps to determine number of and type of resources needed for the project.
Prototyping tools also effectively help to mark the project milestones.
Speeds up the process by collaboration like reusing & sharing idea & content.
Justinmind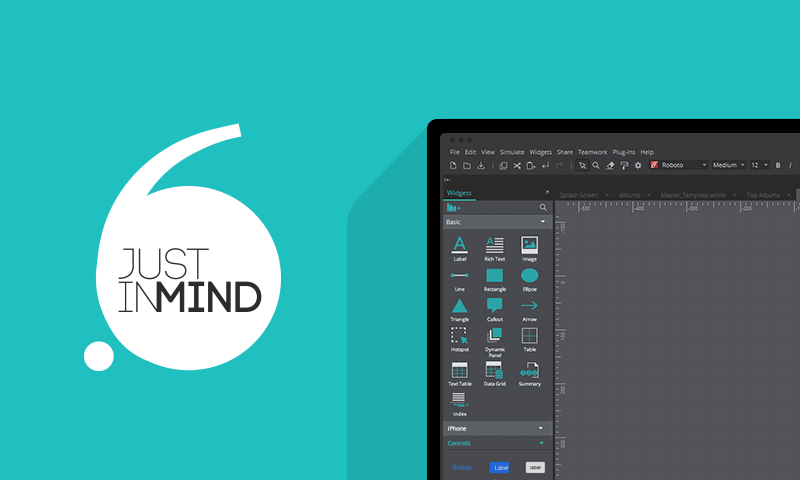 Justinmind is one of the best tools for wireframes and prototypes of web and mobile apps. Its very advance & consist of cutting edge features, UI library, API and SDK. It's also very interactive and you can produce a high end clickable wireframe or fully functional UI based prototype and UI mockups with this excellent tool for your Web Application, Android and iOS App .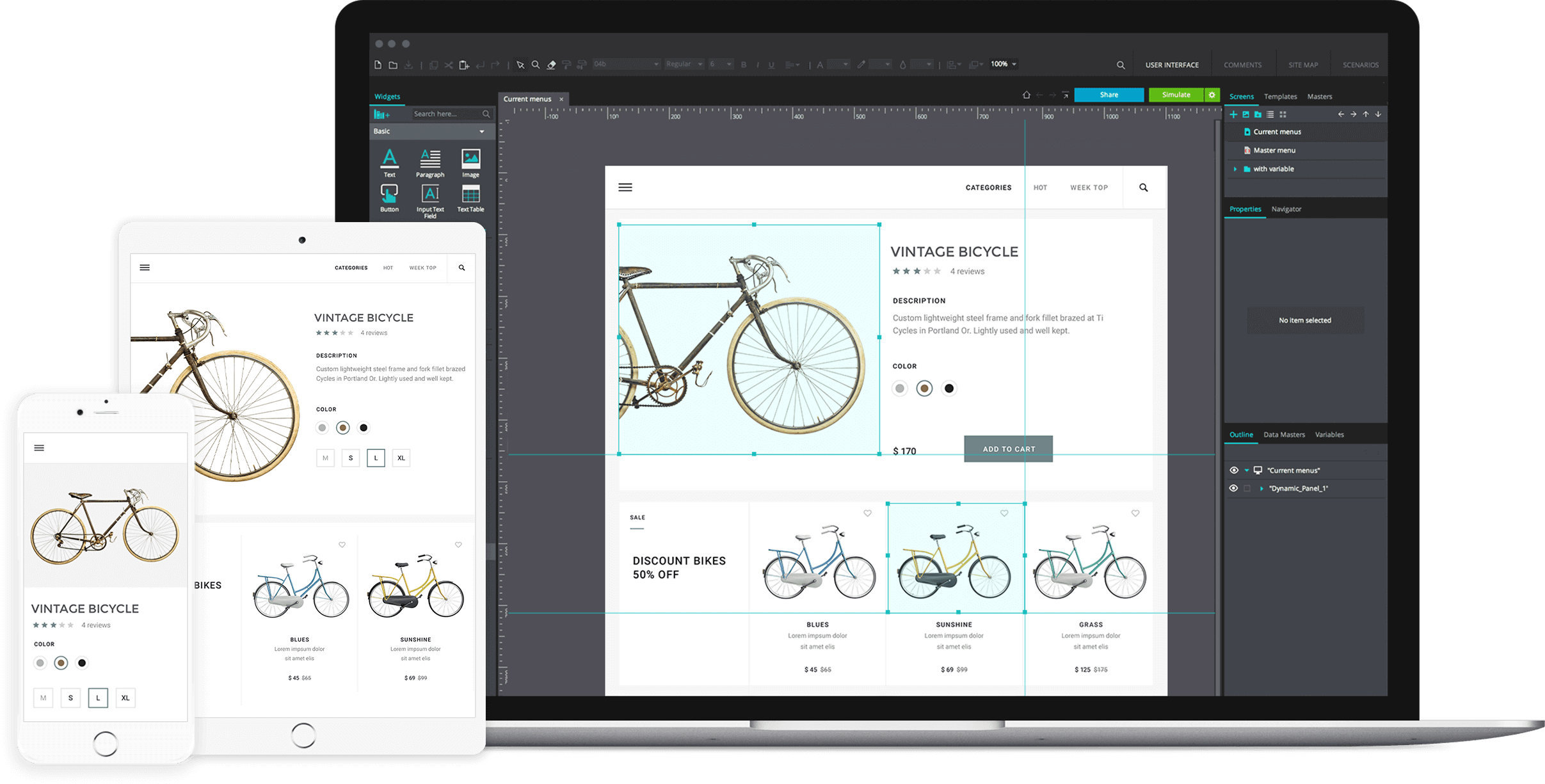 This tool is certainly a one stop solution for all your project prototyping needs. It has almost 4,000 pre-installed UI library & web components for Desktop, Web & Mobile Apps.
Moreover Justinmind can be integrated seamlessly with almost all current popular design tools like Photoshop. Above all you can easily add and import components, elements, assets and images to this tool, from browser or local storage file and can create your own UI libraries. Also it offers you to download and import various gadget & widget based UI kits to create attractive UI mockups.
Supernova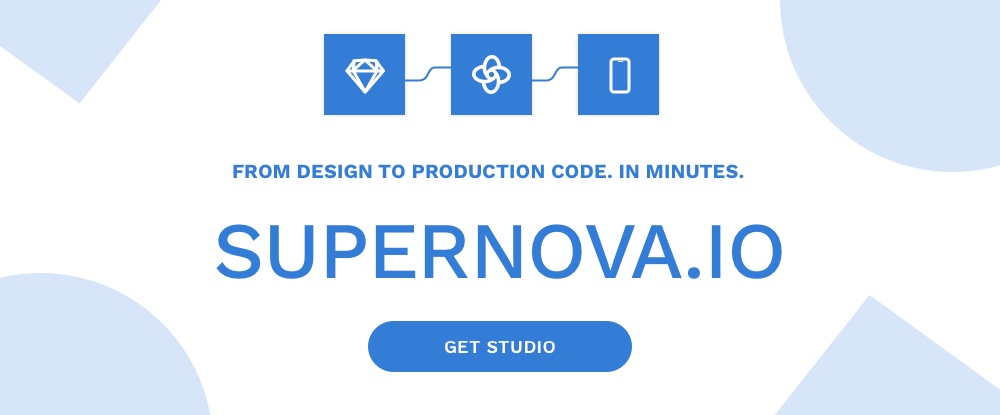 Supernova is another great prototyping tool popular among the developers & managers. USP of this tool is its various additional UI components, elements, features & interactive functions that are integrated into this tool. Most importantly this tool is not all about creating prototypes; rather Supernova can produce elements from a sketch design and can convert it into production-ready code for Web, Android and iOS Apps and also React Native Apps.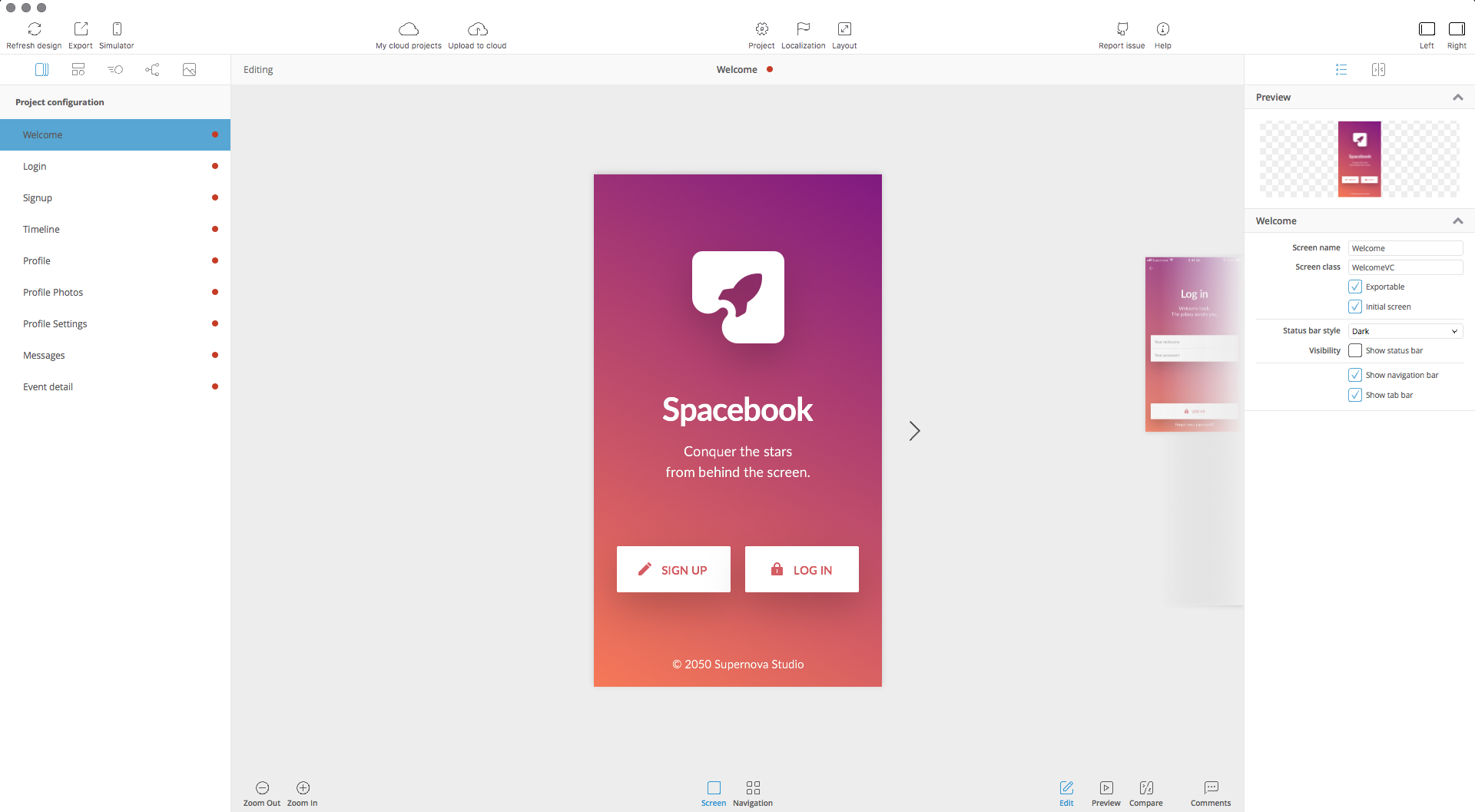 You can upload your design files here and it will convert it into Android, iOS & React Native codes. It's the best tool for prototyping responsive apps. This tool will omit the ambiguity of your project and provide you a platform for collaboration, reusing & sharing content.
Savah App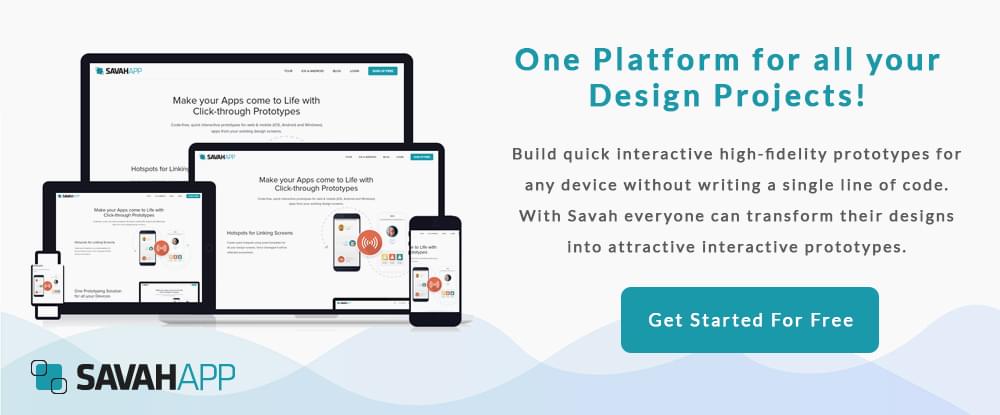 Savah App is also a great one-stop prototyping platform which is also effective for collaborative design. It's very useful for creating wireframe of responsive web design.
It's a interactive & automated wireframe designing platform. After creating your functional UI prototype you can store, share & sync it through Dropbox and Sketch amongst your team members, developers & clients. It cuts your project budget & reduce project design phase time.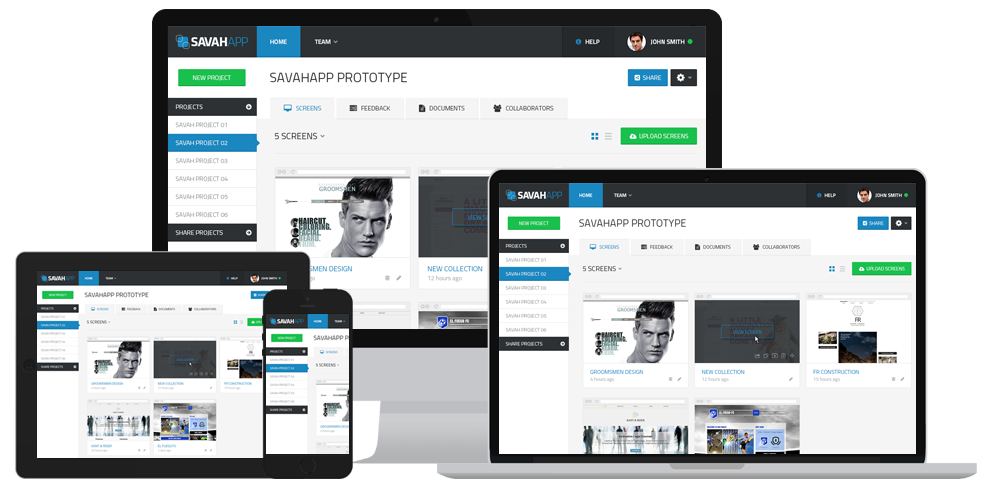 The prototype produced by Savah app can be tested across all modern devices like iPhone, Android Smart Phones, Smart Watches & Smart Gadgets. With help of this app you can track the whole project process & progress and modification.
You might also like: Billing Invoice Account Management Software Development with GST