14/08/2017
Posted by:

Millon Unika

Category:

All, Artificial Intelligence (AI), Digital Marketing, Internet, Technology, Web Development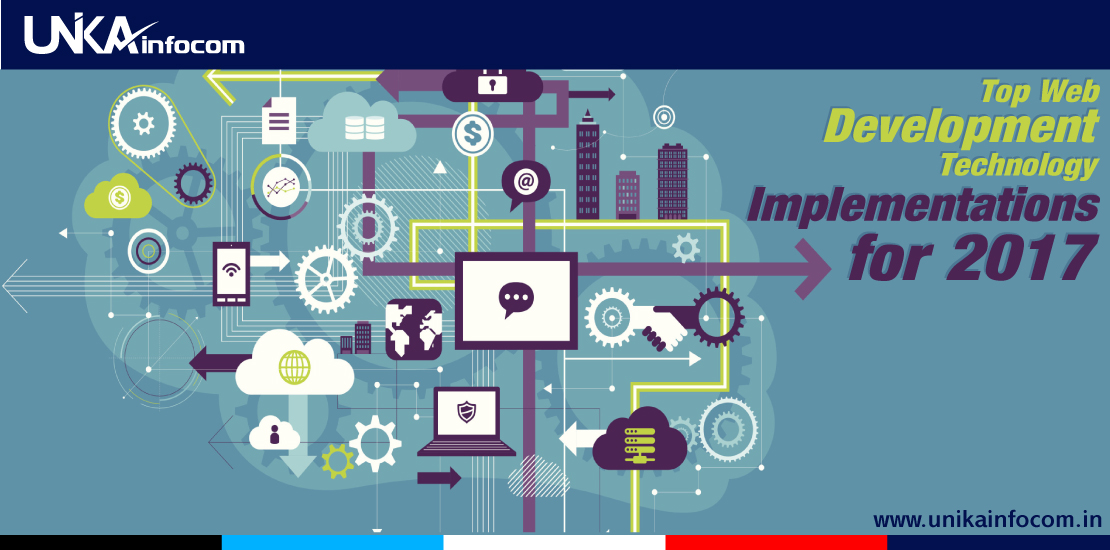 Top Web Development Technology Implementations for 2017
We are living in the edge of Technology Evolution. In and every day there are new technologies being invented & implemented in every sector. For every industry its necessary to implement new technologies to stay in the competition. Web Development also adopting cutting edge technology with time. With every passing day we are seeing latest technologies being implemented in web development field. A large number of websites, web solutions & Mobile Apps are emerging with amazing features with the help of latest technology implementations which are beyond our imagination. Therefore for every developer it's mandatory to keep up with the Technology evolution to be in the top of the game.
For developers it's confusing to find out the right technology implementation which will enhance their program. The reason behind it is so many updates and developments happening every day. Therefore here we have put together the most trending & discussed web development technology implementations to give you the right picture & also cut down your list.
IT organizations, industries and developers around the world are working continuously to explore the advance opportunities of implementing latest technologies in their programs & products. Here I will give you some brief details about the latest technology, frameworks, scripts, techniques, tools, UX enhancement tips. These you can implement in your web development to make it outstanding than the others.
Using Artificial Intelligence (AI) in Website, Web Development & App: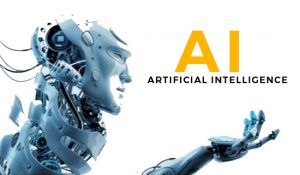 Artificial Intelligence in application development is the most trending thing everyone is eyeing. Google is already doing great work in AI implementation in the field of Web & App development & Data Processing. There are other various popular tools also for implementing AI into your application. These are Caffe, Microsoft Cognitive Tool, Deeplearning4j, Mahout, H2O.ai and many more. Some of the most popular web application segments with AI implementations are: Computer vision & pattern recognition, image restoration, processing & image tracing, Gaming, Sound Applications, Automated Systems, Auto bots, Deep Learning and most importantly in Mobile Apps. Developers are doing great job by using AI's potential to Data Processing, Data Analytics & Behavioral Pattern Analysis, Websites, Applications and Apps. Moreover applications are becoming more interactive & result oriented by the help of AI technology.
Related Topic: Top Open Source AI Tools
Internet of Things (IoT):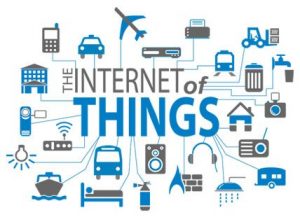 The Internet of Things is the inter- networking of physical devices which are embedded with electronics, software applications, sensors and network connectivity to exchange data or communicate with each others.  of One of the most amazing evolutions of technology in present time is Internet of Things (IoT). All the big industries & Data Processing companies started exploring the scopes of IoT into their product. Dimension of internet has changed with IoT. Internet is not only limited to computers, laptops, Smartphones or other devices, rather it has crossed the boundaries and reached to our house hold components.
Internet is changing and its reach becoming larger. Every day internet is dealing with massive data generating from many devices like, mobiles, webcams, CCTV etc. IoT with help of Big Data is taking care of this. Today Internet connected household appliances are on high demand. Such as SmartTV, WiFi Devices, embedded household devices like fan, tube light, refrigerator, security system, AC, washing machine almost everything connects through internet. Moreover we can remotely control all of these. This is certainly the most mass implementation of technology in application.
What we thought impossible couple of decades back became real. Even we can control our cars also remotely with the help of IoT. Sitting in office or in other place we can monitor and control almost all of our household properties, isn't it great! We only need a Smartphone app which can interact with those embedded systems from anywhere. Companies are investing huge to build smarthome products  & also creating Apps for their products as these have a huge demand in market.
Facebook Founder Mark Zuckerberg has already developed an AI & IoT based autobot system App named Jarvis which can control his embedded household items with commands & speech recognition.
Evolution of JavaScript: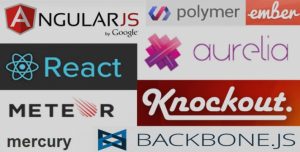 JavaScript is the most important part of any application development. Also developers always focus a lot to use advance JavaScript programming in their application. Moreover the evolution of JavaScript is always a talking point among the developers. They always eye for the updations & cutting edge features of it. Every year by year JavaScript is getting upgraded & becoming more attractive with the latest & modern programming integrations. It's becoming more scalable & robust day by day. There's a lot of discussion in the web development space about various JavaScript frameworks & their best usages. Here are some of the most popular JS frameworks and these are: Angularjs, Node.js, Python, Knockout.js, LAMP, Backbone.js. 
Conversational UI & Chatbots: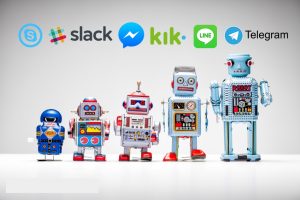 Deep machine learning & Autobots are one of the most trending technologies today. Moreover it makes our jobs easier. Also Conversational UI & Chatbots are one of the most discussed topics among AI application developers. Companies are giving focus to create Conversational UI & Chatbots to make more interaction & engagement with their customers. Overall from customer support to query management companies deploying chatbots into their website. It helps customer instantly by providing basic information, it also solves customer issues, moreover it boosts sells for any business.
Above are some most popular implementations of latest technologies into web development segment. But as technology is evolving in a rapid speed, therefore its for sure that there are lots of amazing implementations yet to come. We are all eyeing at it.
Related Topic: Online Marketing Using Virtual Reality