16/08/2017
Posted by:

Millon Unika

Category:

All, Artificial Intelligence (AI), Business, Digital Marketing, Graphics, Internet, Technology, Web Design, Web Development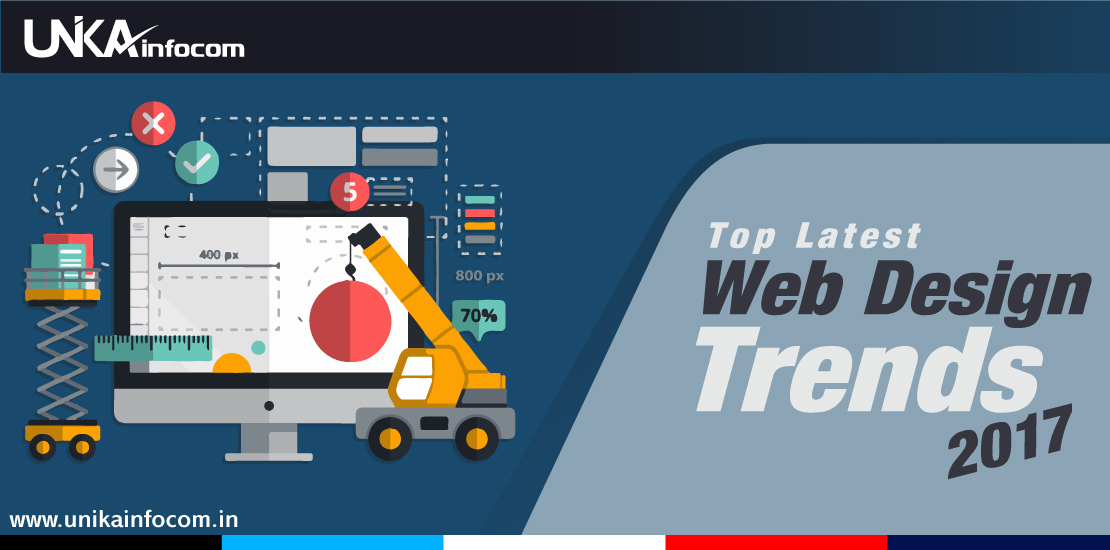 Top Latest Web Design Trends 2017
With the constant ugradation in technology & innovative implantation, Web Designing is like never before. The approach for web design has changed a lot. It became more advance & rich in terms of look & feel, features, interactivity etc. Users now a days always look for something new & appealing in brand websites. They demand more interactive presence, more engagement, smarter with a high class online user experience (UX). Moreover implementation of AI in websites took it to a different level & dimension. Companies are focusing more & more to make their web presence exceptional. Therefore continuously there is an upliftment in web design around the world.
Top developers are accepting this challenge & putting their effort to produce world class web designs to keep up with the latest technology & match with user demands. Websites are now having astonishing features. Advance website track user behavioral patterns, provide better engagement & instant support with chatbots. There are some notable completions to acknowledge top website of the year & reward them. This encourages developers to put more & more innovation & latest technology implementation into their web design.
Here we will discuss about some of the Top Latest Web Design Trends 2017.
Rise of Live Experience Web Design & End of Traditional Web Design:
The approach of web Design is getting cutting edge day by day. The traditional web design approach which is all about making a website beautiful & arranging contents are fading away with the time. Developers & designers are more focused about giving a different dimension into their web design. It's more about providing a website with reach UX and live experience features to the users. Website design has changed significantly over the last couple of years. It's more of connecting to real life experience rather than just a design. It's like giving advance user experience with attractive design & features. It gives users a total tour of your website with more interactivity & making browsing more attractive & engaging.
Responsive Design and AMP (Accelerated Mobile Pages) from Google & Twitter:
One of the most notable features of website design evolution is responsive web design. Mobile internet traffic is increasing massively and with that need of Smartphone compatible of websites' demand is also increasing in a parallel way. As per the Google Search Engine guidelines a brand must need a responsive site in order to stay in the search engine ranking. Therefore making a website responsive is the foremost job for the developers.
Accelerated Mobile Pages (AMP) by Google is a online publishing format with collaboration of Twitter. It creates web pages which is fast & effortless while opening in mobiles. Its similar as HTML and its also optimized for mobile web browsing. It's an open source project which creates web pages with higher performance, cool design & compatible with various devices.
Open Composition & Asymmetry:
In general way web design was like compositions which are closed, well patterned & symmetric. But recent approach has changed the scenario completely. Loose compositions are getting more & more popular now. Brand owners now want to depict their niche in their site in asymmetric order to give a high class artistic look. It also eliminates the monotonous viewing as per user perspective. Designers are creating asymmetric layouts which are not balanced for website. Some of these become very popular among users. It provides another viewing canvas to the users which are more attractive than the traditional design.
AI into Web Designing:
This is another distinct evolution in the field of website designing. It opened altogether a different dimension in web design industry. Developers are exploring opportunities with a revolutionary technology invention that is AI, by implementing it into their websites. It allows deep learning & assessing behavioral pattern of viewers. Web analytics became as easy as never before with this. Brand owners are emphasizing more on implementing AI into their website. Therefore the demand is high and developers are taking the challenge with newest experiments & implementation with it. AI makes a website more interactive, smart. Moreover the response level of a site towards users is increasing & users are getting more attracted with sites having AI implemented features.
Chatbots & Communicative UI:
Chatbots & Communicative UI are also very significant latest web design trends. With these users can interact instantly with the company. With Chatbots any issues can be solved instantly or can be conveyed with this. This increases conversion rate & gives user the opportunity to interact with the site more.
GIF & Other Animations:
A lot of sites & apps are putting GIFs & animations. It's a trend now to use GIFs, animations & infographics into web pages which make it more attractive & cool. It also allows the content idea to the users easily without going through the whole big content. But remember over use of it can bug your user and also can down grade your site quality.
Long Scrolling Website:
This is certainly one of the most significant latest trends of website development from 2016. Now you can see that most of the website has the long scrolling feature in it which was not present in the traditional approach. Facebook, twitter, instagram these most popular sites has this feature, so users get accustomed with this. Therefore other websites are also providing this feature to their site so user can get this latest feature into their site. Also it helps to get more & more info. of a site in a single page without navigating to other pages.
Related Topic: Top Web Development Trends for 2017