29/01/2018
Posted by:

Millon Unika

Category:

Graphics, Web Design, Web Development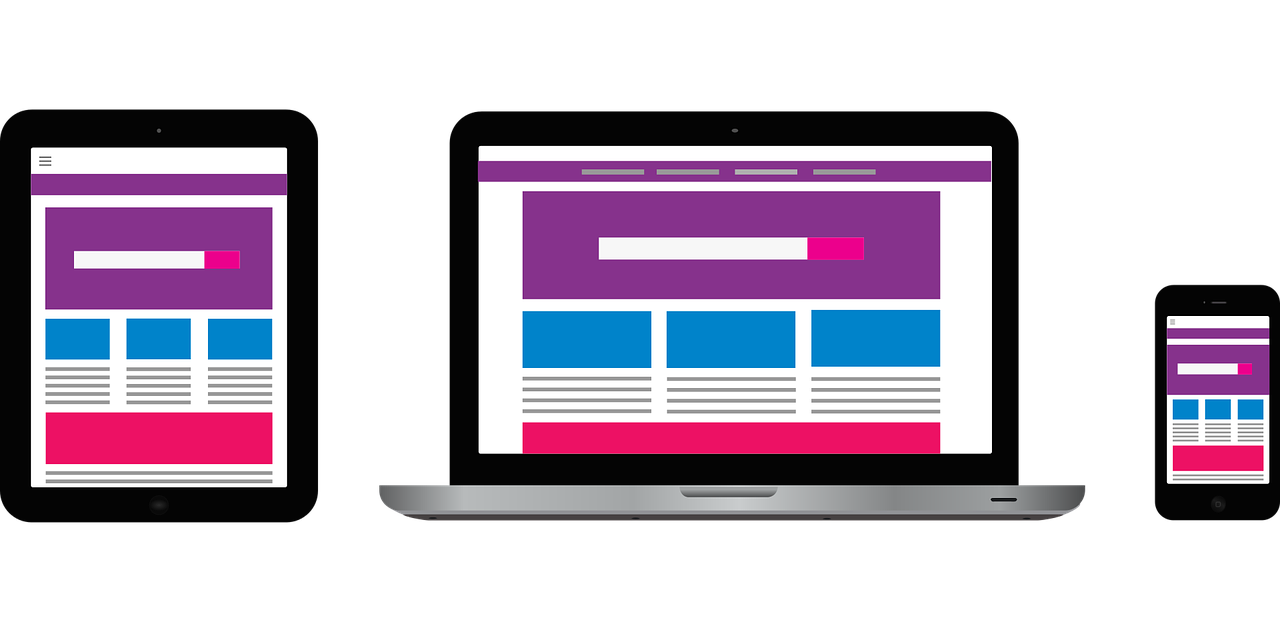 Top Bootstrap Tools for Web Design & Development 2018
Bootstrap is one of the most popular & highly used Front-End Framework for Responsive Web Design & Development. It has large number of web components & library to to make your design smart & stylish and also responsive which is compatible with almost any devices.  Here we will discuss about Top Bootstrap Tools for Web Design & Development 2018.
You may also like: Top Open Source Big Data Processing Frameworks 2018
Bootstrap Studio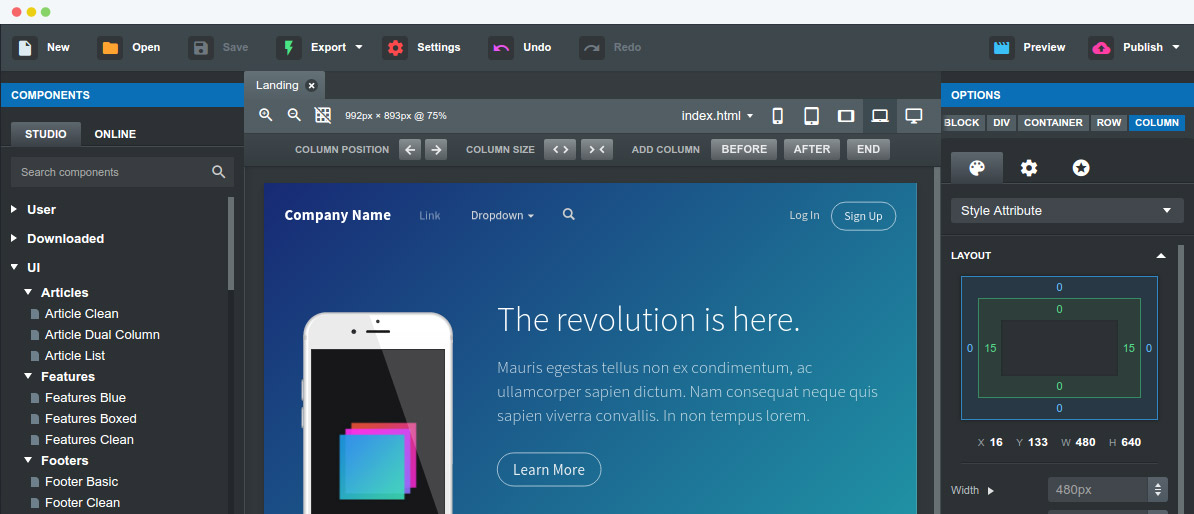 Bootstrap Studio is one of the most popular tools among the designers & developers for creating bootstrap websites & web designs. It's a desktop application with huge library of components to create responsive web designs for any devices. It is also very useful prototyping tool for web designs.
The interface is very powerful and at the same time simple to use. You can add headers, footers, slideshows and lot more. The cool drag & drop feature is an added advantage. You can simply drag & drop components into the interface & can edit them as per your design specification.
Jetstrap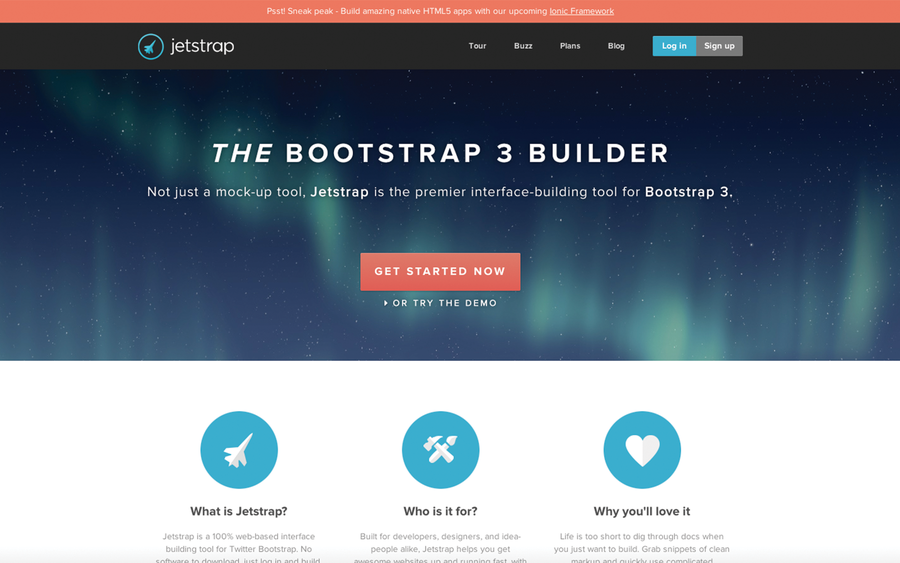 Unlike the Bootstrap Studio, Jetstrap is a web based Bootstrap tool for creating responsive web designs. It's an interface builder with similar drag & drop facilities & editing option. This tool is also pretty popular amongst designers. It's in the top list because of its easy & simple web accessibility. With this editor tool you can design & create responsive web prototypes for any devices like desktop, laptop, smartphones, tablets etc just from the web browser.
LayoutIt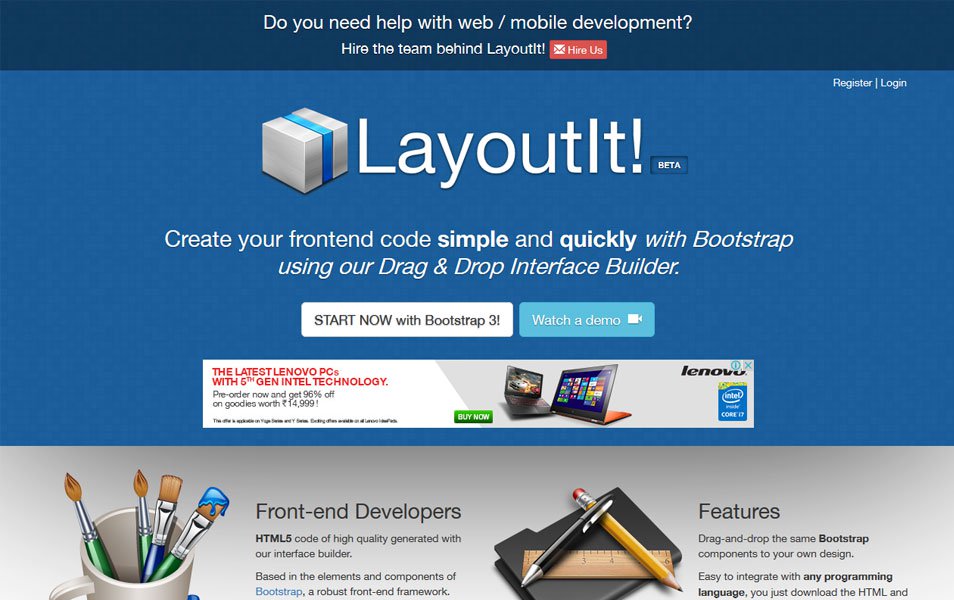 This is a Bootstrap editor dedicatedly for creating front end designs. It also has the drag & drop with editing facility. With this smart editor you can create cool responsive web designs, also its compatible with HTML 5, CSS, and JS plugins. You do not need to learn coding to create & edit web design with LayoutIt tool. Moreover it has a large library for photos & fonts and templates for website, flyers, brochures, vectors & mockups. It has more than 4 lacs ready design samples.
Lavish Bootstrap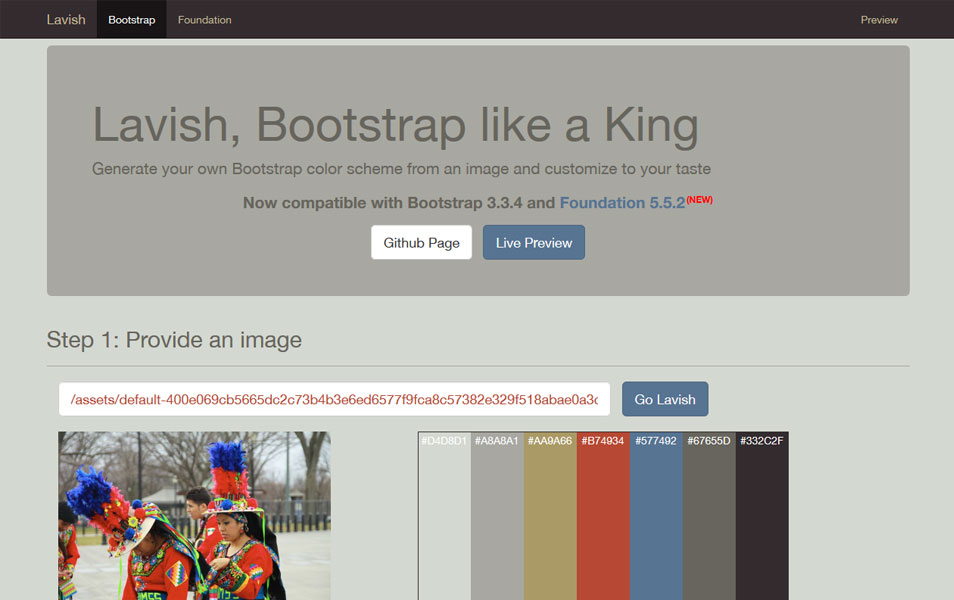 It's another unique & useful tool for bootstrap. It has a unique feature like picking colors from any image to set it as the bootstrap color theme. Moreover you can customize the bootstrap color theme with that image colors according to your color preferences.
It's also very easy to use. This smart editor is automated and can customize the sections of a bootstrap layout with different colors from an image. This tool highlights sections such as headers, menu, body, text, footer and more.
Bootstrap Magic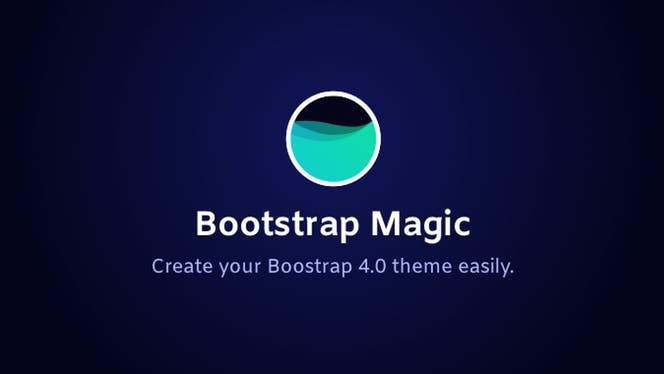 Bootstrap Magic is also popular as a bootstrap editor. It's an online interface for creating & editing bootstrap designs. It has large number of components & parameters which you can use to create smart bootstrap web designs. Moreover it also has the live preview option to check the design.
It has some great features like color picker, Sass included, you can use Google fonts with your design, HTML code preview, all bootstrap variables typeahead feature, can download the whole design as CSS or SCSS variables, compatible with bootstrap 4.0 and moreover its an open source project.
Font Awesome
Font Awesome is an iconic font & CSS toolkit. It's a great & popular tool for providing scalable & customizable vector icons. You can customize the icons as per size, color, shadow and almost anything through CSS.
In your HTML file you just need to include the CSS for Font Awesome toolkit and you can use it font & features into your bootstrap design. Moreover it has 675 free and large a number of paid icons. Some of its features are its easily customizable with CSS, no need for JavaScript, compatible with almost all frameworks, smart & cool looks and many more.
X-editable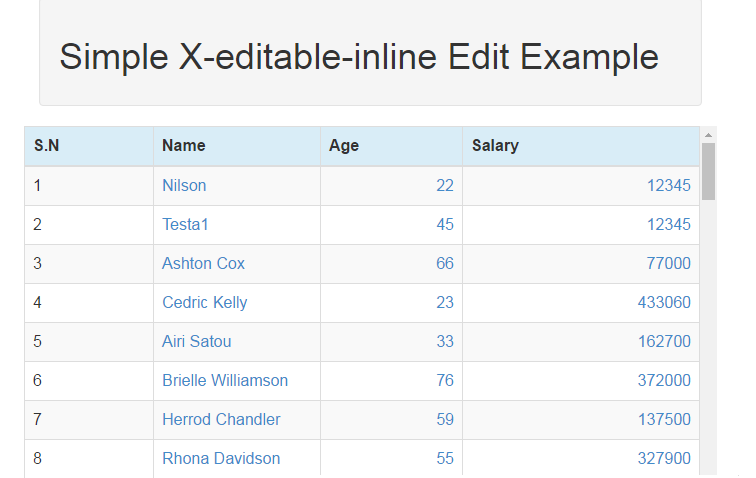 X-editable is library to create editable elements for bootstrap & jQuery. It has both popup & inline mode editing and goes with bootstrap & jQuery. It has features like inline mode as well as popup mode editing, both client & server side validation, fast development, no form markup, simple backend for data update, easy editing excellent for small forms and lot more.
Bootply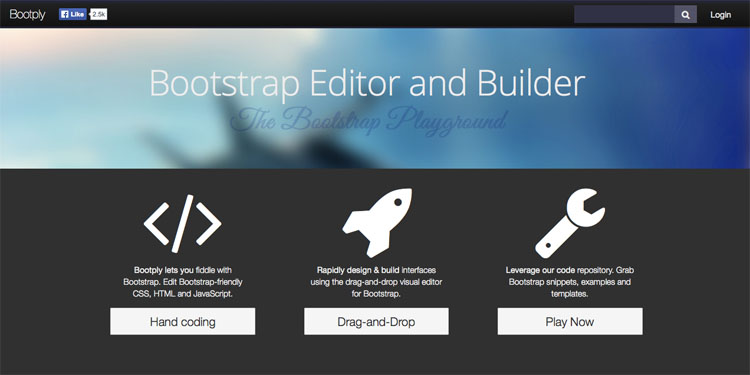 It's a great bootstrap editor & builder for developers. It's has a coding interface for customization with a powerful drag & drop feature. Moreover this drag & drop components can be customized by the developers. This tool has useful micro-libraries, jQuery plugins, FuelUX and more. It has both free & premium interface to work with.
It has features like hand coding, drag & drop, bootstrap compatible CSS, JavaScript & HTML & lot more.
You may also like: Blockchain, Cryptocurrency, Bitcoin Exchange Application Development with Ethereum Platform