12/08/2017
Posted by:

Millon Unika

Category:

Business, Digital Marketing, Infographics, Internet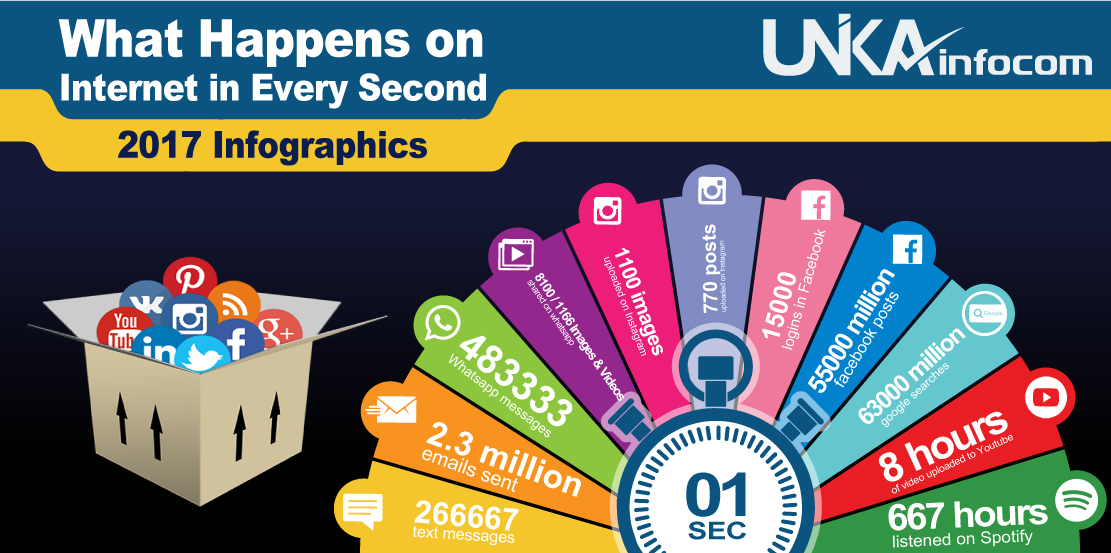 What Happens on Internet in Every Second 2017 Infographics
We all know the massive expand & reach of internet, but do we know how massive it is? Things move at a lightning-fast pace online. Millions of users do various activities over internet in just a second.
Computers, Applications, mobile devices, PDAs, Video & Music players interchange data much easier than ever before. Mammoth amount of data is being generated and transferred every second of our daily lives. Massive activities happening every second online.
Related Topic: Worldwide Mobile Traffic
As per the surveys, what's happening in every second online; the figure will surprise you. Here is an infographics presentation of what happens on internet in every second.

Every Second Online Activity:
266667 text messages
3 million emails sent
483333 Whatsapp messages
8100 images & 1166 videos shared on whatsapp
1100 images uploaded on Instagram
770 posts uploaded on Instagram
15000 logins in Facebook
55000 million facebook posts
63000 million google searches
8 hours of video uploaded to Youtube
667 hours listened on Spotify
1167 hours watched on Netflix
5700 apps downloaded from Google PlayStore, Apple AppStore
7533 tweets sent over Twitter
16500 swipes in Tinder
30000 snaps created in Snapchat
58333 search queries in Google
68300 videos viewed in YouTube
.83 voice-first devices shipped to Amazon Echo
2 new accounts created in LinkedIn
250 GIFs sent via Messenger in Facebook
$12500 spent online
Below are some category wise statistics of online activity in every second:
Social Media
Tumblr – 78300 posts- including re-blogs
Twitter – 7533 tweets
Facebook – 4800 statuses are updated
YouTube – over 83000 videos viewed
LinkedIn – 2 new users
Pinterest – 57 pins
Vine – 9 vines
Platforms
Google – 44000 searches
WordPress – 30 posts
Websites – 10 new sites
Email – 2300000 (including spam)
com – 416 items purchased
Images
Flickr – 18 photos uploaded
Instagram – 1116 photos uploaded
Audio
Spotify – .23 songs added
iTunes – 250 songs downloaded
Podcasts – 15
Communications
Skype – 1467 calls
Snapchat – 4616 snaps