07/04/2017
Posted by:

Millon Unika

Category:

Business, Infographics, Internet, Smartphones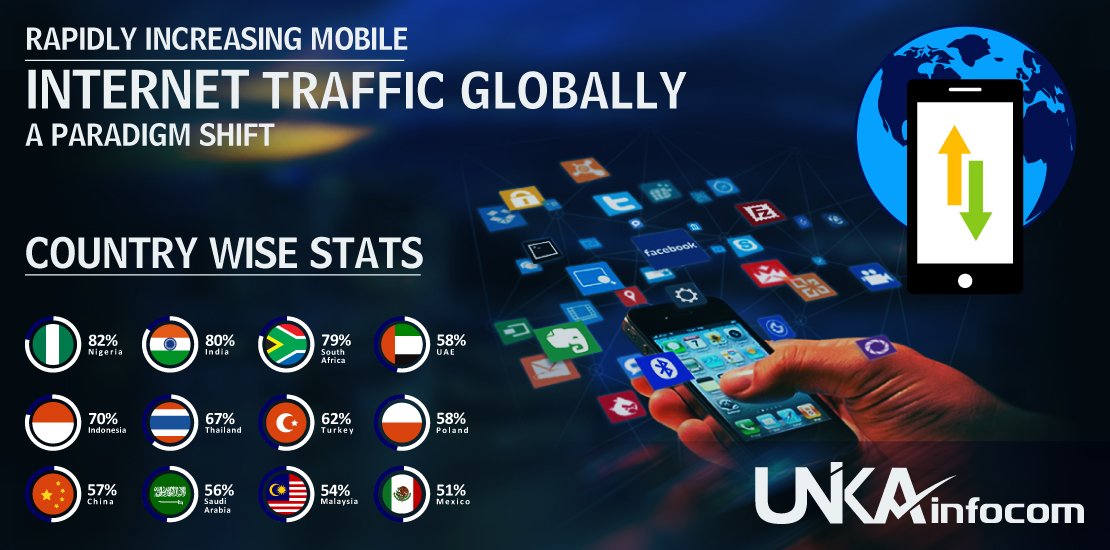 Rapidly Increasing Mobile Internet Traffic Globally [INFOGRAPHICS]
Rapidly Increasing Mobile Internet Traffic Globally, is definitely a paradigm shift from internet access through Desktop and Laptops to Mobiles. Post 2000 this trend was settling in a lower pace, but with a decent growth in every year. Afterwards things changed drastically with the launch of smartphones. Smartphones started capturing the mobile market easily with its advance features & looks. Therefore a notable number of smartphone users started increasing year by year. The number of users exploded after 2014. With this development number of internet users through smartphones also increased exponentially. Rather using desktops or laptops, people are more comfortable to use internet from their mobile or smartphones for its mobility, portability and quick access. Starting from normal online surfing, online shopping, listening music online, watching videos online, online gaming, online reading and most other works are done through Smartphones & Tablets nowadays.
Also a revolution in Social Media & its huge popularity accelerated the number of smartphone internet users. People tend to connect all the time in Social Media; and Smartphones are the most convenient way to provide this non stop access & connectivity to the users. Some renowned Smartphone Utility & Fun Apps are also one of the most important reasons of this paradigm shift.
As per the Ofcom Report posted in The Guardian "Third of all online access is via Smartphones". Also there is a huge fall in internet access through Computers over Smartphones.

Some Numbers:
Smartphone & Mobile internet users are almost 54%  of the Global Mobile & Smartphone population. The number can cross 60% within 2018. As per reports around 80% time consumed of social media is from mobile.
In Mobile Internet Traffic Asia is leading the way with almost 65%.
70% Smartphone Users access social media on their phone.
An unbelievable number of Facebook users use Facebook only from their phones and its almost 55%.
Website traffic through smartphones are also increasing rapidly.
First time in 2016 internet traffic from mobile crossed internet traffic from Desktop and the figure is almost 51.3% over 48.7%.
It's only the matter of time that mobile internet traffic will surpass all the stats in coming years.
Let's Look Into Some Facts & Figures:
Mobile Internet Traffic Region Wise:
| | |
| --- | --- |
| Region | Percentage |
| Global | 49% |
| Asia | 65% |
| Africa | 59% |
| North America | 37% |
| South America | 36% |
| Oceania | 35% |
| Europe | 32% |
Mobile Internet Traffic Country Wise:
| | |
| --- | --- |
| Country | Percentage |
| Nigeria | 82% |
| India | 80% |
| South Africa | 79% |
| Indonesia | 70% |
| Thailand | 67% |
| Turkey | 62% |
| UAE | 58% |
| Poland | 58% |
| China | 57% |
| Saudi Arabia | 56% |
| Malaysia | 54% |
| Mexico | 51% |
Mobile Internet Access Time Consumed Percentage Category Wise:
| | |
| --- | --- |
| Category | Time Consume Percentage |
| Entertainment | 50% |
| Portals | 31% |
| Health Care | 55% |
| Business | 42% |
| Lifestyle | 64% |
| Retail | 62% |
| Sports | 60% |
| News | 55% |
| Gaming | 88% |
| Social Networks | 80% |
| Photos | 94% |
| Others | 77% |