11/11/2017
Posted by:

Millon Unika

Category:

Business, Digital Marketing, SEO / Social Media, Web Design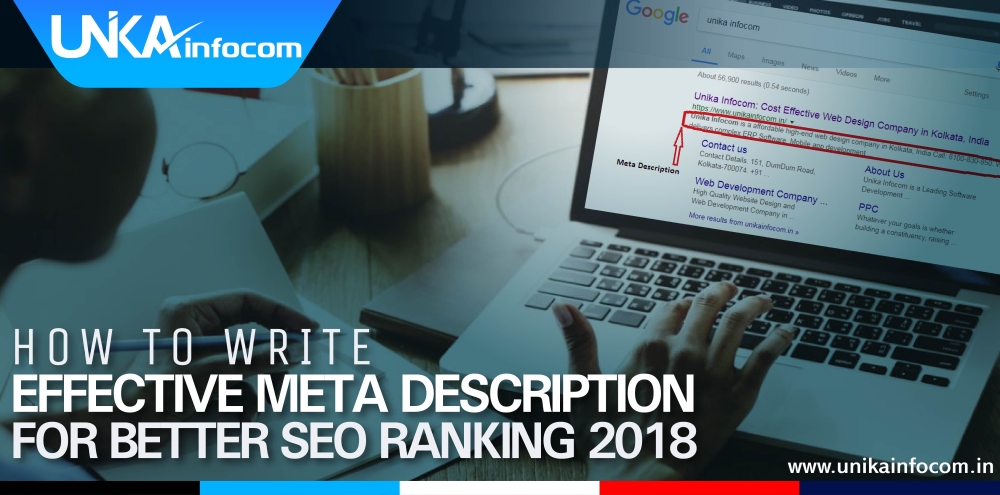 How to Write Effective Meta Description for Better SEO Ranking 2018
You may also like: Top Twitter Marketing Tips for Small & Medium Business
What is a Meta Description?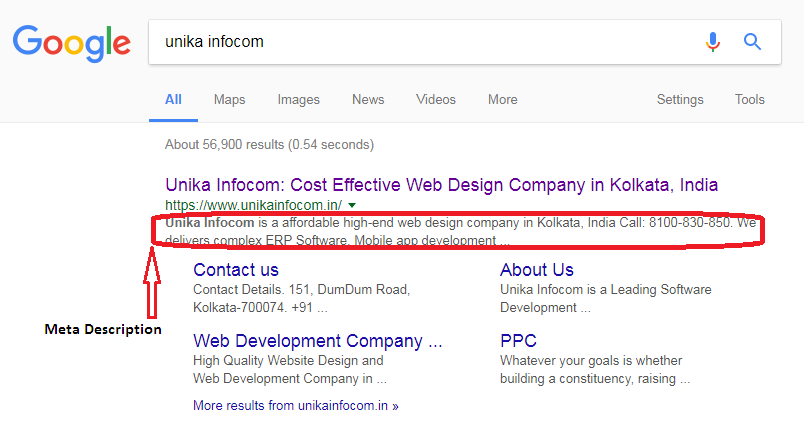 Meta Description for any site is one of the most important parts for better SEO results on SERPs. Meta description is basically a short content related to your website nature or service which is placed in the webpage HTML under <head> tag. Whenever someone searches for your company in Search Engine or for any organic search result with keywords, the Meta description content will appear under your webpage URL in SERPs (Search Engine Result Pages). This is generally known as a snippet. The Meta description will also visible with your page URL for sharing your articles or pages link across other sites & social media platforms. So it's very clear that how important Meta description is and it will give users an idea about your website before entering your site. This can be very helpful to drive traffics in your site through organic search.
Therefore Meta Description is very essential for a successful SEO strategy. Moreover as this description will be visible in SERPs under your website URL, therefore it should be in line with your website keywords to boost ranking, must be relevant with your website nature, can generate curiosity about your site to encourage users to click & enter in your website. In organic searches any word which matches with users search term is bolded in Meta Description. Therefore focus on using keywords wisely for your Meta Description. Remember your main goal to write a Meta Description is to provide useful info & compelling content in line with your website nature, which will encourage the user to enter in your site from SERPs.
Where to Add the Meta Description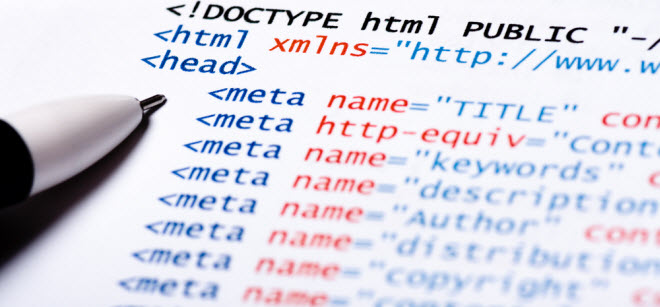 You may add the Meta description within the <head> </head>section of your HTML page.
If you are using WordPress or Other CMS framework for your site, then there are SEO plugins like: 'YOAST' from where you can add your Meta Description under 'Meta Description' section. Moreover it will give you a preview how your description will look in Search Engine Result Pages (SERPs).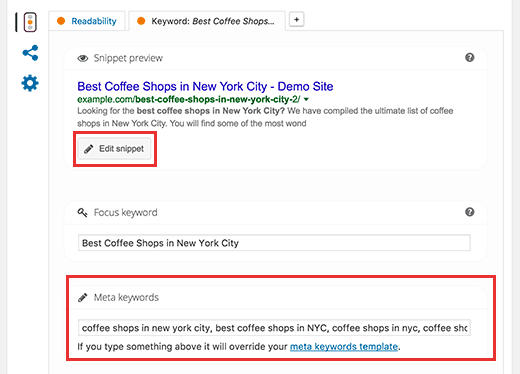 Things to Avoid While Writing an Effective Meta Description
1.  Do Not Give Major Focus on the Character Length
Generally our Meta Description ideal length should be under 155 characters. But don't compromise on your description quality and you don't need to sacrifice important points about your site for that. The main reason of this character limit is to make your description visible fully on the page and many SEO experts follow this criterion only. So limiting your character within the range is an ideal option but not mandatory. Moreover your description should be in line with your SEO keywords. Therefore focus on creating effective, relevant & compelling Meta Description and try to bind it within 155 characters.
You can always use tools that will show you the preview of your Meta description. So according to that you can draft your description.
2.  Do Not Use Duplicate or Same Meta Description
Avoid using duplicate Meta Description for your website. Also avoid using same Meta description again and again for each of your page. Meta description related to your business & particular web page will look much better to your customers rather than same description every page.
Remember your Meta Description should be totally Unique, as well compelling to your customers. This can be bit difficult for you, but don't worry, try to give importance writing Meta Description for your main & most important pages. Focus on pages like: homepage, category pages, product pages, service pages and the pages that bring organic traffic to your site.
For rest of your pages keep it empty & rely on Google. Google will automatically generate Meta description from your page content. This can be much effective in the end rather than using same description for every page.
See tips from Google for good Meta Description for Search Results. 
3.  Do Not Use Boring Descriptions
Do not use boring descriptions. Meta description, which are not enough compelling and add curiosity to target audience about your business; so that customers will visit your page.  Your Meta description should be catchy, creative, informative and most importantly relevant as well.
Things You Should for Writing an Effective Meta Description
1.  Use Appropriate Keywords
Using proper keywords in your Meta Description is the most important thing. It makes your content more effective and visible to the searchers. Use your most crucial keywords the description. Remember in organic searches any keyword which matches with users search term is bolded in Meta Description & will get the visibility. So you need to think as a searcher and it's the main key. Therefore craft your keywords in your Meta Description wisely & smartly.
2.  Use Call to Action Content
To increase conversion ratio from organic searches call-to-action content is the most effective way. It's already proven that call to action content increases conversion rate more. By putting relevant & service or product oriented call to action content of your website for Meta Description will enhance this chance. It will apparently suggest the searcher the next process or possibility after they click on link.
For example if you have an educational training website then you can incorporate terms like, 'learn', 'training' etc. in your Meta Description.
3.  Use Meta Description Content under 155 Characters
As discussed earlier in this article, though limiting your content character is not the foremost important thing rather than maintaining your content quality. Still it's advisable to restrict your content under 155 characters so that the content is visible clearly. Many SEO experts also mostly follow this condition.
4.  Write Understandable & Readable Meta Description
Using proper Keywords is good for writing Meta Description. But keep in mind that over doing it can also give your site a negative impact to the searchers. Over staffing your Meta Description with Keywords and not forming a proper readable, understandable sentence for your description can put an impression to the searchers that it's might be a spamming or non relevant site. Therefore focus on creating a proper & compelling sentence with most important keywords.
You may also like: Top Email Marketing Plugins for WordPress