10/03/2017
Posted by:

Millon Unika

Category:

All, Smartphones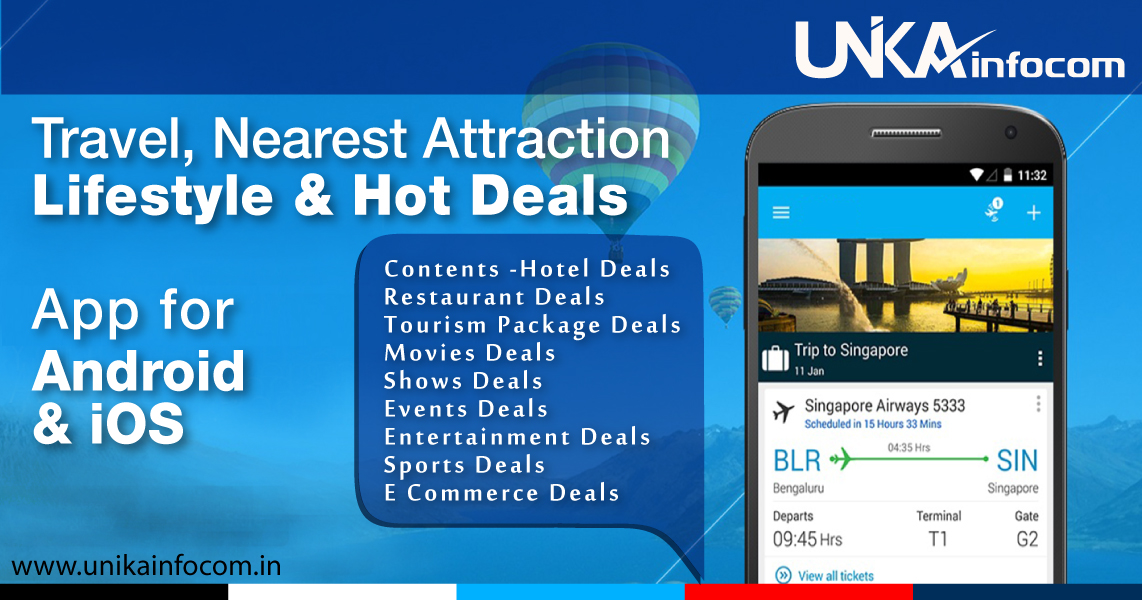 Travel,Nearest Attraction,Lifestyle & Hot Deals App Development for Android & iOS
Unika Infcom has a unique App for Travel,Nearest Attraction,Lifestyle & Hot Deals for Android & iOS. This App is very attractive for various types of users. In fact this is a one stop solution for all your travel and lifestyle activities. Moreover this App delivers great performance in both Android & iOS Smartphones. You can Access all latest Deals, Offers & Discounts from you nearest Restaurant, Travel Companies, Shopping Cart, Stores, Lifestyle Activities, Fitness Centers, Events, Shows etc.
Major Category List:
Hotel Deals
Restaurant Deals
Tourism Package Deals
Movies Deals
Shows Deals
Events Deals
Entertainment Deals
Sports Deals
E Commerce Deals
And More..
Deals Feature:
Undoubtedly the most attractive feature of the App is its Deals and Discounts for users. Users can also browse different offers & deals across their targeted destinations or from nearest locations. They also can search offers and merchants by location and category. Moreover Users can redeem all offers straight from their Android or Apple Smartphone. It has a section to track how much a user can save on deals.
In fact user can share offers with family and friends. From this unique App user can buy coupons and also can redeem those from the nearest merchants or valid outlets. It also offers a cashback amount for specific purchases.
Discover Merchants Near You:
This app has a user friendly interface & navigation system. In fact one can easily find their desired services, stores or merchants from this app. User also can compare offered deals from different merchants, and can go for the suitable one. It has a location tracking feature and also Google Places API integrated interface. Therefore it will track a specific user location and will show every available categorized merchants to the user. User also can categorized their desired services or merchants.
There are dynamic search filters, from which a user can easily search their merchants, Offers or Deals.
In one word Travel,Nearest Attraction,Lifestyle & Hot Deals App for Android & iOS, will solve all your travel, specialized services and shopping related issues under one single umbrella.