11/07/2017
Posted by:

Millon Unika

Category:

Business, ecommerce, Internet, Payment Gateway, Technology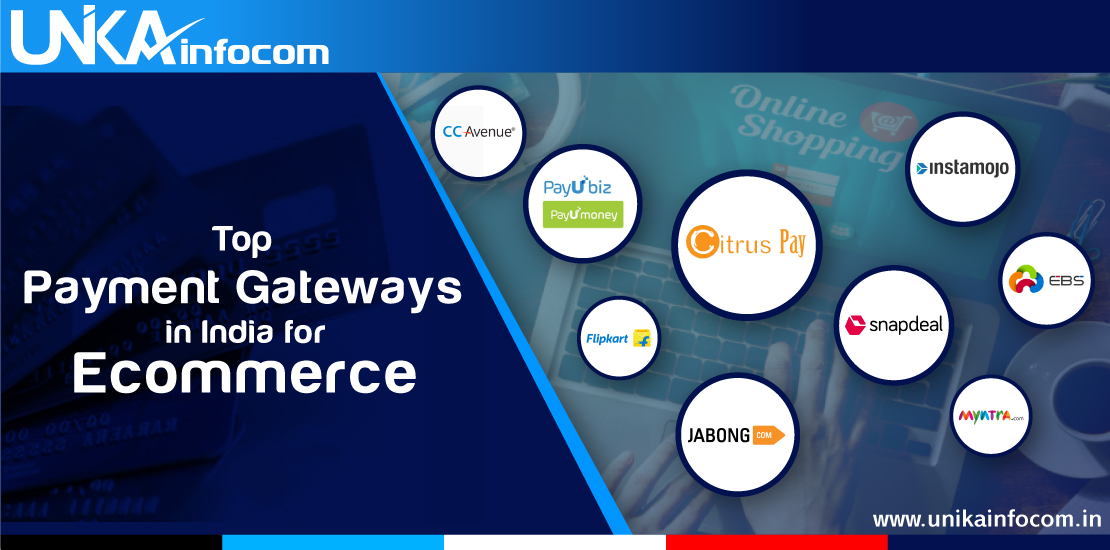 Top Payment Gateways in India for Ecommerce
If you are setting up an startup ecommerce store or selling products online from your website, you'll need a payment gateway to accept payments from your customers. Here we will discuss about Top Payment Gateways in India for Ecommerce.
Before few years, setting up a payment gateway was a mammoth task in India. It used to involve lot of documentation, verification, huge setup fees and sound technical knowledge to make it work. But now in present scenario it has become very easy to setup a payment gateway for selling products in India. Various big Payment Gateway Companies came into action by knowing huge consumer market in India. They created & started to provide their API & Payment buttons which can be easily integrated to any ecommerce site. Also they started providing technical support & help to retain the clients.
Professionals associated with the Ecommerce industry admit the fact that Payment Gateway is one the most crucial & major factors of their business. It's also very important to opt for safe, secure and speedy online Payment Gateways.
5 Things to consider before setting up a payment gateway
Payment gateway cost (Setup fee, TDR, Annual free, etc)
Time to setup everything
User Interface of the gateway
Payment options (Credit/Debit Cards, Netbanking, Mobile Wallets, UPI, etc)
Payment Gateway SDK / API / Widget / Button
After sale Support
From the growing & competitive list of payment gateways in India, we have  carefully considered & picked some of the best Payment Gateways suitable for Indian Market.
1) CCAvenue
CCAvenue is one of the most used & oldest payment gateways in India. It has a well navigated, competitive & easy to understand tariffs, plans, website presence and transparent merchant dashboard. It's very robust, secure & trusted amongst the startups. They have proper plugins & buttons for latest & popular ecommerce framework platforms. This makes very easy to the developers to integrate it to their ecommerce sites. They take lesser time to authenticate & activate their gateway generally within 24-48 hours. Also they have a strong support & customer care wing.
CCAvenue supports almost every bank and payment options in India. It's reliable and used by most renowned high volume eCommerce websites in India. It's even used by some of the Political Parties, Educational Institutes and moreover various Government Sites in India  "https://www.ccavenue.com/clients.jsp ".
CCAvenue has some competitive rates & offers for Startups; also they provide personalized & customized payment gateway option for their clients who opt for special plan. It's the best recommended Payment Gateway in India for Startups which is tried & tested by various renowned industries. For its low maintenance, zero setup fee & competitive transactional charge it wins the race among top payment gateways in India.
Some Brief & Key Points:
Launch Year : 2001
Supports multiple currencies. It's a great advantage if you want to accept money not only in INR, but also USD, EURO, GBP & other supported currencies.
Supports EMI as payment option from over 7 banks.
Supports 100+ debit cards, 53+ net banking, 4 Cash Cards, 2 Mobile Wallets and 40+ bank's IMPS.
Setup Fee :Zero for Startup Pro Plan, Rs. 30,000 for Privilege Plan
Annual Maintenance Fee: 1st Year Free. Rs. 1200/- 1st Year onwards.
Transaction Fee:From 1.99% + Rs.3 to 2.99% + Rs.3
Ecommerce Clientele: MakeMytrip, ClearTrip, Naukri, AirAsia, Yatra, redBus, Myntra and Snapdeal
2) PayUbiz and PayUMoney
Its might be comparatively amongst the newest Payment Gateways in India, but growing fast and gaining popularity amongst the ecommerce startups.
The payment gateway solution provider PayU India, rebranded both its products PayU Enterprise (PayUbiz) and PayUmoney to establish them as different entities & independent businesses in May 2015. After the independent formation, PayUbiz focuses on large enterprises such as Snapdeal, whereas PayUmoney is the consumer brand of PayU India and has a wallet solution for consumers and payment acceptance solution for Startups & Midlevel Business Houses.
Having renowned clients like Snapdeal, Bookmyshow, Goibibo, Jabong; this Payment Gateway is a trusted name now.
As per their claim, they will boost you sale by 12% by mobile optimized & responsive page, dynamic switching & other features.
As per them, they charge the lowest rate for transaction, such as 0.75% commission for transaction less than INR 2000/- and 1% commission for transaction more than INR 2000/-. Also they have Economy, Silver, Gold and Platinum packages to choose from according to your business size.
Some Brief & Key Points:
Launch Year : 2015
Easy Installation & Verification
Efficient Support Team
Unique 'Pay with PayUmoney' button for creating invoices and sending payment links to customers
Their USP is the Wallet Service integrated with the Payment gateway..
Setup Fee :For PayUBiz, plans starts from Rs. 4900 and go upto Rs. 29000. For PayUMoney, its Zero.
Annual Maintenance Fee: For PayUBiz, its Rs. 2400. For PayUMoney, its Zero.
Transaction Fee: For PayUBiz, its between 2.20%  to 3.90% based on the plan. For PayUMoney, its 2%.
Ecommerce Clientele: Jabong, BookMyShow, Freecharge, Zomato, Goibibo, Olx, Ola, ShopClues, Pepperfry
3) Citrus Pay
This payment gateway launched in India on April 2011.It's relatively new payment gateway, but within a short span of time they got popularity and to acquire 800million user base, including both End Users & Merchants. Citrus is a well funded organization and growing fast in India, by providing safe & secure gateway and creating trust. It also provides wallet service to the end users, which is a USP of their promotion.
However, the support has been an issue for them. Its bit costly compared to others & documentation process is also bit lengthy. However, to compete in Indian market they have reduced time and charges significantly.
Some Brief & Key Points:
Launch Year: 2011
Acquired by PayU in the year of 2016.
Can manage high number of transactions without any hassle.
Easy integration process.
Has invoicing feature, which help to create & send invoice with payment link to the customers.
Main USP is its Multi-Device compatibility & support. This feature helps customers to pay from any of their devices.
Setup Fee :Zero
Annual Maintenance Fee: Approx. 4000/-
Transaction Fee:Flat Transaction Rate @1.99% + Rs.3
Clientele: Emirates, Etihad, Airtel, Meru, ProfitBooks, Zivame, Esselworld, Kaya, PVR Cinemas, Healthkart
4) Instamojo
This Payment Gateway Company started in the year of 2012, Instamojo initially offered a way to collect payments for digital goods. But now thousands of users are using it to collect payments for ebooks, reports, tickets, tutorials, merchandise, invoices, services, and much more. Its popularity is growing day by day in India.
Instamojo is very easy to use & super easy to setup. They have recently introduced instant onboarding by giving an option to open a free account with them instantly. It's a major USP of this gateway, since you don't need any documentation to begin a trial account with them. You simply need to answer a few questions, follow their instructions and get started with instant account. For a full account, you only need the bank statement & Pan Card document.
It's options are great for a low budget startup or individual business owner. Providers can create a page where they can list their products or services with a payment link or button or directly request a payment to customers.
Some Brief & Key Points:
Launch Year: 2012
Cutting Edge.
Helpful & very responsive support.
Launch new & updated features in intervals
Safe & Secure Gateway
Active Payment Gateway
Intuitive & easy UI
Best for small business
Setup Fee :Zero
Annual Maintenance Fee: Zero
Transaction Fee:2% + Rs.3
Clientele: Snapdeal's app Shopo, Online Prasad, UrbanClap, YourStory, Next Big What etc.
5) EBS
EBS is a foreign based company, owned by France based Ingencio Group. Ingenio Group is one of the global leaders in Global Payment Processing Services. It has some mixed reviews from the customers, but however, this Payment Gateway is since a long time in the market and for its organizational reputation; it's surely trusted & secure. It was bit costly, but to compete in Indian market they have also launched "Zero Setup Fee" Plan for the startups. Also they have lowered their charges for their customers.
It has a good support team and the authentication & installation process is easier. It also has SDKs for different ecommerce platforms.
Some Brief & Key Points:
Has multi-currency facility.
Good amount of payment processing option.
Useful UI & Merchant Dashboard with features.
It has a Auto Pay option.
Setup Fee:From Zero to Approx. INR 24000/- depending on plans.
Annual Maintenance Fee: 2400
Transaction Fee:From 1.25%  to 3.75% based on the plan & transaction.