04/05/2017
Posted by:

Millon Unika

Category:

All, Business, Smartphones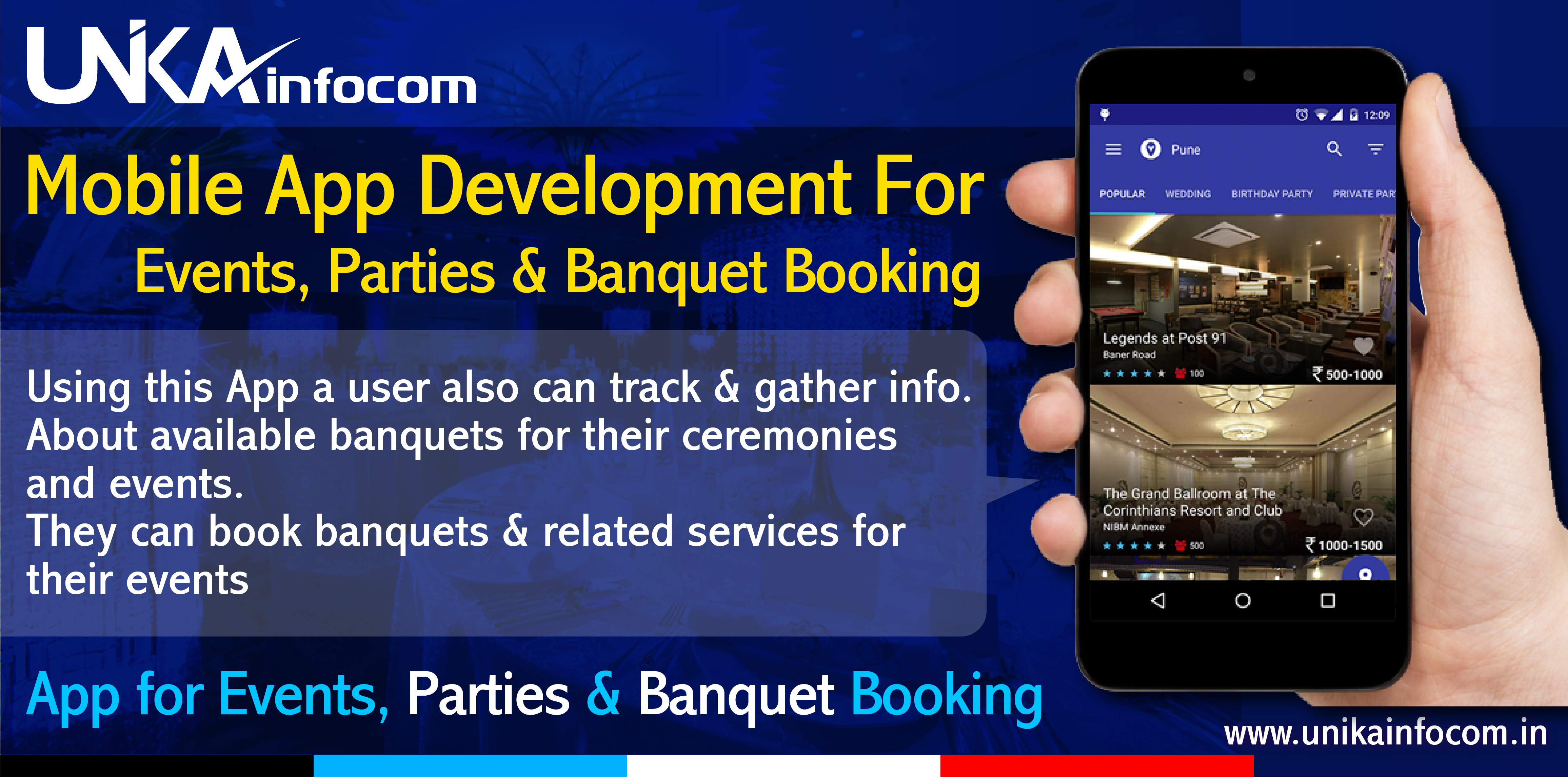 Mobile App Development For Events, Parties & Banquet Booking
Unika Infocom provides Mobile App Development For Events, Parties & Banquet Booking, its an advance App for all your event management operations. User can download the app. After registering User can select venue, check availability and can book for an event or party. User also can select Menu and other facilities available in this App.
There would be two panels in the App as user and admin panel. The admin panel enables you to track and manage all enquires, visitors and users of site. Whereas u
ser panel will allow users to View the interface, and also enquiry, requirement using this portal. Admin panel also allows you to maintain the entire website like content, images, pages, delete, edit, update etc. The entire features are customizable and client can also modify as per the requirement.
The main objective of the App is to give a user friendly interface & navigation to the App users. Using this App a user also can track & gather info. about available banquets for their ceremonies and events. Moreover they can book banquets & related services for their events through this customized App.
The App is for Google's Android Version and Apple's iOS Version.
User Guide:
As soon as the user launches the application, he can come across a well-defined user guide. It covers each and every aspect of the process, making it easy for first time users to perform core tasks. Such guides are crucial to introduce app users to important mobile features and action process. There will be User Experience rich user guide.
The Project will be developed keeping in mind the relative ecosystem and create policies with target audience in mind.
Multi-mode payment options available for viewers including cash payment.
Also the overall interface should be specifically designed keeping in mind the targeted user base and ease of use.
The App is segmented so that user can easily navigate to their desired section.
User Types:
Admin
Registered User
General User
Basic Features:
The basic design architect
of the App is to keep everything simple and
user friendly. Also the same should hold true for sign-up page. Before using the application,
user can register account with the platform or can do it at a later stage.
Already registered Users can sign in the app instantly and new Users can sign up for
registering themselves. The overall process should be minimalistic keeping in mind the
mobile nature, and requests only most critical information such as:
Name
Address
Mobile number
Email
Password
It has a location tracking feature to show the user nearby event locations or banquets for booking.
Admin Backend Features:
Our user friendly CMS allows site manager to publish, modify, delete, organize
from a central interface with easy admin panel, so that you can manage everything you
want in your site and can attract and connect to clients .
Add & Edit CMS Pages
Configure Contacts
Configure Social Media
Setup Labels & Messages
Also total CRM Management
Full Admin Control Panel to Manage the App features & Users.
Other General Features:
Registration / Login
GPS enabled
Social Media link & connect
Offers & discounts
Advance Booking
Service Bookings
App wise payment section
Contact form
Terms & Conditions and Privacy Policy
Feedback form
User Record maintenance
Payments & Invoices.
Payment Gateway Integration
This is a One Stop App for Event Management & Banquet Booking.