16/12/2016
Posted by:

Millon Unika

Category:

All, Business, Internet, Technology, Uncategorized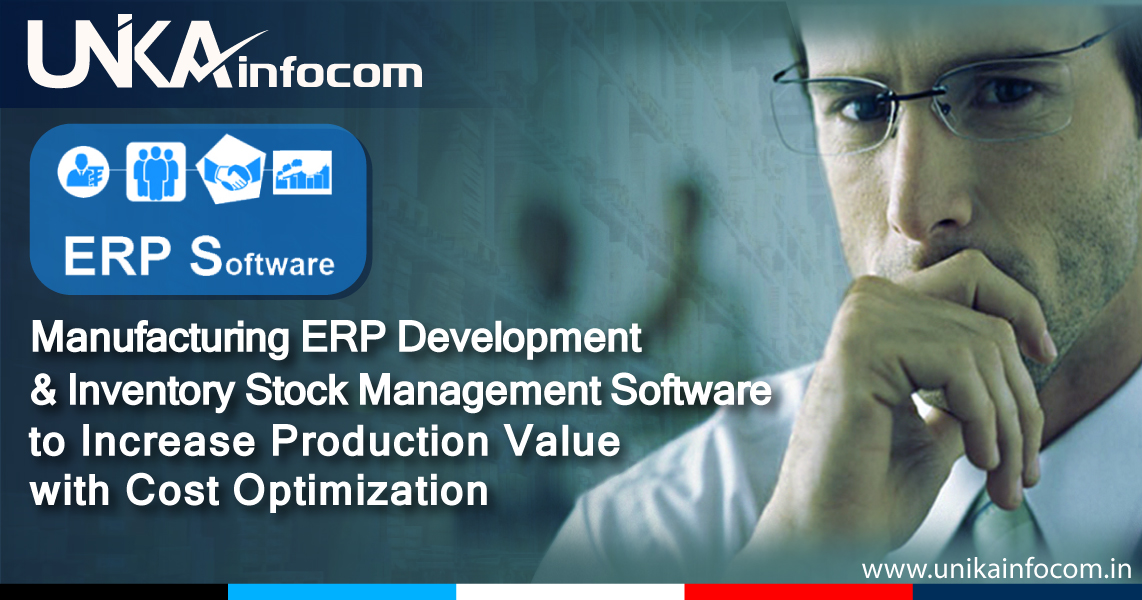 Manufacturing ERP Development, Inventory Stock Management Software is mainly used to streamline the operation & production flow of any industry or manufacturing unit. Above all It is a robust & module based application. Therefore it can be used based on the industry need. This Manufacturing ERP & Inventory Stock Management Software keeps track on every aspects of a manufacturing or production unit. Starting from supply chain, raw material, procurement, warehousing to stock & inventory; it streamlines every process.
Some Key Benefits of Manufacturing ERP Development, Inventory Stock Management Software
Undoubtedly increase efficiency
Moreover maximum resource utilization
Furthermore proper man hour calculation
Get rid off unnecessary downtime in the first place
Increase performance & production
In addition cost efficient. Moreover eliminates hidden cost.
In fact effective purchase management
Improve supply chain in the first place
Proper procurement & ware house management
Streamline the supply chain
Let's go through some major modules:
Sales & Distribution Management

Warehouse Management

Purchase Management

Manufacturing & Production Planning Management

Production Quality Management

Inventory & Stock Management

Unit Maintenance

Taxation & Compliance Management

Human Resource Management

Pricing Management
 1.  Sales & Distribution Management:

      
This module handles sales contact management, order management and distribution management. Based on these reports an enterprise can plan their sales & marketing strategy. It also maintains the distribution chain.
Some features of sales & distribution management module:
Customer record and sales record management
Order management
Pending order, delivered order, canceled order, disputed order tracking
Sales enquiry & conversion management
Order Shipment tracking.
Partner program
Distributor management
 Order distribution management
Sales & distributor territory management Etc.
2. Warehouse Management
A good warehouse management module is the backbone of a manufacturing ERP. Above all it tracks and handles inventory as well as the order management system.
Some benefits of a good warehouse management module:
Keep tracks of full stock
Tracks rejected items
Alert excess stock or stock deficit
Streamline order management
Removes bottleneck situation
3. Purchase Management:
Purchase management module streamlines procurement of raw materials that are used to manufacture the product and make the product ready. It's a continuous process, therefore the tracking should be efficient. It is a important part of production, inventory, quality control & cost management modules.
Some feature:
Item wise purchase management
Vendor record management
Quote & tender evaluation
Vendor analysis according to the record
Purchase quality and quantity control
Keeps track of pending purchase order
Acceptance and rejection of purchase order
Tally invoice with purchase order Etc.
4. Manufacturing & Production Planning Management:
Manufacturing, planning and production management lift resource utilization in an optimal level. This module plans the whole cycle of production process, starting from purchase to dispatch and sales. Therefore it is an integral part of the manufacturing process.
Some features:
Multilevel production planning
Forecast of production quality & quantity
Purchase, inventory, warehouse & sales planning
Planning based on production history
Resource planning
Capacity planning
Machine production planning
Planning & maintain production against work order or sales order
Furthermore wastage & reusable material tracking  Etc.
5. Production Quality Management
Production quality management is the pillar of the success of any product and the industry. In any case if the quality maintenance fails the whole unit will break down. Therefore this is the most important module as per the success. This monitors quality control of the production value. Not only it systematically tracks and maintains the quality of purchased materials, but also ensures the quality of finished products.
Some feature:
Purchase order quality control
Finished product quality control
Sample analysis
History tracking
Approve or rejection audit
Furthermore stock registry
In addition environment monitoring Etc.
6. Inventory & Stock Management :
Inventory & Stock Management Module monitors & tracks inventory in the Unit. Moreover it also tracks and gives information about stock status in the warehouse.
Some features:
However generates & tracks material request
Tracks material issue & at the same time its usage
On the other hand keeps Warehouse transfer record
Moreover it manages Inventory, Stock valuation and tracking Above all it manages current Inventory, Stock status update.
Unit  Maintenance:
Without proper maintenance of machines & other production units, optimal results can not be achieved, therefore Unit Maintenance Module maintains every machines & units used for production. Moreover it keeps track of the current condition of every machine.
Some features:
In any case tracks machine breakdown update & record
Condition monitoring
Repair report & record maintenance
Spare parts maintenance
Finally Maintains warranty claims & tracking
8. Taxation & Compliance Management:
Above all to run a manufacturing unit you need to maintain all taxation, vat and other compliance effectively. As a result the manufacturing unit will run smoothly. It keeps track of very transaction. Therefore transactions like warehouse transfer, purchase billing, sales, production all are maintained with current government rules.
9. Human Resource Management:
Human Resource Management undoubtedly is a key factor of the production level. Therefore it needs to be handled very carefully. actually human resource is also considered as the capital of any industry.
Some features:
Proper training
 On the other hand Employee enhancement program
Moreover good work environment
In fact periodical increments
Furthermore performance evaluation
10. Pricing Management:
Proper pricing management actually can be the key of better profit. This module calculates all the probable expenses for a finish product. Finally it add taxation to it. Consequently it determines the product value for an optimal profit margin.
Manufacturing ERP Software Development | Inventory Stock Management Software