30/06/2017
Posted by:

Millon Unika

Category:

Business, Internet, Mobile App, Products and Services, SEO / Social Media, Smartphones, Technology, Web Development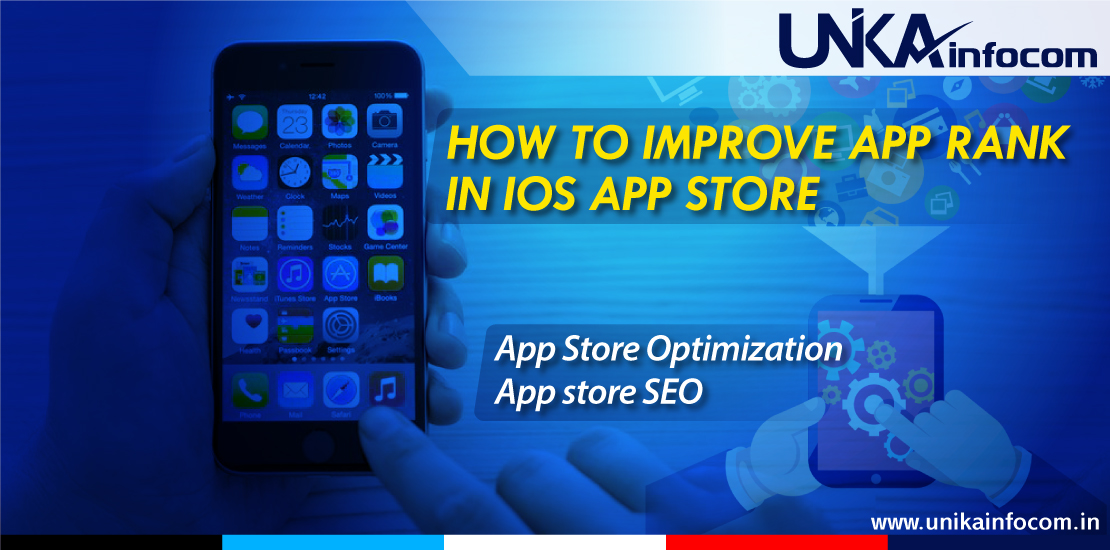 How to Improve App Rank in iOS App Store
Here we will discuss about some useful tips about How to Improve App Rank in iOS App Store.
Over 2 million apps are currently published in the iOS App Store, same as thousands of similar apps are being published in every category and subcategory. Mobile App market is booming exponentially in present scenario. Online traffic is routed in massive manner in smartphone apps. Apps are getting huge user base, thus the revenue is also getting big through apps. Apple alone pays almost $20 billion to their developers for iOS App Store.
If you have the idea, How to Improve App Rank in iOS App Store, then you can earn some share of the huge chunk of App revenue. This can be huge as per your business point of you.
Same like website SEO, there are both "on page" (App Store listings) and "off page" strategy along with digital & social media marketing. Therefore using this tactics & below tips you can improve app store optimisation & rank. The tips will help to get you more visibility in App Store, route more users to your App Page & will help you to get more installs. Lets go through the below points.
1. Limit Keywords Within 100 Characters
For Apple App Store listing you can add keywords for your App. Its very important to select appropriate keyword for your app. Because Apple app store uses these keywords for their search algorithm and shows it as result. You must limit your keyword within 100 characters. Long keywords are not good for your app for app store optimization. Always separate key words with commas, and also don not use spaces.
2. Limit Your App Description Within 50 Characters
If your not a renowned brand then users wont recognise you. In such cases you should describe your app with proper keywords & core functionalities. Thus users will be clear about your app and will get a clear picture what they are going to download. Use keywords in your App title, so that you can get a better position in app search and also limit everything within 50 characters.
3. Avoid Using Generic Terms and Bland Words in the Title
Do not use generic terms & bland words such as Photos, Images; this will make your app title less interesting and user will simply ignore your app. Do not use duplicate names of similar existing apps, because Apple may ban your app.
4. Don't Use Any Trademarks or Celebrity Names in Keywords
If you do not have the permission & authorization of any trademark, business name or any celebrity name, then do not use these in your keywords. Or Apple will reject your app.
5. Always Add Keywords to your App Titles
If you use keywords in your app title then it will increase your app visibility or discoverability by almost 11%. The number is a big lift for your rank building. Therefore always keep this point in mind as a good SEO tactic.
6. As a First Step Target Keywords with Low Competition and Lower Search Volumes
Instead of being a small fish in a big pond, be a big fish in small pond. Always try to hit with a keyword with less completion & with lesser search volumes at first. You can find this using various keyword research tools. Build a credibility, social presence & testimonial with this. Now you are ready to challenge the big players & appear in the mainstream competition. Keyword Research Tools are vary useful to give you a proper idea about the keyword search trends.
7. Screenshots & User Friendly App Description
Give your best app screenshots in first two places. This is your first impression and a useful option to attract users to download your app. So make it count and deliver your best. Also use a user friendly app description with simple bullet points and with easy described functional features of your app in the App Description section. This will also give your app an extra mileage in terms of acceptability.
8. Use an Attractive App Preview Video with an Attention Grabbing Rich Poster Frame
Remember your first impression is the last impression towards your prospective users. Therefore always use an attractive app preview video & an eye catching poster in app description which will attract your users more.  As per Apple recommendation use a short video between 15-30 sec for your app preview. Give your best shot as per the video poster designing, so that your user cannot ignore it without clicking. It will definitely increase your conversion rate.
9. Localize Your App
To obtain a good conversion rate your App should be localized. If your App listing is only in English, then you are blocking your user base from other native parts of the world. You should internationalize your App codebase with App store instructions. Then change app title, description, currency, date time, video, reviews etc. in native languages. Using this process you will definitely observe better conversions.
10. Follow Apple's App Store Policies and update in a Regular Interval
Just like Google, Apple also disapproves apps that are not updated regularly. Also rewards apps that are being updated frequently. It helps an app to get better position in search.
Web Development | Website Designing | Mobile App Development