13/05/2017
Posted by:

Millon Unika

Category:

Business, Graphics, Infographics, Internet, SEO / Social Media, Smartphones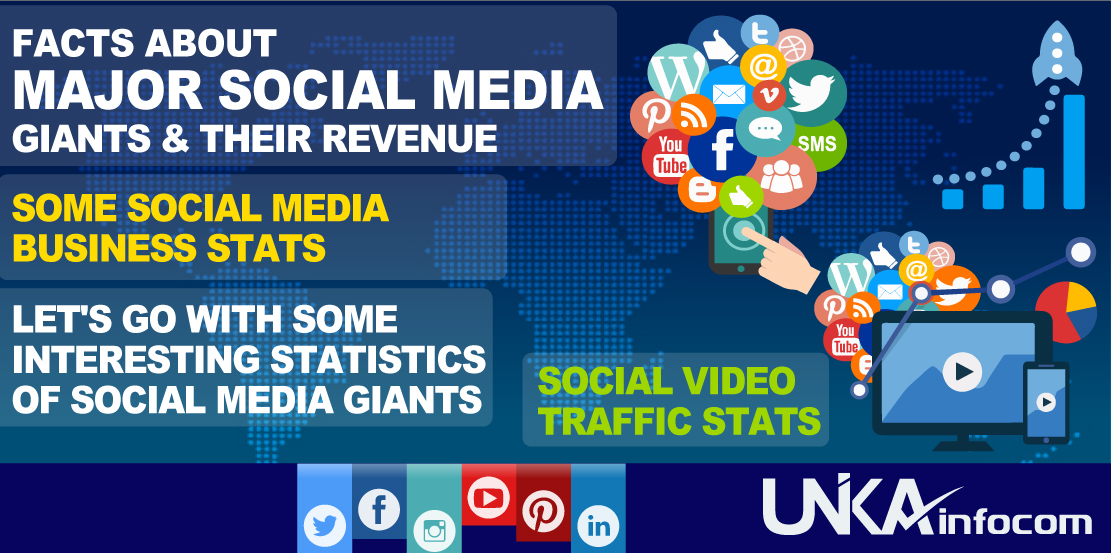 Facts About Major Social Media Giants & Their Revenue
By the last decade social media craze has grown in a massive way. As the Facts About Major Social Media Giants & Their Revenue has some interesting points. Today we have some major social media giants into active play in attracting online traffic. Huge chunk of traffic are  with these Social Media organizations. These Social Media are increasing their revenue with the help of their users.

Monthly Active User Statistics of Major Social Media
| | |
| --- | --- |
| Social Media | Users |
| Airbnb | 50 million |
| Facebook | 1.94 billion |
| Flickr | 112 million |
| Google+ | 300 million |
| Instagram | 400 million |
| LinkedIn | 450 million |
| Myspace | 51 million |
| Pinterest | 100 million |
| Snapchat | 100 million |
| Twitter | 320 million |
| Wechat | 1 billion |
| Weibo | 600 million |
| WhatsApp | 900 million |
| Youtube | Over 1 billion |
Some Social Media Business Stats
By 2016 Social networks earned almost $9 billion from advertising.
38% of organizations plan to spend more than 20% of their total advertising budgets on social media channels.
Social Video Traffic Stats
Videos are one of the major tool to attract online traffic. Also video views by users are generating huge revenue.
In Facebook there are 8 Billion average daily video views.
6 Billion videos watched by Snapchat users every day.
78% of online traffic watch videos every week.
55% of online traffic watch videos every day.
Let's Go With Some Interesting Statistics of Social Media Giants:
Facebook Statistics
500000 new users join Facebook every day.and 6 new profiles every second.
The average number of social connections or friends is 330.
Almost 81 million profiles in Facebook supposed to be fake.
The Most Popular Page in Facebook is " " with 497,449,080 likes.
Almost 40 million small business pages are there in Facebook.
Almost 2 million of small businesses pay Facebook for business promotions & ads.
Around 62% of social logins use Facebook account for login into different sites & apps.
Twitter Statistics
Almost 500 million people visit twitter without logging in.
Also there are almost 1.3 billion total accounts in Twitter. But only 300 million users are active.
44% of the total user left twitter without posting a single Tweet.
An average twitter user has around 200 followers.
500 million Tweets sent every day. That is 6000 tweets every second.
Twitter took 3 years 2 months & 1 day to reach 1 billion Tweet.
Almost 66% of US companies with 100+ employee strength; use Twitter for marketing.
77% of users feel more assured and positive  of a brand when their tweet has been replied.
Youtube Statistics
Youtube has over 1 billion users.
Every minute 300 hours of video are being uploaded.
Each month almost 3 billion hours of video watched.
More than half of Youtube views are from Mobile Devices.
Average Mobile viewing session lasts more than 40 minutes.
User submitted most popular video on Youtube is "Charlie bit my finger – again!" with almost 848,788,444 views.
Overall "Gangnam Style" is the most popular video on Youtube with over 2 billion views.
10% of US small businesses use Youtube.
There are 76 different language navigation in Youtube, which covers 95% of internet population.
Instagram Statistics
Instagram has 400 million monthly active users.
Each day over 80 million photos uploaded.
3.5 billion Instagram likes per day.
Till now more than 40 billion photos have been shared.
90% of Instagram users are under the age of 35.
When Instagram introduced video, it had more than 5 million share in 24 hours.
325 of US teen accepted Instagram as their favorite Social Network.
Pinterest Statistics
176 million accounts are registered with Pinterest.
But only 100 million users are active each month.
42% of women online users use it.
As per stats the best time to Pin is on Saturday between 8 PM to 11 PM.
66% content that users Pin are from Brand Websites.
LinkedIn Statistics
LinkedIn has 450 million accounts. Whereas 100 million of those access it on a monthly basis.
More than 1 million users published content on LinkedIn.
Over 3 million companies has a LinkedIn account.
17% of US small businesses use LinkedIn.
By these above stats; its helpful to analyze social media traffic & revenues and an insight of the Social Media Giants.