03/07/2017
Posted by:

Millon Unika

Category:

All, Business, ecommerce, Graphics, Mobile App, Smartphones, Web Design, Web Development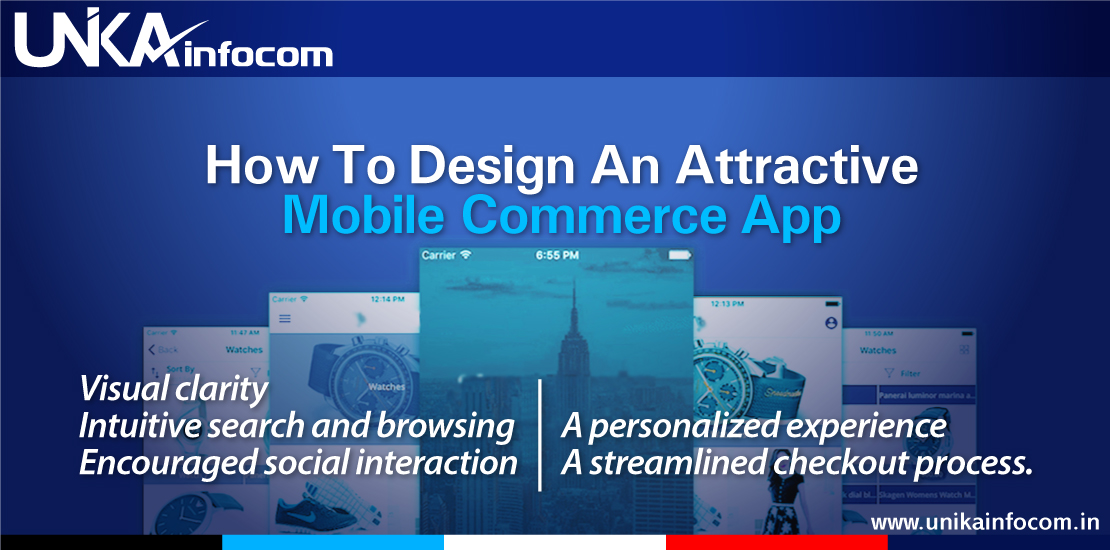 How to design an Attractive Mobile Commerce App
Here we will focus on some points about How to design an Attractive Mobile Commerce App. A bad mobile app can downgrade a company's business, impression and revenues. Whereas a responsive, user friendly, easily navigated App can pull any business to a new height. In fact, as per Google reports, 80% of users mentioned that they turn to a competitor's app if they have a bad mobile app experience.
Mobile commerce is steadily increasing and online shopping growth through apps are increasing day by day. Therefore companies are giving minute focus of creating their mobile apps for Mcommerce.
Its very important to give your mobile commerce app users a better way to interact, response, engagement with your brand through mobile app. Here we'll take a look at what design standards and best practices can give your mobile app an extra mileage in the competition.
1: Maintain Visual Clarity
Use Clear High Quality Images
One of the most frustrating aspects of online shopping on a smartphone is not to get adequate details about products and also not experiencing enlarged product view. therefore while designing mobile commerce app, we need to keep in mind to use high resolution, clear images. Android and iOS platforms now encourage app developers to use the whole screen as much as possible to give a better viewing experience to their users.
Eliminate Clutter
Always opt for a simple, user navigation friendly and uncluttered design. This will help the user to have a less complex experience while surfing the product range. Also avoid unnecessary text and cut down the length or it can be harder to the users to focus on your product details. Simple & uncluttered design is the key factor of a successful mobile commerce app.
Key Colors Implementation
The use of a key color can help navigate & guide users through their mobile commerce shopping experience. Use colors to indicate which actions should be taken next and which information is most important.
Clarify Product Options
Lastly, and as equally as important as the other points mentioned, is the way you present product information to users. It should be clear about product variants, like  what size and color options are available and easy to input desired specifications. Usually, if not too cluttered, you can include all options on the product screen.
Using a pull-down menu can sometimes reduce clutter. The app opted for the use of a spinner (pulldown menu) allowing for a neater and less cluttered looking screen.
2: Implement Intuitive Search and Easy Browsing Filter
Encourage Browsing
The interface should be intuitive & engaging with the user. It should also encourage the user to browse product categories. The more they browse the more the will involve with the app and with browsing history we can analyse user behaviour pattern and taste. This is very important in terms of marketing & keep the app updated with products according to user choices.
Searching Products
You need to push users search for your products in app. Also you can use suggestions & auto complete feature to provide a helping hand to your user. You can also use popular searches & best selling product options to push the user look for products & navigate through your app. This reminds people of items they might not have thought of initially. It will surely boost your user interaction with the app & thus resulting higher conversion rate.
Use Product Carousels
Product carousels are great & effective way to show off a collection of your products & items without a user having to leave the current app screen. Carousels are especially useful on the homepage for special collections or on a product page for similar suggestions.
3: Encourage Social Interaction, Social Network Sharing & Community Engagement
Social Media Interaction, Promotion, Sharing & Option to Login using Social Media Account                                                                                     
Encourage users to share & promote your products from within the app. Add plugin and option so that user can share their desired product in social network from the app. It will attract more user towards your app and thus resulting higher conversion rate. Ask them to like your social network page from the app and provide them a login option from which they can login in your app through their social network account.
Create a Community
Engaging an active community that is eager to share their favourites & experience with others is one of the most important aspect of a mobile commerce app.
Include Reviews
One of the biggest challenge in online shopping for users to know the details & quality of a product. A great way to overcome this uncertainty is by encouraging customers to give their review on purchased items. Provide users a useful interface to access others review in app, so that they can judge the product before buying. If you want to go the extra step, let them write reviews from within the app.
4: Provide Personalize User Experience & Recommendation
Give user personalize experience through the app, so that they can feel that they have the control over the situation. Using their information and behavioural pattern you can provide them personalize features & recommendations. It will make user feel special and create more interactive session with your app & products.
Amazon also does a great job by sharing recommendations based on past searches and purchases. They facilitate these recommendations through the use of a 'Recommended for You' list easily found by clicking the more tab in their app.
With these feature implementation ModCloth Online Shopping Portal is experiencing more than 50% visits through their mobile app. ( http://www.prweb.com/releases/2013/10/prweb11252869.htm )
5: User Friendly & Streamlined Checkout Process
Perhaps the most important component of a mobile app is the checkout process. In fact according to Jumio "66% of shoppers have abandoned a mobile purchase at checkout, and 47% reported they failed to complete a transaction because the checkout process was too difficult". What can be done from a design standpoint to eliminate this abandonment?
Make Shopping Cart Accessible From Anywhere
Users should be able to access their cart from virtually any screen in the app.
Secure Save of Important Information & Credential
Users should be able to safely store information such as shipping addresses, KYC Info. and credit card numbers. This will help users to make a simple purchase quick & efficiently.
Web Development | Website Designing | Mobile App Development