28/02/2017
Posted by:

Millon Unika

Category:

All, Business, Graphics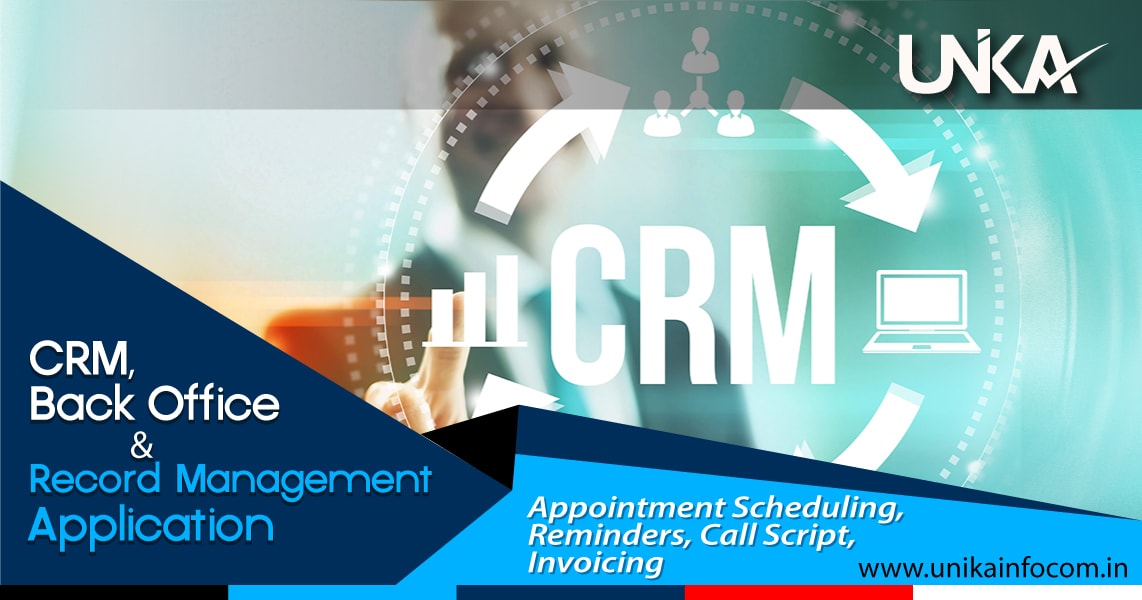 CRM & Back Office & Record Management Software Development
Main Objective:
The main objective of the portal, is to give an easy and user friendly way for Client Lead & Record Management, Schedule & Appointment Management, Sales Analysis & Statistic Management and Allover Follow-ups Management through this advanced CRM. It's highly robust & scalable. It's fully dynamic & customizable and moreover it has ultimate security & data integrity.
It will have two main panels:
Admin (Administrator of the whole application)
User (User specific works & permission set by Admin)
Primary Features of the Application
Client Record Management
Dynamic client data feeding with tagging
360 degree Contact Management.
Client Lead Management
Timeline & Appointment Scheduling Management
Calendar Management
Events & Meeting Management
Follow up Management
Call, upcoming meeting reminder and set alert
Documents Management
Call Scripts Management (Client wise call script)
Client type category listing
Sales force & Team Management
Report & Print Section
Google Analytics Integration
And Many Other Customized Features…
Some Detailing of the Application:
Collect customer details:
Keep all your client info in your fingertips. Customized client card fields and web forms help you collect and record all the information you need on every contact, lead or customer in your CRM software. Our Online CRM software also has entry fields of the lead source, photo and other insights.
360 Degree Client Contact Management:
Contact Manager helps you to maintain your contacts in a centralized address book, and have a comprehensive view of related tasks, notes, interactions and emails.
Save time and close more deals with single-page contact management. View everything you need to know about a contact on a single page that includes contact info, communication history, social media profiles and lead scores. The interface enables you to do a 360 degree profiling of a prospect.
Manage customer relationships:
Access client information on your online CRM at anytime, anywhere. Review past communication, documents, payments and upcoming appointments. Easily add new clients or import your contacts and customer data from Gmail, or an Excel file.
Follow-up with customers:
Get advance and instant pop up notifications for client call requests, follow ups and feedbacks. Set alert & remind users or callers to follow up with customers, schedule appointments.
Calendar Management:
Sync with Google calendar and stay informed about upcoming meetings. A striking feature under appointment scheduling software in Sales Automation CRM.
Documents Management:
Sales Automation enables you to attach relevant documents to deals, contacts, companies and emails in the CRM Application.
Appointment Management:
Online appointment scheduling, it eliminates the back-and-forth of old-school sales scheduling so you can get back to business. It eases out the pain of writing lengthy and elaborate emails to schedule appointments. And when it comes to cancellation, it's more relieving than the conventional email exchange. The solution for all such problems is the appointment scheduling software. Create a personal scheduling page, put your appointment calendar on your website, include calendar links in individual emails and automated marketing campaigns, and let the hottest leads come to you.
Appointment tagging with respective sales team.
Tele Call Management:
Detail listing & maintenance of outbound call, inbound call, call note & remarks management.
Call Script Management:
The most significantly attractive & useful feature of this module is client category & type wise (like cold call, warm call) tailor made, pre defined call script. This script can be tagged with individual client wise and it will show to the caller while viewing or calling the client.
 Upcoming Task Management:
 Set alert and pop up notification for various upcoming task management.
 Lead Management:
 Advance lead management section. Call list setting for prospective clients, leads conversion rate statistics.
 And Many Other Features.