05/04/2017
Posted by:

Millon Unika

Category:

Business, Internet, Technology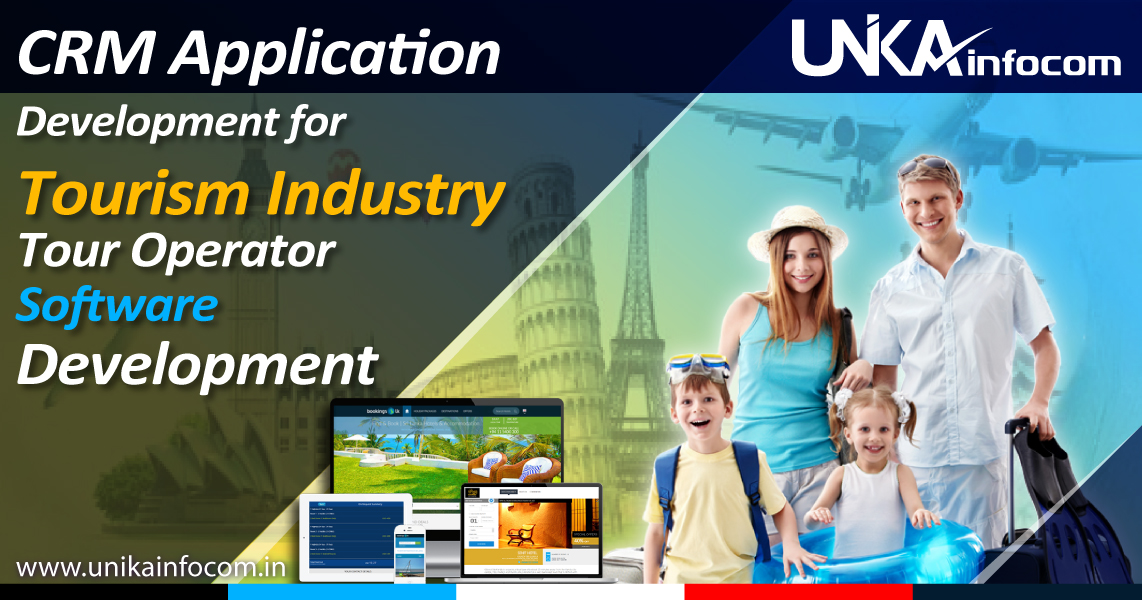 CRM Application Development for Tourism Industry, Tour Operator Software Development
Unika Infocom provides CRM Application Development for Tourism Industry, Tour Operator Software Development.  Since we have a vast experience in Tours & Travels industry. Therefore our CRM Application Development for Tourism Industry, Tour Operator Software Development contains all the features a tourism sector needs.
Most importantly our CRM Application Development for Tourism Industry, Tour Operator Software Development, covers some major areas any Travel Agency needs to make their operation smoother. Below are those areas:
Major Covered Areas:
Customized CRM specifically designed for Travel Agencies.
 Record Management System
Reservation & Booking Record Management System.
Insurance, Visa, Ticketing & other credentials Management.
Accommodation Management.
Documents & file Management.
Client KYC Management.
Vendors & Partner Management.
Tour & Itinerary Management.
Tour Group Management.
Customized & Dynamic Reports Module.
Moreover Invoice, Billing & Accounting Features.
Some Key Features:
Storage & Management of full Leads Record.
Also segregated Clients Record Management.
On the other hand Priority Management.
Moreover we strongly give higher preference for Security & Data Integrity.
Also Dynamic Search and Filter options.
Digital & Email Promotionl & also Bulk Campaiging Integrtaion.
Various MIS reporing section.
Sales tracking & Convertion Management.
Salesforce Management.
Tour operation management.
Full Vendor Listing with Categorization.
Total booking & reservation management solution for customers.
maintain customer history using automated processes
Furthermore data analytics feature, like automatically maintain customer data depending on their booking behavior.
Smart features of the application:
Client Record Management
Also Dynamic client data feeding with tagging
360 degree Contact Management.
Client Lead Management
On the other hand Timeline & Appointment Scheduling Management
Also Calendar Management
Events & Meeting Management
Moreover Follow up Management
Call, upcoming meeting reminder and set alert
Documents Management
Call Scripts Management (Client wise call script)
Client type category listing
Sales force & Team Management
Report & Print Section
Google Analytics Integration
General CRM Feature Description:
Collect customer details:
Keep all your client info in your fingertips. Also  customized client card fields and web forms help you collect and record all the information you need on every contact, lead or customer in your CRM software. On the other hand our Online CRM software also has entry fields of the lead source, photo and other insights.
360 Degree Client Contact Management:
Contact Manager helps you to maintain your contacts in a centralized address book, and have a comprehensive view of related tasks, notes, interactions and emails.
It also saves time and close more deals with single-page contact management. Also view everything you need to know about a contact on a single page that includes contact info, communication history, social media profiles and lead scores. Moreover the interface enables you to do a 360 degree profiling of a prospect.
Manage customer relationships:
Access client information on your online CRM at anytime, anywhere. Review past communication, documents, payments and upcoming appointments. Easily add new clients or import your contacts and customer data from Gmail, or an Excel file.
Follow-up with customers:
Get advance and instant pop up notifications for client call requests, follow ups and feedbacks.  Also set alert & remind users or callers to follow up with customers, schedule appointments.
Calendar Management:
Sync with Google calendar and stay informed about upcoming meetings. Also a striking feature under appointment scheduling software in Sales Automation CRM.
Documents Management:
Sales Automation enables you to attach relevant documents to deals, contacts, companies and emails in the CRM Application.
Appointment Management:
Online appointment scheduling, it eliminates the back-and-forth of old-school sales scheduling so you can get back to business. Also it eases out the pain of writing lengthy and elaborate emails to schedule appointments. And also when it comes to cancellation, it's more relieving than the conventional email exchange. The solution for all such problems is the appointment scheduling software. Moreover it creates a personal scheduling page, put your appointment calendar on your website, include calendar links in individual emails and automated marketing campaigns, and let the hottest leads come to you.
Appointment tagging with respective sales team.
Tele Call Management:
Detail listing & maintenance of outbound call, inbound call, call note & remarks management.
Call Script Management:
The most significantly attractive & useful feature of this module is client category & type wise (like cold call, warm call) tailor made, pre defined call script. This script can be tagged with individual client wise and it will show to the caller while viewing or calling the client.
 Upcoming Task Management:
 Set alert and pop up notification for various upcoming task management.
 Lead Management:
 Advance lead management section. Call list setting for prospective clients, leads conversion rate statistics.
So, its a tailor made CRM & Operations Application for Tourism Industry & Tour Operators and also a One Stop Solution for them.