21/06/2017
Posted by:

Millon Unika

Category:

Business, Internet, PC Security and Antivirus, Products and Services, Technology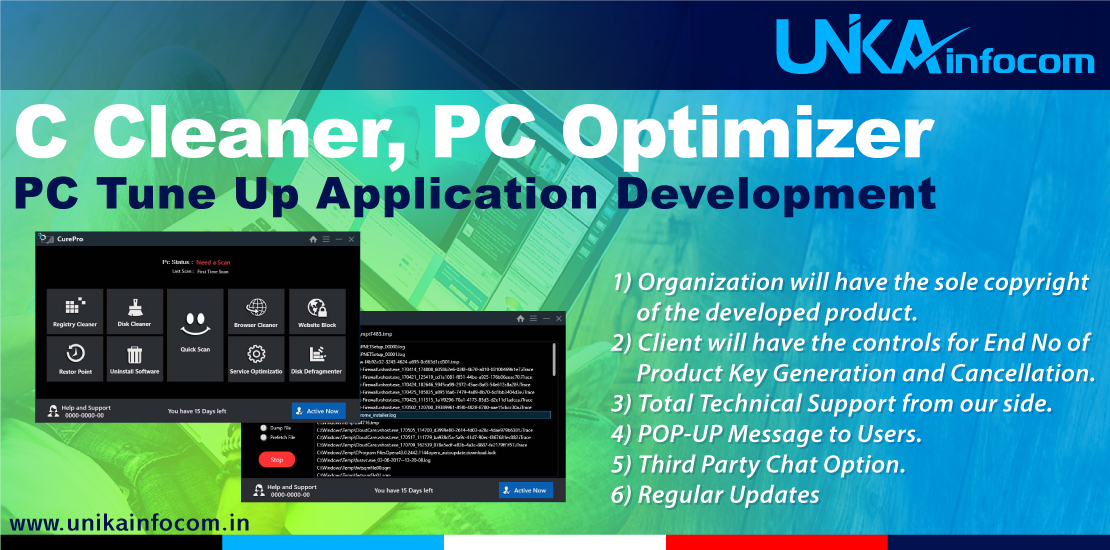 C Cleaner, PC Optimizer, PC Tune Up Application Development
Unika Infocom is into C Cleaner, PC Optimizer, PC Tune Up Application Development for various clients. So many PC Security products are running successfully in the market. Also our PC Optimizer product is robust, secure and with high performance level.
Features:
Your Organization will have the sole copyright of the developed product.
You will have the controls for End No of Product Key Generation and Cancellation.
Total Technical Support from our side.
Windows 7 -10 Compatibility.
POP-UP Message to customers.
Third Party Chat Option.
Technical Aspects/Functionality/Key Features of our C Cleaner & Tuning:
Temporary internet files Cleanup
History Scan
Cookies Cleanup
HTTP/HTTPS URL Security Scan
dat files
Unauthorized File Protection.
Internet file Download Security
Auto Complete for History
Password Security Cleanup
Windows Explorer Protection
Recent Documents Scan
Documents Scan
Run time Program Cleanup
Other Explorer MRUs
Thumbnail Cache
Local Network (LAN/WAN) Security
Windows / Program Files System Security
Recycle bin Security
Temporary Files
Clipboard Security
Memory Dumps
Chkdsk File fragments
Windows log files
Windows Error Reporting
DNS Cache
Font Cache
Start Menu Shortcuts
Desktop Shortcuts
Registry Security:
Missing Shared DLL Files
Unused File extensions
ActiveX and program class Issues.
Type Libraries
Applications
Fonts Registry
Application Paths
Help files
Installer Registry
Obsolete Software Registry
Run at Startup
Start Menu Ordering
MUI Cache
Sound/Video Events
Windows Services
File Scan Tools:
Scan and Delete Effective files
Install/Uninstall
Startup
Restore File Finder
Drive Wiper
Settings:
General Settings
Cookies
Include
Exclude
Advanced
About
Help
Updates
Software Activation Key
Web Development | Software Development | Mobile App Development | Online Marketing