22/06/2017
Posted by:

Millon Unika

Category:

Business, ecommerce, Graphics, Internet, Products and Services, Smartphones, Technology, Web Design, Web Development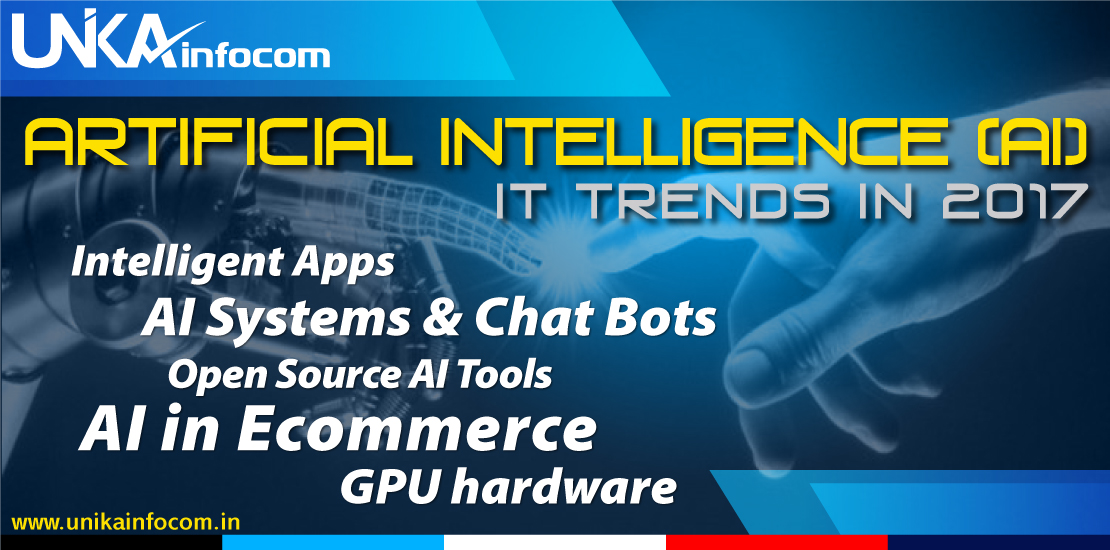 Artificial Intelligence (AI) IT Trends in 2017
Artificial Intelligence (AI) IT Trends in 2017 is the most happening & cutting edge technology implementation everyone is eyeing. Artificial Intelligence has gone through a massive evolution & growth in the recent years. we can see its implementation on various technologies & industries for its high demand. AI cannot grow independently but with the other technologies and combination of AI with the IT technology in various industries will be mark as a revolution. Here we will discuss about AI implementation alongside the IT trends.
Intelligent Apps:
Many Game & APP development companies has started to implement AI technology into their Mobile Apps to provide the users better interactivity, performance & enhance users engagement in many ways. Implementing AI with Mobile Apps & Games is the most prominent reason of some Apps became viral in 2016-17. Pokemon go is one of those kinds. Therefore web & app developers now try to incorporating AI approach into their end product. AI gave the Game Development industry a new dimension. Also
AI incorporated applications can learn from the user behaviour. Also it provides smarter responses rather than some predefined request-response based applications.
Open Source AI Tools:
Application development companies understood the power of AI in any App. They also understood the impact it can make amongst the users compared to other normal apps. Therefore open source AI tools are on high demand. Caffe, Microsoft Cognitive Toolkit, Deeplearning4j, Distributed Machine Learning Toolkit, MLlib, H2O are some top AI tools which harness AI into your application through deep learning.
 AI systems & Chat Bots:
Chat bots for customer service is one of the most useful live implementation AI in Information Technology. Its already popular & took momentum in market. Moreover Systems with AI & Chat Bots will come up with better interface between the user and the system interaction. Chat Bots & AI integrated UI System already hitting the market in a smaller scale but it will take over the market in the coming time. User & System interaction will be like never before with Chat Bots & AI implementation in Systems. It will create a revolution as this research & implementation is almost close to a human-human interaction as possible with the system & the user.
 AI in Ecommerce:
Retail & Ecommerce is such an industry which has the most AI integrated features and also got benefited most with the AI into their business portal. For the better interactivity, user behavior analysis & response and an intuitive interface people are interested more in online shopping than a physical one. AI is the most important and useful tool to simulate & provide the real time physical shopping experience to the customers through Ecommerce.
GPU hardware:
A GPU or Graphics Processing Unit is a single chip processor which renders 3D scene & transforms objects. GPU is a revolution in high performance computing & providing systems with ultimate user experience. GPU gave the system-user interactivity a new dimension with high performance, rendering & manipulating 3D graphics & image processing. It's used in embedded systems, Smartphone, PC, Laptop, gaming console and workstation.