09/12/2016
Posted by:

Millon Unika

Category:

All, Business, Internet, Technology, Uncategorized, Web Design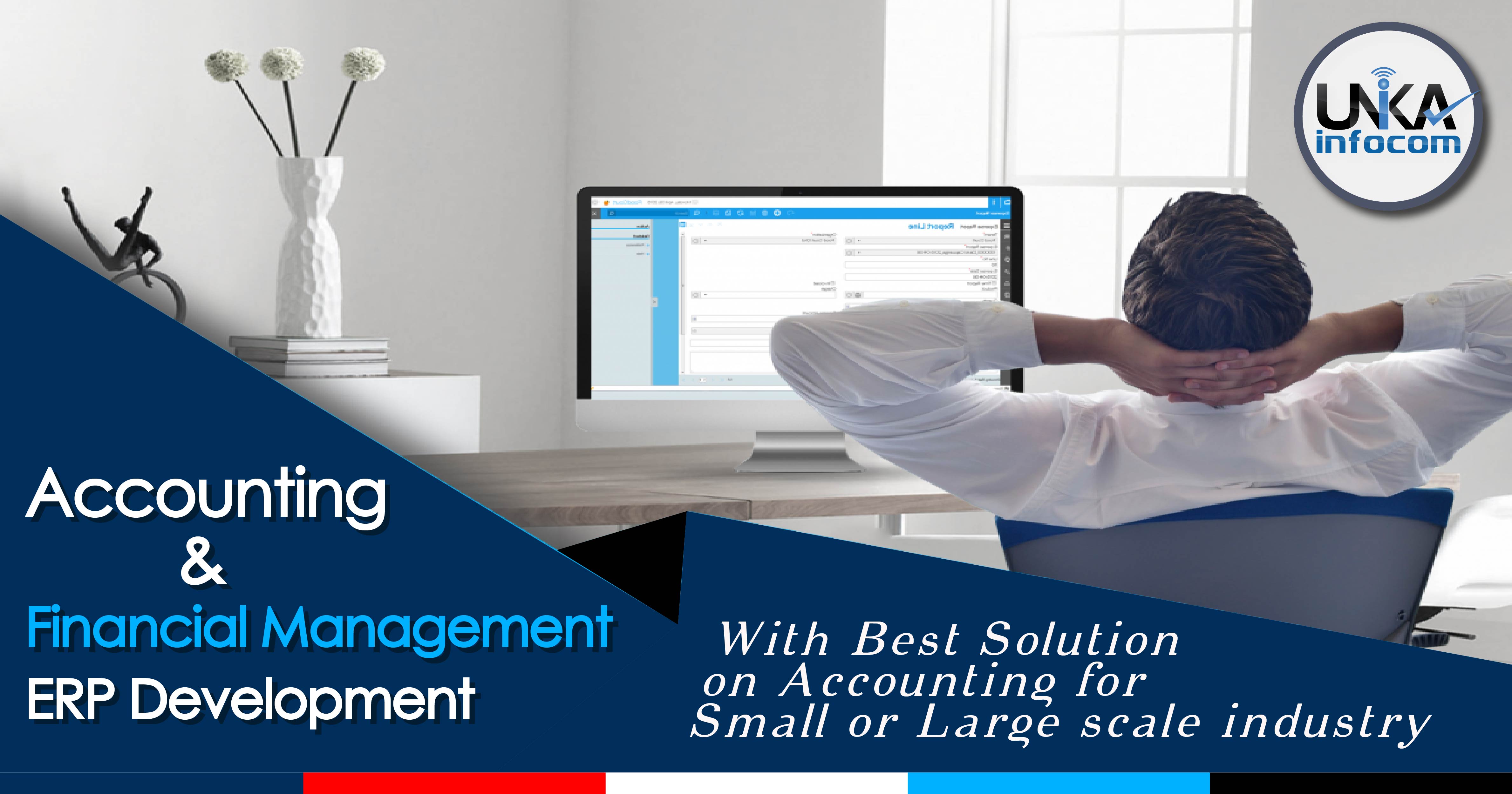 Accounting & Financial Management ERP Software Development for Small or Large scale industry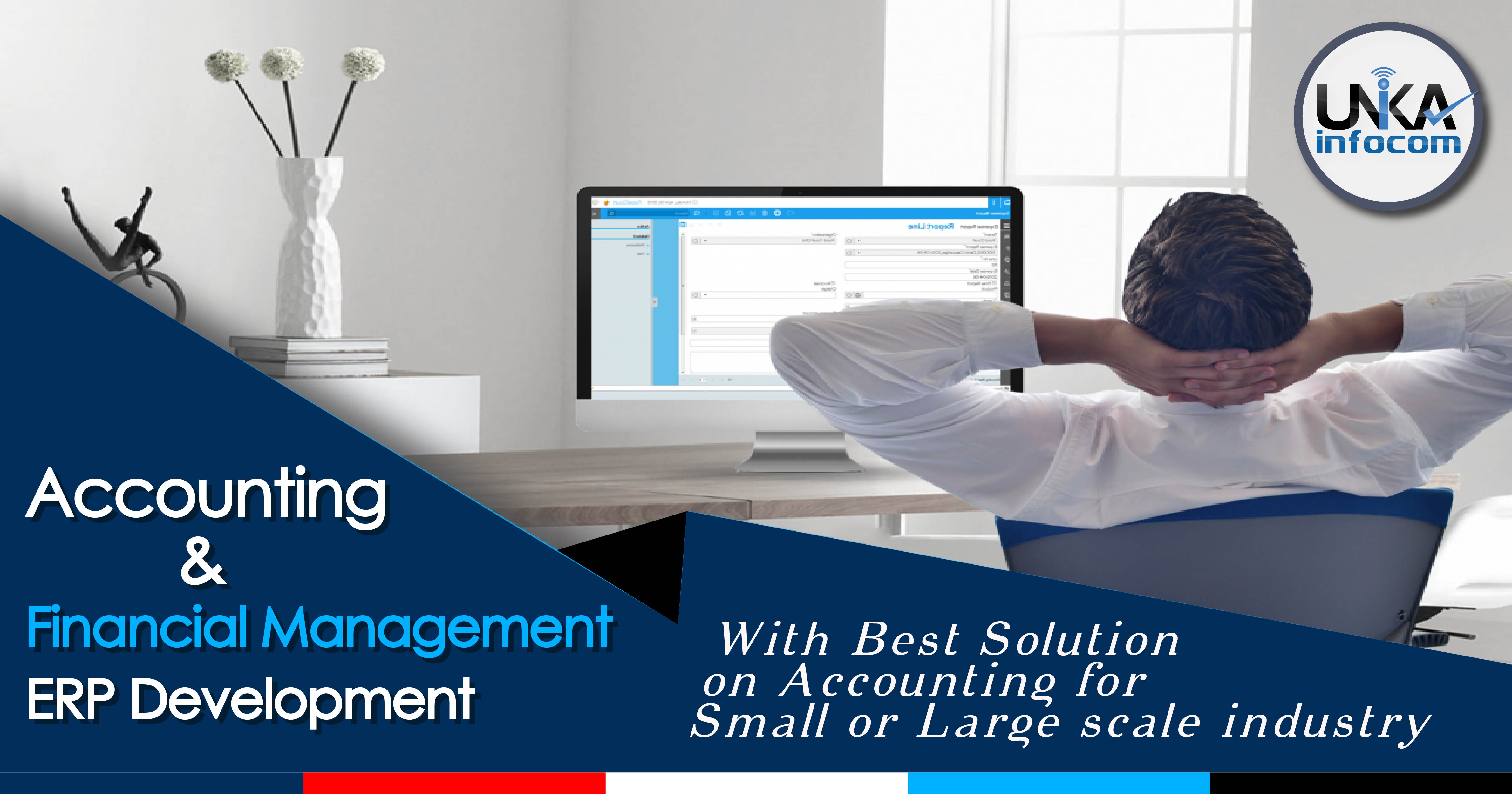 Accounting Software, Accounting ERP
Accounting Software, Accounting ERP is the true backbone of any industry. Also without a proper, secure & robust accounting system, no organization can maintain profit growth; and can collapse entirely. Above all accounting system should keep track of all the organizational transactions; and also maintain a proper record of it.
Unika's Online / Offline Accounting Application, keeps records of all the accounts related details into your organization; and also processes all accounting transactions, with various functional modules. Such as accounts payable, accounts receivable, payroll, expense, bank book, cash book and trial balance etc. In fact it's a total ERP system for all your accounting needs. The best part of this application is that; it's fully customizable & also tailor-made application; which means, it will serve and also fulfill your particular; & precise needs related to your accounts.
Accounting & Financial Management System Main Focus:
It's very user friendly with intuitive interface. Anyone having some knowledge in operating computer can easily use this application.
Also it has a range of useful functionality from core accounting to advanced financial management with all modern accounting modules such as project accounting, budgeting and consolidations
It brings your business functions together in an easy-to-use and easy-to-configure manner, for centralized accounting & transaction management.
Also this is Tailor-made & fully customized product, for specific accounts needs.
Above all It has a built in taxation accounting for all applicable tax for your organization. It generates easy reports, analyze estimations & maintain history. Also third part Tax computing components can be integrated with it easily.
It will provide you decisions making analysis with real-time visibility, accurate accounting & transactions.
Support your compliance's with embedded controls and comprehensive audit.
Last but not the least this application focuses more on data analysis rather than simple data entry.
As this application is a total ERP system, therefore it consists of all the possible modules in an accounting system. Also these modules are vast; and also cover all the operational accounting function in an organization. Small & Large scale, both industries can be beneficial with this application. Users also can chose from this application their selective, suitable & required modules as per their accounts need & structure.
Some Key Features & Module briefs are mentioned below:
1) Accounting (AR/AP/GL) Modules:
You can control your whole accounting from a single application with perfect visibility & audit trial.
Rather than doing dull data entry it seamlessly streamline you're entire enterprise and focuses on data analysis & follow up. Some use full feature description are mentioned below which will tighter your enterprise budget & financing for a better profit ratio.
a)      Accounts Receivable:
Comprehensive receivables account history.
Afterward Customer invoices including consolidated billing.
Next keeps track of all outstanding & raise invoices.
Also Invoice schedule management.
Afterwards Process deposits.
Above all Detailed report section.
b)      Allocations:
Create journal entries allocating activity from one account to another account.
Percentage mapping for allocation between accounts.
System-defined cost drivers & data analysis to determine allocation percentages.
c)      Bank Reconciliation:
Balance all accounting transactions posted to cash accounts against bank statements.
Equally maintain Bank Book & Cash Book.
Also Foreign exchange transaction adjustment.
Above all Keeps record of bank balances & transactions of all bank accounts.
d)      Accounts Payable:
Moreover Payable heads management.
Next Management history.
Next Create & dispatch supplier invoices in time
Also Manage outstanding payables
Furthermore Manage bad debts.
And also Process payments in multiple currencies
e)      Budgeting:
Monthly, Quarterly, Half Yearly, Yearly budget planning for revenue and expense & profits.
Custom Reports.
CSV files upload option.
Financial reports comparing with multiple budgets.
f)       General Ledger:
Journal entry management.
Real time transaction tracking.
Foreign Currency transaction management.
Recurring transaction management & auto scheduling.
Maintain a detailed transaction history.
Detailed Search Filer & Reporting option for all above modules.
2)  Costing Modules:
Real time cost tracking. It keeps track of all the costing modules.
Track costs of procurements, transports, production, delivery and other expenses.
Track actual costs of various production segments & maintain records.
3) Enterprise Financial Modules:
Managing your Enterprise Finance is no longer a manual job. With the application you can take the advantages of economies of scale, collective business terms and management of enterprise funds.
a)      Centralized Accounting
Customize, alter and manage account centralized way.
Automated updates & status.
Entity relationship approach.
Real time reporting.
b)      Corporate Cash Management
Consolidate cash payment process within entities, minimizing transaction time and bank fees.
Centralized cash management.
Reconcile bank transactions centrally, within entities, for a consolidated view and control.
4)  Fixed Asset:
Maintain your fixed asset and keep a track & record on this.
a)      Fixed Assets
It also maintain list of fixed assets within the enterprise
Also maintain proper track of asset inventory
Moreover track and accumulate incurred costs for ongoing project.
Also Asset depreciation schedules for an asset, with an option for books and taxes.
b)     Contract Tracking
Store and track records of contracts with third party vendors.
Automatic notifications and reports for contracts expire or renewal.
5)Financial Performance Management & Third Party Integration:
Third party accounts & tax components can be integrated with this application.
Third-party components integration for financial and operational performance reporting, planning and analysis.
Third-party software integration for chart of accounts and general ledger transactions to perform financial performance management activities, like financial budgeting, planning and forecasting.
It's an easy to use integrated third party finance management solution.
6)Financial Reporting:
This application provides you the ultimate reporting structure. Dynamic filters for different financial reports & backup.
a)      Financial Consolidation
Create financial reports, like income, expense and balance sheet statements.
It can combine and produce reports of two different enterprises.
Foreign exchange & rates tracker.
Gain or loss in balance sheet statement.
Analytics where the loss made or profit gained.
Manage multiple levels of consolidation, intercompany eliminations, currency conversions and multiple reports.
b)      Financial Statements
      Standard and custom made reports including:
Balance sheet
Income statement
Cash flow
Aging schedules
Cash disbursements and requirements
7)  Cost Accounting Module:
a)      Standard Costing
Configure and manage standard costing using a wizard-driven guide that walks you through a series of screens, reports, questions and calculations
Manage, analyze and compare multiple concurrent cost models Include cost of goods sold (COGS) while reporting on standard costing
Analyze cost of goods received (COGR) and purchase price variance (PPV) of standard cost activity report (SCAR)
b)      Inventory Valuation
See also current standard inventory valuation or valuation at any historical point in time — providing you with useful insight during accounting month-end closing
Also Analyze all the activities that affect standard inventory valuation, such as receipts, production, scrap, shipments and manual adjustments.
It can also easily detect changes in valuation between any two points in time
Furthermore this application takes all advantage of standard costing in Cost Setup, Part Cost Structure and Advanced Parts Traceability and Product Genealogy
c)       Cost Setup
Define and configure cost types like labor, material, overhead, etc. and subtypes like setup labor, production labor, etc. that are used.
It will utilize cost setup in all costing methods and in configuring labor activity tracking.
d)      Part Cost Structure
Set up a detailed cost structure for each operation in the process routing of each product, including purchased materials, ingredients and components
Equally it can define each operation-level cost; such as source material, prior operation costs, labor, material, overhead, and also packaging, etc.
It also enters values for each cost component manually; or equally allow system to calculate components automatically based on user-defined formulas that draw on data from elsewhere in the system; such as standard production, labor, work center and also other costs
Afterward the application defines multiple cost models
Top security & integrity validations to prevent unauthorized access
8)Advance & Automated Accounting Modules:
In fact this application will also reduce time and human error chances and give you more than standard accounting functions. It will also give you advanced features like project accounting, automated tax calculations, collections and credit checks.
Auto Tax Calculation
Automatically calculate sales and use taxes based on ship-from and ship-to addresses
Moreover make tax exempt purchases and store them for further reference.
Also optionally accrue tax liabilities
Project Accounting
It also tracks the financial progress of business projects
It also assigns each transaction in GL.
Also it creates detailed online reports for a project, including income / expense statements and balance sheets.
Credit Checking
Equally analyze payment history and other data to produce an internal credit rating for the customer
Moreover set credit limits for each customer. Receive warnings and prevent dispatch when credit limit is exceeded.
Collections
Maintain customer accounts with contact details, payment terms, credit limits, feedback, reference note etc.
Maintain a detailed history of invoices, payments, communications and statements.
Core benefits of using this application:
It improves Data Accuracy.
It also helps to maintain Enterprise & Tax compliance.
Therefore Increase productivity.
Most importantly Block financial leakage in organization.
Also Any time any where access.
Foremost importantly being up to date with all the facts & figures in your business.
Profit / loss/ revenue estimation easily anytime.
Track human error or malfunctioning with dynamic reports & data analysis.
Go paperless in your enterprise.
Also analysis and cost savings with detailed reports.
Auto scheduling.
Last but not the least track of outstanding & bad debt & recovery.
Accounting ERP, Accounting Software, Accounting Web Application